The emergence of trans politics Yulia Alioshina, 31, as a senior official in the Citizen Initiative party has caused a real shock to one of the strongest strongholds of conservative modern Russia: its political system. Just a month after being elected president of the formation in the Republic of Altai, in Siberia, the regional Parliament violated its own rules by vetoing her access to a session.
The echo of his appointment has reached Moscow, where Vladimir Putin's United Russia deputies say his party "must kick it to hell or dissolve." Despite the attacks, Alioshina advocates temperance. "Some people have told me that those words were because I am transgender. Can be [también] because I represent a liberal and democratic party. It's difficult to draw a conclusion, "he calmly answers on the other end of the phone.
The Citizen Initiative announced the appointment on its website on November 5. "We did not say that I am a transgender person because we thought that it was not necessary to emphasize it. One of the main positions of the party is that everyone is the same, it does not matter if they are trans or cis, "he explained to EL PAÍS in a first conversation on November 17. After the announcement, a local journalist contacted her and spoke openly about her condition. "Yes, I told him that I am transgender. I assumed that if I didn't say it, my political rivals would. And I believe that the policy must be open and sincere, as in Europe ", Alioshina explained in a second talk with this newspaper. After that interview, "the internet exploded", in his words.
Alioshina emphasizes that she wants to do politics for everyone and that discrimination based on sexual orientation or tendency is just one more issue on her agenda, although she admits the importance of the step she has taken: "The LGTBI collective is in Russia immersed in darkness. The Government makes him lock himself in the closet and not come out. And if the government makes you hide, you have to speak openly. In addition to other important objectives, my approach to politics seeks to open the door to trans people, homosexuals and that this part of society comes out of the darkness ".
Alioshina was only congratulated by her fellow party members, including its founder, Boris Yeltsin's former minister Andrei Nechayev. Her rivals did not contact her. "They do not like it. They have told me absolutely nothing. They are in shock because there was never a transgender person in politics, "he says.
Yes, a deputy from Putin's formation and a well-known homophobe, Vitali Milonov, spoke to "send her to hell." "If the party does not agree, it should be banned," said the legislator, who sees his appointment as "an attempt to impose the Western stereotype." "LGTBI values ​​cannot be part of the political agenda. If we ban it in the cinema, it should also be unacceptable that they are in Russian politics, "he said on Govorit Moskva radio. Alioshina's response is forceful: "According to Freud, the biggest opponents of trans people, homosexuals … tend to be them too, but they don't want to accept it."
Join EL PAÍS to follow all the news and read without limits.
Subscribe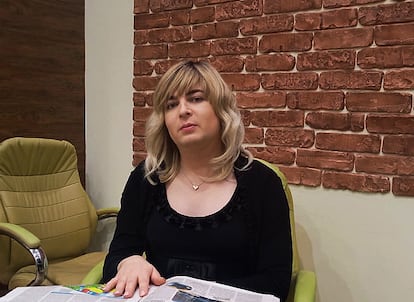 His first political setback came on December 16. The Altai Parliament prevented him from entering a session despite the fact that he had requested permission with the two days of margin established by the regulations for non-elected members. Alióshina and Iniciativa Ciudadana decided not to appeal and advocated "constructive collaboration" with the rest of the formations. When speaking with her in November, she already predicted that she might have "some problem" in the future. "They can use any excuse. Not my status as a transgender person, but my name to reject my registration, for example ".
Despite not being in the national Parliament, Iniciativa Ciudadana is a well-known party, especially after running with those acronyms for the 2018 presidential elections Ksenia Sobchak, opponent, journalist and daughter of Putin's political mentor, Anatoli Sobchak. "I had been looking for a liberal, democratic party for a long time; a formation that defended the elections to the western style. This scares the state parties in Russia, "says Alioshina, who joined the formation at the beginning of summer and came to the regional leadership a few months later due to the resignation of her predecessor.
His career in that match has been meteoric, but he's not a newcomer. "The first time I became interested in politics I was 13 or 14 years old. Why could Arnold Schwarzenegger be governor in the United States and not the artist Mikhail Yevdokimov in my region? "He recalls. He then studied law at Altai State University and entered politics. "I worked in electoral campaigns, from propaganda to legal advice in elections," recalls Alióshina, who in 2012 decided to try on her own and ran for the Barnaúl Municipal Duma, although the electoral commission did not validate her signatures.
Politics knows that she was a woman since her adolescence, although she did not receive her passport with her name, Yulia, until July 2020, after a "very, very difficult" process of a year and a half. "When I went to the sexologist and psychiatrists, they all diagnosed me first that I had a mental illness. If this opinion is confirmed, the process is rejected ", he explains. Now, with the new passport, she retains all the rights that a woman can have in Russia. "Thank God the government does not impose any limitation on me and I have the right to marry a man," she says.
Alioshina, who did not make her reality public after her time at the university, denounces that this issue is taboo in Russian schools: "There are teachers who believe that if they tell children that they can change their name or sex, then this reflection It can lead them to change their gender even if they are not trans ".
She feels fortunate to have had the support of her friends and her widowed mother. "My mother was a Soviet teacher. At first it was in shock; later there was misunderstanding and estrangement. In the end, when he learned more about this topic, when he read online and dealt with sexologists, he accepted me. It was hard, I talked to her for a long time, but I think that my effort, my time and my energy were not wasted in vain ".
Follow all the international information at Facebook Y Twitter, o en our weekly newsletter.



elpais.com
George Holan is chief editor at Plainsmen Post and has articles published in many notable publications in the last decade.