This year we promised ourselves a smooth Christmas, and the virulence of the omicron has brought us a night in which, waiting for the bustle of The big family, We ended up looking like the lonely Theodore Twombly from Her. What has not been a surprise is that the night's programming has followed the bland and decaffeinated line to which we have become accustomed in recent years and to which we only pay attention because launching onto the platforms is not a way to honor parties like It's due.
TVE once again trusted that Telepassion which in 1990 triumphed due to its ability to surprise us by showing us an unpublished face with faces as familiar as they were unknown. Hence, when, in its first edition, Pedro Piqueras started with Cambalache we would be left with the same face as Hugh Grant when his chauffeur in Love Actually entona Good King Wenceslas with a bass baritone voice.
The best invention of Christmas television worked by the shock which meant seeing presenters as circumspect as María Escario singing Ay, Tani, mi Tani or to Elisenda Roca changing the numbers and letters to Think of me. But since the genres have been blurred and even the news programs have their share of show, That their visible faces shake to the sound of Gloria Trevi is just as surprising, especially when without the label it is difficult to identify the performer and even the program he represents. Although there are always moments that justify it, such as seeing the essential Paloma del Río, to which we say goodbye this year, singing and dancing to the rhythm of My love. A moment so joyous that it is almost forgiven that before we have seen almost all of the 6,537 employees of the entity sing.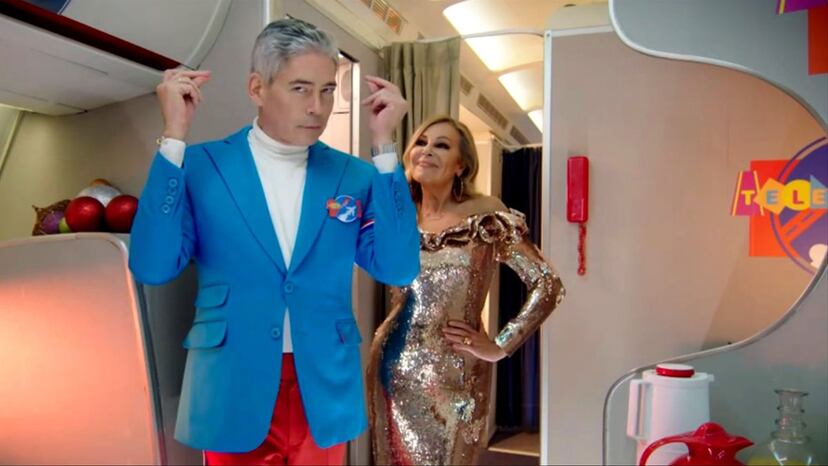 The common thread this year was a plane trip of those that we have done so little lately and had Boris Izaguirre and Ana García Obregón as masters of ceremonies. Drawing on their profession and contagious enthusiasm, they dealt with a loose script that, clinging to one of the gags more hackles of Land as you can, It tried to cover so much that it ended up looking like an infomercial for RTVE.
After Telepassion, to which after 31 editions it is urgent a step through the workshop, TVE maintained for another year the formula "they gave me two" that began with Ana Torroja singing all the hits of her career. Having the music of Mecano as content is like playing a game of tute with all the cards of the suit that he paints. The songs of the trio are milestones that transcend generations and the joy with which Ana was received on social networks made it clear that Mecano's legacy does not weigh the controversies: neither the haciendas, nor the "mariconeces", nor the Aztec pyramids. Sailors, soldiers, singles, married couples and lovers and errands surrendered to their duets with Raphael, Malú or Alaska and their inseparable Mario Vaquerizo. If, as Debussy said, music is the space between the notes, Spanish television programming is the space between one appearance of the couple and another. Yesterday, transversal as they are, they walked through the three chains.
Aitana, another of Torroja's guests, was the second star of the night. Went from singing Woman against woman in karaokes to do it as a duet with Ana in a moment that seemed the cañí, pacata and for all audiences version of Me Against The Music, Madonna and Britney Spears.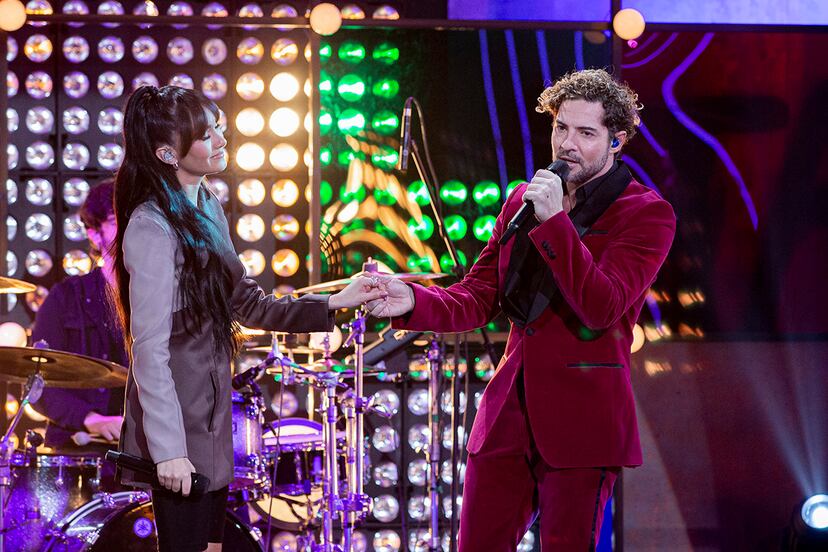 If TVE did not bother to renew itself, La 2 directly put in the player the same 240-minute TDK tape recorded in 1993 with gags by Tony Leblanc, Chiquito or Tip y Coll, his Chunks humorous of every save party. As predictable as it is infallible, because can someone get tired of hearing Eugenio's jokes?
Telecinco is the one that has differentiated the most from last year. He took off the training wheels that the Universe supposes Save me and, with Joaquín Prat and Lara Álvarez at the helm, he recovered one of those galas that are zapping meat and in which you find Omar Montes as well as Café Quijano or —and this was disconcerting— a ventriloquist. A proposal as surprising as seeing Sofía Cristo in Mediaset without anyone making a polydeluxe no crying or grandiose confessions.
After the waste of means of Telepassion With its stunning wardrobe and a performance reminiscent of Valerio Lazarov's wildest times, the Telecinco gala seemed like a well-intentioned but humble school function like the lazy pig's straw house.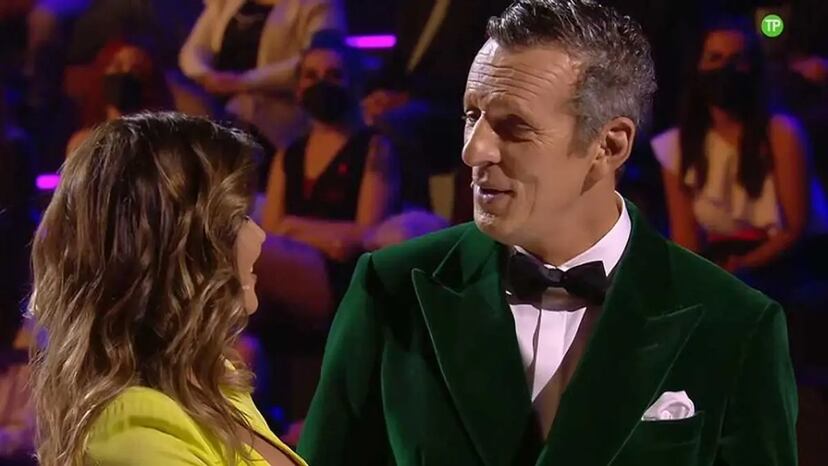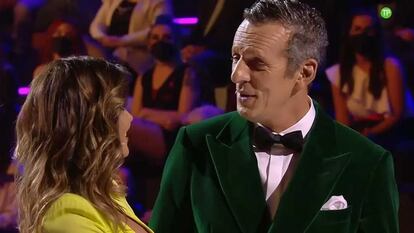 Antena 3, which throughout the year has fought Telecinco's audience with strategic movements that would have excited General Rommel based on fitting into his grill cheap Turkish dramons and famous programs doing things, gave up in advance the share of Christmas Eve and subscribed to the refried of the funniest moments of the year and the umpteenth comeback of Your face is familiar to me. Sonly the hashtag on screen it reminded us of the night it was. It is surprising that Atresmedia is unable to design an original and competitive program for the date, while at his home Ibai Llanos, to whom the omicron also twisted his plans at the last minute, put on a Santa hat, played some games of Clash Royale and got more than 80,000 viewers to join him on Twitch.
Following his own tradition, Cuatro opted for family cinema with Arlo's journey Y Ice Age: the great cataclysm. It should be remembered that this is the same movie that aired on Christmas Eve 2019 while the world as we knew it began to decompose before our eyes. We're not blaming Scrat for the slow-motion apocalypse we've experienced since then, but just in case there are doors that it would be best not to reopen. If in March we are again fighting for the last sack of sourdough and subscribing to the challenge of the 400 squats of Patry Jordán, we already know who to blame.
La Sexta also took the night like any other Friday and did not take away our share of Gloria Serra, facing daily terrors such as false homemade croquettes with the same gravity as Oriana Fallaci from Ayatolá Khomeini.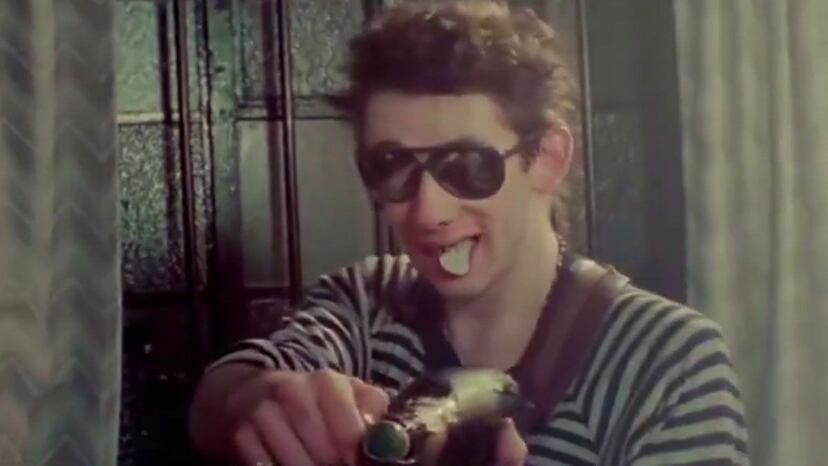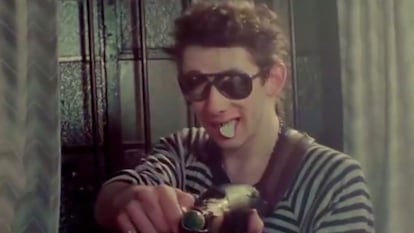 We had to wait until dawn to find the most original and fascinating Christmas proposal. Movistar Estrenos celebrated the birthday of ethyl Shane MacGowan, singer of The Pogues, with the broadcast of Crock of Gold: bebiendo con Shane MacGowan. To enjoy it it does not matter if you are not a fan of the group, or even know who MacGowan is. From the moment the Julian Temple documentary begins, it is impossible to escape the magnetism of a life marked by talent and addiction. An ode to physical destruction and dental reconstruction of a genius who con Fairytale in New York composed an incontestable lay Christmas carol. It is available at Movistar + and at Filmin. If the proposals of the generalist televisions have known little, give it to them, it will be the only content of tonight that they will remember next year.
You can follow EL PAÍS TELEVISIÓN in Twitter or sign up here to receive our weekly newsletter.
Sign in to continue reading
Just by having an account you can read this article, it's free
Thanks for reading EL PAÍS



elpais.com
George Holan is chief editor at Plainsmen Post and has articles published in many notable publications in the last decade.