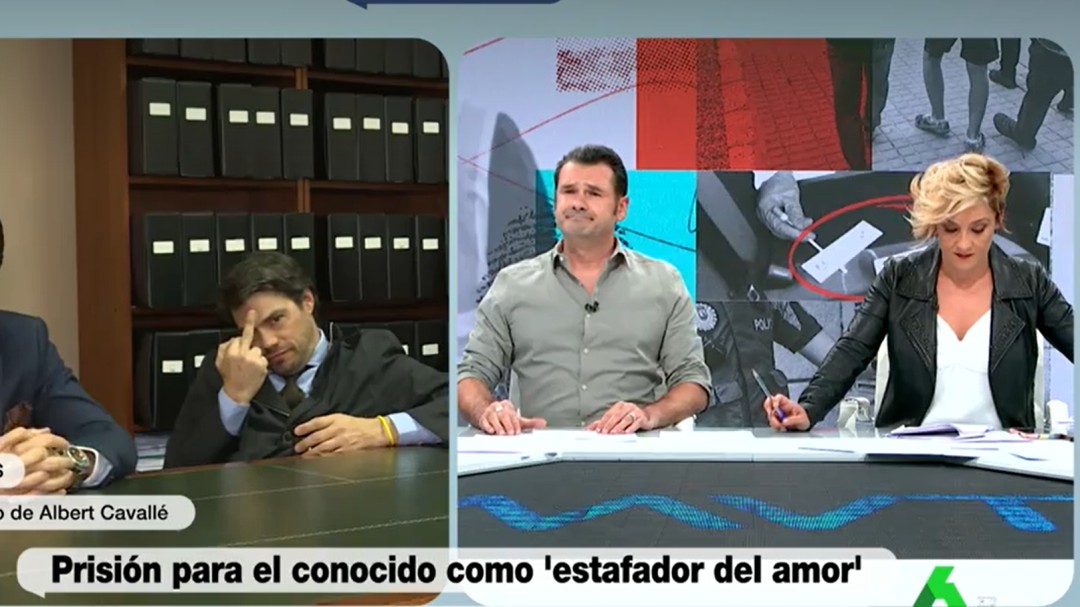 Several days ago, specifically last Thursday, the Barcelona Court sentenced the 'love scammer' to three and a half years in prison for a continuing crime of fraud. After having been tried up to seven times for similar actions (of which he was convicted in three cases and acquitted in another four), the sentence determined that Albert Cavallé cheated 53,000 euros from the woman with whom he had a relationship.
Several days later, and after hearing the resolution of your case, Albert Cavallé and his lawyer David Sans have sat down with the team of Better late to star in one of the most embarrassing interviews of the program since it began in October 2012. An interview that began with Cristina Pardo proceeding to read a part of the conviction of Albert Cavallé for having swindled her partner.
"I am not charged": Cristina Pardo defends herself against Cavallé's accusations
Something that annoyed the so-called 'love scammer', who began to repeat repeatedly that ehe head of Investigation of laSexta and collaborator of the program, Manu Marlasca, had also been charged with a crime reported in an instruction in Barcelona. Given that the interviewee seemed to shy away from reading his sentence, Cristina Pardo tried to channel the interview while Cavallé did everything possible to bombard her. After the condemned man repeatedly asked the presenter to let him speak in bad manners, Iñaki López asked the interviewee to let them conduct the interview as they had planned.
Next, and visibly angry with what happened, Cristina Pardo proceeded to read part of the sentence that states that Albert's true purpose was to win the affection of his ex to obtain the greatest possible economic benefit at his expense: "You asked for four credits and he spent money with the Visa; he benefits at all times. " On the other hand, the sentence states that the condemned man was constantly looking for new ways to profit and that he lied to his former partner to use his assets for his own benefit: "They talk about you, acts of predation on your partner."
"I'm not going to let him talk": Cavallé torpedoes the interview
Some words that the condemned man did not like, who made the gesture of vomiting and charged directly at the presenter: "I am going to tell you that those who commit acts of informative predation are you and your boss, who are both accused in a cause and are going to have to declare ". Something that Cristina Pardo herself was in charge of quickly denying, who assured on several occasions that she was not charged anywhere. However, Cavallé continued to reiterate that the journalist was charged and that she was "the same shit" as her boss.
Faced with such accusations, Cristina Pardo determined that the interview had come to an end because she had no major interest. While Cavallé assured that he was cutting it because it did not suit him, the journalist reminded him that if he accepts an interview on television, he should be polite. However, the 'love scammer' kept torpedoing the interview, interrupting it at all times: "I'm not going to let him talk."
Since Cavallé was not in a position to speak, Iñaki López gave way to his lawyer David Sans to tell his version of events. While Sans began to give his assessment of the accusation, Cavallé was in charge of making all kinds of gestures to continue making the interview difficult. Among other things, the condemned man made combs of journalists and even stuck out his tongue.



cadenaser.com