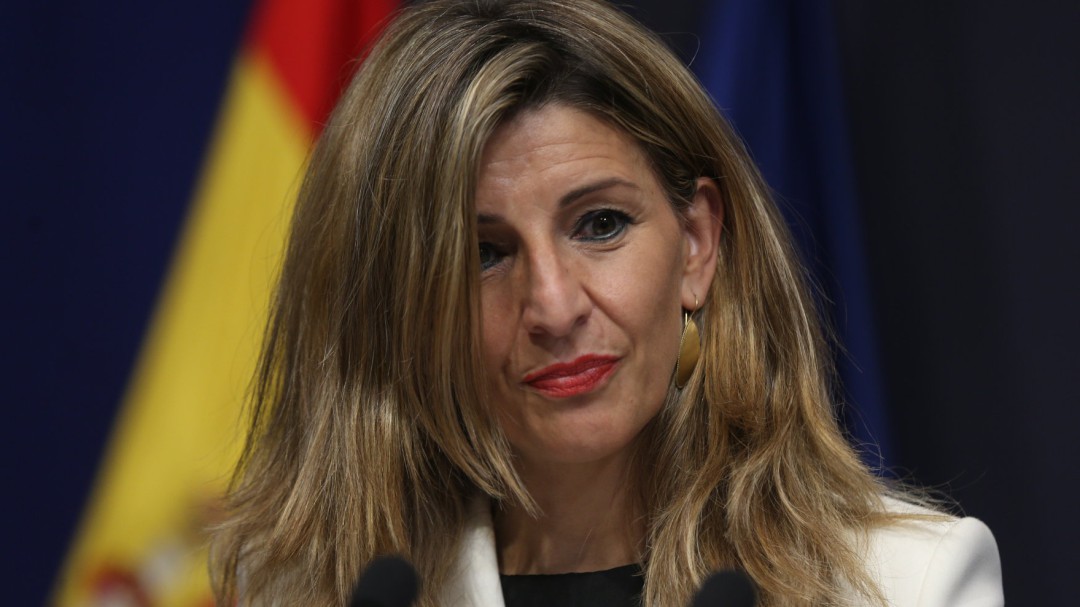 Àngels Barceló has interviewed the Second Vice President and Minister of Labor, Yolanda Díaz, in Hoy por Hoy, one day after the Government has managed to close an agreement with employers and unions that modifies key aspects of labor regulation.
The Government has managed to close an agreement with employers and unions that modifies key aspects of labor regulation, such as hiring or the prevalence of agreements, which will allow it to comply with one of the commitments set with Brussels before the end of the year.
Thus, Díaz has indicated: "It is a historic agreement. It is the first time in 40 years that a structural reform of this magnitude has been produced with the consensus of all parties. I feel very proud of my country and of the social agents. When If you know the text, you will see that it is not a touch-up. Just dealing with the complete reform of temporality, and in the terms that has been done, is already an achievement. We are moving towards a European model and from now on our contracts will be stable. It's a fundamental paradigm shift. "
In addition, regarding whether she fulfills all her ambitions, the vice president leaves no room for doubt: "It is not at all less ambitious than I would like. I have always said that I was going to work hand in hand with social dialogue and there has been, as we have seen. Also that I would like this great reform to be agreed. Nobody believed it was possible, but I did trust and told my team to work for it. In addition, it is the reform that we propose to our country, as can be seen in the Government agreement between PSOE and UP, and it also complies with component 23 that we send to Europe. What stimulates me the most is that it is going to improve the quality of life of the workers of this country. "
After being consulted about the assignments that have been made from the different points of the dialogue table, and if they have been all the same, the vice president has declared: "It is a balanced reform and I want to thank the teams for these 9 months of negotiations . We are exhausted, but it has been worth it. When one sits at a negotiating table, one listens to the contrary, modulates, and we move forward. This reform has shown that the social agents are the best in this country and have been to the height of the circumstances. It is a reform that implies a structural change in the labor relations model. "
In relation to the agreement with the businessmen, Yolanda Díaz has remarked: "Garamendi's role has been decisive, without a doubt. I know that CEOE had internal difficulties, but I want to thank the technical team of all parties who have been there for 13 hours a day and are the ones who have made this agreement possible. The social agents have given the best of our history and now they are doing it again. They show us that Spanish society wants something else. "
He has also returned to address the controversy over the use of the word 'repeal', explaining that "technically it could not be repealed, that is, I cannot issue a rule saying I repeal this decree, because it would leave workers without a legal cushion, but politically Yes it can and it is done in a part, the one stipulated in the Government agreement. "
Intense negotiations
After nine months of intense and complex negotiations, which lasted until late at night this Thursday, the CEOE was the first to support the general principles of the labor reform, which shortly afterwards the UGT and CCOO committees have endorsed "unanimously ".
"We comply. Today we are moving towards a 21st century labor relations model. We do so with the banner of agreement and dialogue. We want decent jobs and wages that guarantee the rights of everyone. Thanks to employers and unions for their commitment" , stressed the President of the Government, Pedro Sánchez, on Twitter.



cadenaser.com