He had studied a lot, so much so that he was called "the prepared one", but above all subjects there were always the sky and the stars. Training as an astronomer was one of his dreams, but his destiny would eventually lead him to become Felipe VI, King of Spain. With this in mind, the second season of digital audio XRey starts with a quote from Cosmos, by Carl Sagan, which begins like this: "Look at that point. That's right here. That is our home. That is us. In it, everyone you love, everyone you meet, everyone you ever heard, every human being that has ever lived, lived his life ". If the first part was dedicated to investigating, deepening and telling the life of Juan Carlos I, this second does the same with his son Felipe VI. From this Sunday the 19th it will be broken down through seven daily installments – the premiere of the last one coinciding with Christmas Eve, the day on which his Christmas speech will be broadcast. Its creators, Álvaro de Cózar and Toni Garrido, had this week by video call together with Eduardo Alonso, head of podcast Spotify, how they conducted their research.
For their work, they have had testimonies from some of the people closest to the monarch. Among them, that of Carmen Iglesias, Countess of Gisbert and member of the Royal Academy of History, who was Felipe's tutor in his adolescence. He talked with her about the philosophers Thomas Hobbes and John Locke as well as his love affairs. Or that of Mónica Pérez, a television presenter who shared a class with Felipe when he was studying in Georgetown and who tells how many times he wanted to be just any person to enjoy more freedom. Also participating is Konstantin from Bulgaria, cousin and one of the best friends of King Felipe, as well as godfather to the Infanta Sofía, who will reveal some of the adventures they lived in their youth. Also involved are Juan Carlos Rodríguez Toubes, tutor of the prince on the ship Juan Sebastián de Elcano School, or Hugo Arriazu, a photographer who was accused of being a terrorist for following in Felipe's footsteps in 1995.
The authors of the podcast They highlight that one of the things that most caught their attention during their research is that there was a "fairly unanimous" opinion that Felipe "is a good guy" willing to listen to others. "They said many other things about Juan Carlos that we have already told, but about Felipe everyone indicates that, and it is very striking that everyone agrees that he is a very good person, that he listens a lot and that he is a charming guy who makes a huge effort ", De Cózar explains. "There are some episodes that we relate in the season that give obvious signs that he is, indeed, a person who does a lot to be a good guy with people."
King Philip's mission
Despite his efforts, the pending issue of the monarchy, explains Garrido, is to finish finding his place "before a generation that does not know what the Royal House is" and that considers that it is lagging behind: "I believe that the distance is abysmal, although they are two worlds that should be compatible although those efforts are more on their part than on that of the citizen. The citizen is going to continue living his life, he is going to try to make ends meet, he is going to try to do his best to understand and basically put up with what comes to him. But every time it is much further away from the institution, which is difficult to understand, if we analyze it that way ".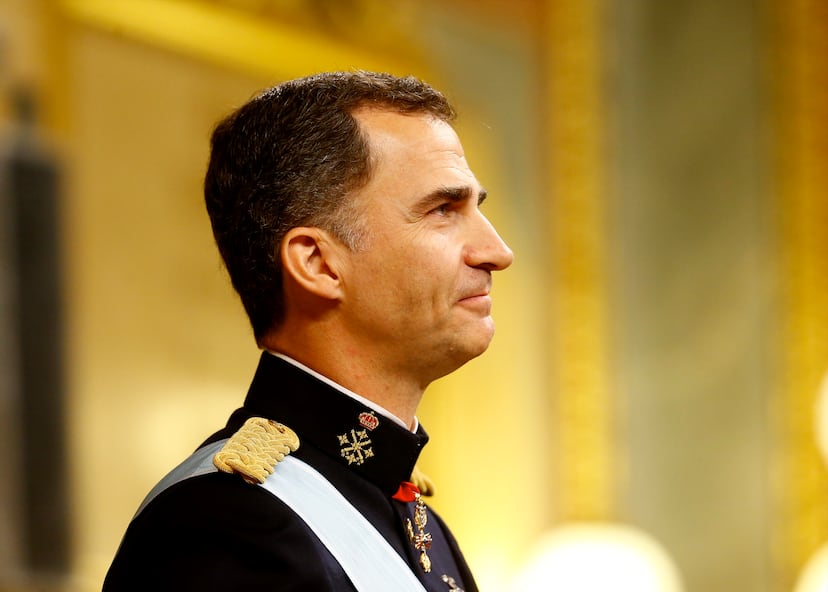 "That is the mission that the King has," says De Cózar, who emphasizes that what makes him a "narratively interesting" person is the fact of having to combine wanting to be someone normal with having to resolve the role of the Crown. . "In the end, when we say that he is a good guy, we mean that he wants to be someone more normal. You marry someone who is not royalty, you have your daughters, and you want to live a more ordinary life. Why have we considered that this person, who at first did not interest us so much, then we have seen that he has narrative material? Basically, because the King's challenge is very great. Not only is it saving the Monarchy from the scandals that have plagued it in recent years, but also finding a meaning for it to take place in a world that, as Toni says, is of no interest to the new generations ".
To achieve this, the monarch has had to deal with moments as marked as the one that takes place in 2016, when Mariano Rajoy declines the offer of Felipe VI to submit to the investiture to try to form a Government, a conflict in which they deepen an episode. Another occasion that for him is "very delicate", De Cózar values, and in which they also delve into another of the deliveries, is his speech on Catalonia after the referendum of October 1, 2017. "The interesting thing at that time was how Even with everything I have heard about this idea of ​​the good guy, he finally opts that day for forcefulness ", De Cózar argues. The series will advance little by little until it reaches the present, in which it will also develop how the head of state has had to manage the scandals of the Crown until he makes the decision to reject his father's inheritance. Everything, to try to save the Royal Household, get away from the figure of Juan Carlos and try to become another type of king, "the good guy" who dreamed of the stars.
You can follow EL PAÍS TELEVISIÓN in Twitter or sign up here to receive our weekly newsletter.



elpais.com
George Holan is chief editor at Plainsmen Post and has articles published in many notable publications in the last decade.