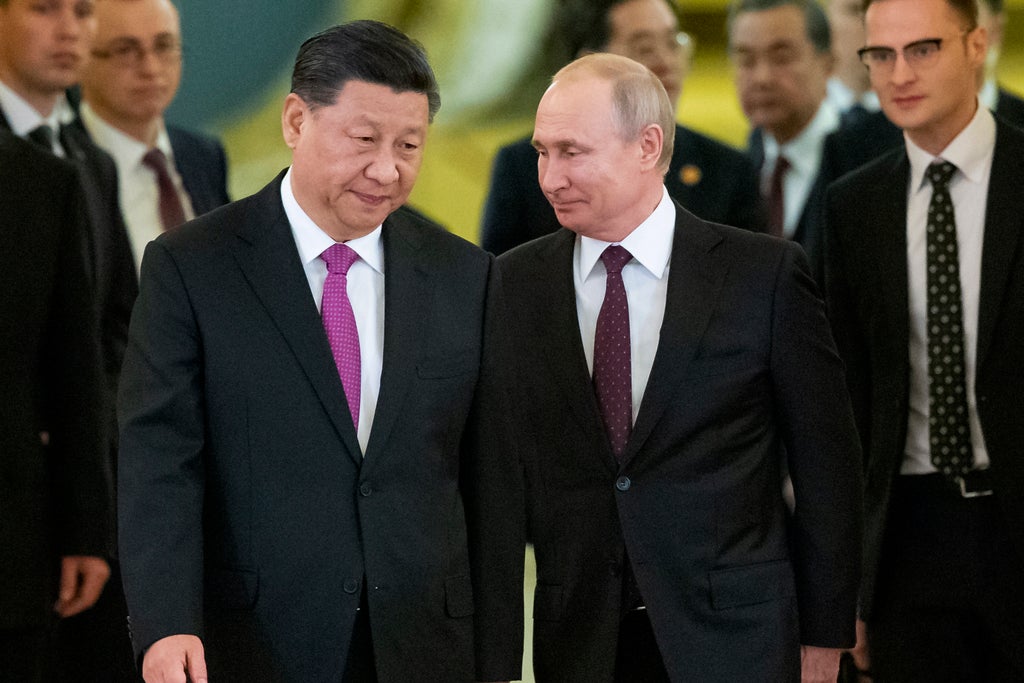 The United States, Britain and a handful of others will not send dignitaries to the Beijing Winter Games as part of a diplomatic boycott, but the Chinese capital continues to draw an array of world leaders for Friday's opening ceremony.
A look at who attends, who stays out and why:
___
ATTENDING
— RUSSIA: President Vladimir Putin will meet his Chinese counterpart Xi Jinping ahead of the opening ceremony, underscoring closer ties between Beijing and Moscow as both face Western criticism and pressure.
— EGYPT AND SERBIA: The president of Egypt, Abdel Fattah el-Sissi, and the Serb, Aleksandar Vucic, have growing friction with the West due to their authoritarian policies and human rights record. Both leaders have gravitated toward China. Vucic called Xi his "brother" for supplying Serbia with ventilators and vaccines.
— SAUDI ARABIA, QATAR, UAE: Relations in the Gulf of Beijing are above all about energy. China is Saudi Arabia's biggest oil buyer and a major customer for Qatari natural gas. Saudi Crown Prince Mohammed bin Salman, the kingdom's de facto leader, will appear at the Winter Games as investors and some governments signal warmer relations after the 2018 murder of journalist Jamal Khashoggi.
— CENTRAL ASIA: Leaders of the five former Soviet republics in Central Asia head to Beijing, highlighting the region's growing ties with China. Kyrgyzstan's President Sadyr Zhaparov last month pushed for the revival of a long-delayed project to build a railway from China through his country to Uzbekistan. China is the only reliable large buyer of natural gas from Turkmenistan.
— ARGENTINA AND ECUADOR: Argentina will become the first major Latin American country to join China's Belt and Road Initiative. President Alberto Fernández is also expected to discuss China's help to build Argentina's first nuclear power plant since 1981. President Guillermo Lasso is seeking to renegotiate Ecuador's $4.6 billion debt with China.
— UNITED NATIONS: Secretary General Antonio Guterres and WHO Director General Tedros Adhanom Ghebreyesus will attend. The IOC is a close partner of the UN, Guterres said, and the Olympics bring people together with a message of solidarity and peace. "This is … a message that, in my opinion, is more relevant than the political circumstances that exist in the countries where the Olympics are held," he told The Associated Press.
___
NOT ATTEND
— BOYCOTT: The United States announced a diplomatic boycott while allowing its athletes to compete. Major US allies followed, including Britain, Australia and Canada, whose Prime Minister Justin Trudeau said: "We are extremely concerned about the Chinese government's repeated violations of human rights." Kosovo and Lithuania, whose relations with China have plummeted over their ties to Taiwan, are also participating in the boycott. India said it will not send any officials following reports that a Chinese military commander who was involved in deadly clashes with Indian border forces in 2020 had been chosen as one of the Olympic torchbearers in Beijing.
— NO BOYCOTTERS: Norwegian and Swedish royalty, who normally attend the Winter Olympics, will not attend. There are also no leaders from Germany, Austria or Switzerland, all great winter sports nations. They are officially citing the pandemic, rather than any diplomatic protest. Others, such as Denmark, the Netherlands and New Zealand, have cited the COVID-19 restrictions and have also raised concerns about the human rights situation in China.

www.independent.co.uk
George Holan is chief editor at Plainsmen Post and has articles published in many notable publications in the last decade.