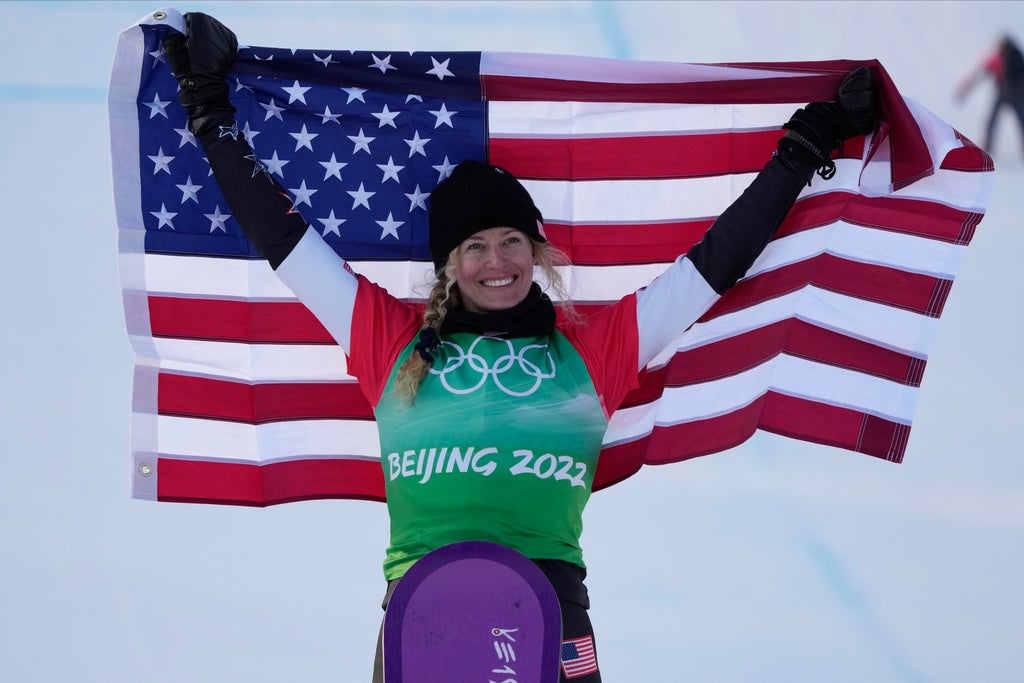 Peng watches Olympic skiing with IOC president
Day five of the Winter Olympics is well underway, on what could have been a significant day for Team GB. Charlotte Bankes was a big medal hope for Great Britain but her Olympic dream ended in heartbreak after she finished third in her quarter-final heat. In what was a crazy race, described by Bankes as her "worst of the season", the world champion and World Cup points leader was beaten to the line in a photo-finish as Team GB's medal drought continued.
The USA eventually ended its longest-ever wait for its first gold medal of a Winter Olympics, but there was more disappointment for medal favorite Mikaela Shiffrin, who had hoped to bounce back from a poor showing in the giant slalom earlier this week. She lost control about five seconds into her opening run of the slalom — and that was it for her in the event. The gold medal came in remarkable circumstances, as Lindsey Jacobellis won snowboard cross gold to end 16 years of hurt. In 2006, Jacobellis threw away gold on the final jump of her race, in one of the most infamous Winter Olympics moments of all time, but she finally has her crowning victory at the age of 36.
Elsewhere, there has been confusion as the medal ceremony for the team figure skating competition was delayed over a legal issue. The Russian Olympic Committee won gold in the event, with the United States and Japan completing the podium, but the medal ceremony did not take place at its scheduled time amid reports that the doping authorities were involved in the delay. The situation was described as an "emerging issue" by an IOC spokesperson.
Follow the latest updates:
1644406419
Vinzenz Geiger wins
Geiger began the 10km nearly a minute and a half down on the leader. That is an incredible ski from the 24-year-old, timing his final attack up the last climb perfectly in a super-quick cross-country. Some credit should go to teammates Rydzek and Julian Schmid, who set such a high tempo and exhausted the Austrian Lukas Greiderer.
That's the third Olympic gold in this event in a row for Germany. Eric Frenzel, in isolation after a positive Covid test soon after arriving in Beijing, may have missed out on a chance to defend his title but that might just soften the blow slightly.
Harry Latham Coyle9 February 2022 11:33
1644406147
Vinzenz Geiger snatches gold!
A German wins, but it isn't Johannes Rydzek! The leader completely snapped! He finsihes down in fifth eventually as the rest of the contenders arise past him in the 500m final, led by teammate Vinzenz Geiger, who claims his first individual major medal – and it is Olympic gold!
Geiger adds the individual normal hill/10km crown to the team relay gold he won in Pyeongchang. Jørgen Graabak follows him home for silver and Lukas Greiderer has clawed his way back to finish with a bronze.
Harry Latham Coyle9 February 2022 11:29
1644405845
Johannes Rydzek begins to pull away
Here goes Johannes Rydzek! The German puts the hammer down and Lukas Greiderer starts to slip from his heel. It's been a below par season from Rydzek but he remains one of the great skiers on the Nordic combined circuit and this is a brilliant performance, albeit in the absence of the world and Olympic champions.
Harry Latham Coyle9 February 2022 11:24
1644405692
Julian Schmid leads with 2.5km to go
Crikey this is close. All of Julian Schmid, Lukas Greiderer and Johannes Rydzek are within a second of one another, with the Austrian caught in German sandwich. Rydzek is the reigning Olympic champion in the large hill format – can he add another individual gold?
It looks like his teammate Schmid is just beginning to slip away. How much have you taken out of Greiderer?
Harry Latham Coyle9 February 2022 11:21
1644405314
5km to go
Lukas Greiderer, Johannes Rydzek and Julian Schmid are just starting to turn the screw on Ryota Yamamoto, who has lost a couple of ski lengths at the back of the quartet. Rydzek currently at the head of the line.
There's a group of about five or six athletes 30 seconds or so down, so the leaders can't afford to play too much cat-and-mouse in the second half of the 10km, but that's probably a large enough margin for them to stay away from Johannes Lamparter and co.
And yep, Yamamoto is gone – he's snapped on the incline out of the finishing area and it appears he'll be swept up in reasonably short order by those behind him. Unfortunate for the 24-year-old after such an impressive showing on the normal hill earlier.
Harry Latham Coyle9 February 2022 11:15
1644404870
Ryota Yamamoto caught
And Yamamoto is caught at the 2.5km mark. The Japanese looks like he knows his race is run as his the European trio (an Austrian and two Germans) blow by him and fill the medal places at the quarter mark of the cross country. They look the favorites to contest gold, though Yamamoto is hanging on for now.
Harry Latham Coyle9 February 2022 11:07
1644404771
Nordic Combined 10km Underway
Right, things are back underway over at the Nordic combined, with the 10km cross-country portion about 10% of the way through. Japan's Ryota Yamamoto took a massive lead through from the ski jumping but his margin has already been narrowed to just 15 seconds in the opening kilometre, with a chasing trio of Lukas Greiderer, Johannes Rydzek and Julian Schmid closing in on the leader.
Harry Latham Coyle9 February 2022 11:06
1644404476
Full-time! ROC 1-0 Switzerland
That is that! ROC's men begin their ice hockey campaign with a hard-fought 1-0 victory against Switzerland, striking early and holding on thereafter in an at-times ill-tempered battle at the Beijing National Indoor Stadium. The defending champions are up and skating.
Up next in Group B for ROC are Denmark, who face the Czech Republic later.
Harry Latham Coyle9 February 2022 11:01
1644403786
Still tight between ROC and Switzerland
Yannick Weber isn't having a particularly good day. The Swiss hockey player was headbutted during the second period and has now taken a rather nasty blow to the jaw from an errant Russian stick. No malice involved, just an unfortunate accident, but the defenseman is in a little bit of pain.
It's still 1-0 to the ROC with seven minutes left in the third period. Even game. Can Switzerland find an equaliser?
Harry Latham Coyle9 February 2022 10:49
1644403217
Team Muirhead start against Switzerland and Sweden
It's a brutal opening day for Eve Muirhead's rink – the European champions collide with the reigning world champions and defending Olympic champions in Switzerland and Sweden. While two defeats would far from end their hopes of progressing to the semi-finals, Muirhead and her team de ella will be keen to get at least one win on the board to build confidence for the rest of the round-robin.
Here's their full schedule:
Harry Latham Coyle9 February 2022 10:40

www.independent.co.uk
George Holan is chief editor at Plainsmen Post and has articles published in many notable publications in the last decade.