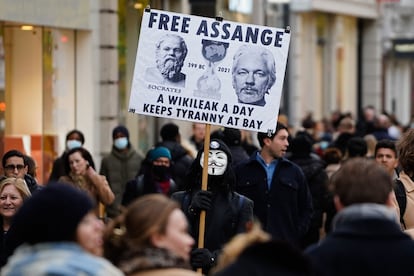 Mexico reiterates its asylum offer to Julian Assange but he cannot accept it, at least for the moment, "for procedural reasons." The Secretary of Foreign Relations, Marcelo Ebrard, assured this Tuesday that the Government is in contact with the lawyers of the founder of Wikileaks and that "at this time, procedurally, they could not take that option." "It is a matter of procedure," said the foreign minister a day after the president, Andrés Manuel López Obrador, again expressed his willingness to host the exhacker. Assange is being held in the United Kingdom, where in December justice opened the door to his extradition to the United States, which is claiming him for espionage and national security crimes. But his procedural situation is not yet resolved.
"We have established our position and we are ready to offer Assange asylum in Mexico. We believe that the United States Government must act humanely. Assange is ill and it would be a show of solidarity, of fraternity, to allow him to receive asylum in the country that Assange decided to live, including Mexico, "the president maintained during his morning press conference on Monday. López Obrador recalled that the right of asylum is an axis of Mexican diplomatic doctrine. "It is a pride of our foreign policy," he emphasized, recalling that the computer programmer would not represent any danger by being prohibited from intervening in foreign affairs of the United States.
A year ago, just before Donald Trump left office, the Mexican president sent him a letter asking him to consider a pardon for the Wikileaks founder. "At the end of the governments in the United States, presidents can make use of this power. Well I sent that letter; had no response, "he explained. In that letter, he argues "Mr. Assange's health has severely deteriorated and he is at real risk of dying in prison." "If he manages to get out of that situation alive, he faces a possible jail sentence for many years in the United States. In my opinion, although he has acted in the wrong way, he is a person motivated by ideals and principles, and I think that for that fact he should be worthy of compassion, "López Obrador continued in his letter, which also addressed the issue of asylum . "If you agree to my request, the government of Mexico is willing to offer the necessary facilities for Mr. Assange to travel immediately to my country, where he would be received as an asylee."
Assange, an Australian citizen, obtained asylum at the Ecuadorian Embassy in London a decade ago. It happened during the Administration of former President Rafael Correa. Under the mandate of his successor, Lenín Moreno, in 2019 the South American country withdrew his asylum and later the nationality that he had just been granted. Today the developer of the leak portal, who is 50 years old, continues to receive the support of several left-wing governments, is awaiting a possible extradition. A year ago, the British courts had rejected this possibility, considering that there was a high risk of suicide. However, a month ago an appeals court issued a new resolution that puts his delivery to Washington back on the table by ensuring that the Joe Biden government incorporated new security guarantees for Assange.
In this phase and in the short term, Ebrard has maintained, the defense of the Wikileaks founder is not in a position to accept an asylum offer. "But we do have communication with them," he clarified. "As soon as there is any change, we would report it immediately," the Secretary of Foreign Relations has promised.
Subscribe here to newsletter from EL PAÍS México and receive all the informative keys of the current situation of this country

elpais.com