[ad_1]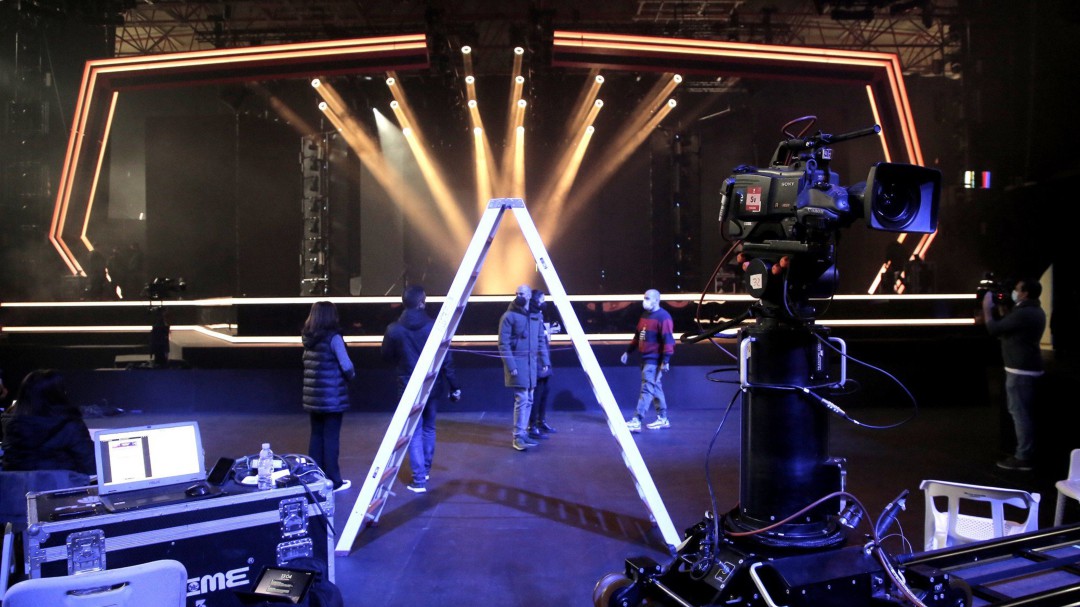 After the resignation of Luna Ki, there will finally be thirteen participants divided into two semifinals that start in Benidorm this Wednesday, January 26, which will continue on Thursday 27 and that will proclaim the first winner of this new election system among eight finalists the next day. 29.
You can listen to the songs by clicking on the author's name:
– VARRY BRAVA, "Raffaella": The trio seemed the natural choice of "indie" to give a twist to the national candidacies in the style of La Casa Azul. Their music and their staging are casual, proudly "tacky" and, after more than a decade in the country's big festivals and venues, they arrive in Benidorm with a seventies spirit and one of the best songs in their repertoire.
– AZÚCAR MORENO, "Postureo": They are a Eurovision legend due to the strength of the "Bandido" and their famous fright from the stage. They return with a theme with that personality between racial and danceable pop and suburban rumba, but, even with their recently released more powerful production, perhaps the memory of the success that took them to fifth place at the 1990 festival still weighs them down too much.
– BLANCA PALOMA, "Secreto de agua": A worthy representative of the current push that has delicate and emotional voices such as those of Valeria Castro, Rosalía or María José Llergo. Her cathartic song, a kind of nymph's song with flamenco accents, will be one of the only two slow songs in the selection, with a small exciting rise: "There will be no one to stop her singing when she flies".
– UNIQUE, "Best": A good part of the traditional Eurovision audience misses the "boy bands". That's where this melodic pop quartet plays its best trick, updated with Latin urban soniquetes, as in this song with an epic appeal that speaks of progressing together. In Benidorm Fest there will also be acrobatics.
– TANXUGUEIRAS, "Terra": The Galician tambourine trio is one of the great favorites to win even before Benidorm Fest became a reality and, driven by the public, they presented this fusion of folk with electronic music. His direct, forged in hundreds of "foliadas", also knows how to set fire, especially with an overwhelming percussion and his ancestral song, like a coven in the heat of the bonfires.
– CHANEL, "SlowMo": His biggest handicap is sustaining for three minutes a canonical song of current urban and Latin sounds that, after the first minute, has already discovered all its secrets. However, after the rehearsals of her overwhelming staging, there are those who speak of her as the "covered" of the edition. "Señora' y Señor'", will this singer, dancer, actress and diva struggled in musicals be the Eleni Foureira of Benidorm Fest?
– XEINN, "Eco": Danceable, aerobic and carefree, music like this is not usually made in Spain, with one foot in the typical Swedish productions and the other in the "synth pop" of the 80s, in the wake of A-ha even in the falsetto of its very young interpreter, who began to build his fame with versions on the internet. Now, after bets like Greece's in Eurovision 2021, isn't it late?
– MARTA SANGO, "Sigues en mi mente": This malagueña already showed in OT 2018 a unique personality that here leads her to pay homage to the pop of the 80s in a song that sweeps away love nostalgia with a happy and proudly naive melody in which the keyboards, with the seal of Guille Mostaza as producer, play as important a role as the voice.
– JAVIERA MENA, "Culpa": With four albums behind her back and hits that are a benchmark for LGTB+ such as "Espada", the Chilean based in Spain arrives at Benidorm Fest with electronic pop very much in her vein and in that of the most modern Eurovision for talk about letting go of external pressure in pursuit of freedom.
– GONZALO HERMIDA, "Who would say it": His timbre and candor are the best of this young composer and performer from Cádiz who, allied with David Santisteban, seeks to move with a bucolic ballad with Andalusian roots, so common in Spain through of artists such as Manuel Carrasco or Pablo López. Due to his positive for covid-19, he will not be able to sing live in the semifinals and, instead, the video clip of the song will be broadcast.
– RIGOBERTA BANDINI, "Ay Mama": Author of one of the alternative pop hits of 2021, "Perra", was another candidate demanded by Eurovision fans, who have positioned her new song as the favorite to win. Unexpected in its twists, not as immediate as some of its competitors, this hymn to motherhood and the freedom of the female body is three songs in one, with an ending that asks for gap and bare breasts "in the pure Delacroix style".
– RAYDEN, "Calle de la llorería": This former champion of the Cockfight that fills the Wizink Center in Madrid took eight months to polish the production of a quick lyrics that claims vulnerability against a background of tribal palms. Including its video clip, it is the most closed candidacy of Benidorm Fest and also one of the favorites of foreigners for its originality.
– SARA DEOP, "Make You Say": "Joy and a Latin touch to get you up to dance" is what the youngest of this first Benidorm Fest offers, whom many discovered as a contestant on "La Voz Kids" five years ago, when He was only 13. His leap to musical maturity comes with this sensual cut, but with no room for surprise, too anchored to his basic formula.
(Xavier Smith)


[ad_2]
cadenaser.com
George Holan is chief editor at Plainsmen Post and has articles published in many notable publications in the last decade.