Every time she returns to the beach, Confort Nyenetue's eyes stop on the frame of a door that saw her grow up. The house his mother built 30 years ago is now in ruins, with rubble inside and surrounded by trash. Just a few meters of sand full of plastic and children defecating separate her from a sea that in September 2020 stole all her belongings and made her homeless. "I was sleeping when the water came through the wall, breaking the bricks. I remember that I grabbed my grandchildren and ran to school. I was very scared, "she recalls.
The same waves that have already left thousands of residents homeless threaten to engulf West Point, Monrovia's largest shantytown. According to the latest census data (2008), about 35,000 people live here, although the authorities estimate that the current figure is around 80,000. A neighborhood of houses so close together that sometimes you have to go sideways. A place where poverty and drugs flood the lives of families drowned by the sea and garbage with worries.
For this reason, the Administration had announced that last autumn the construction of a wall would begin to protect the settlement of the coast, although the small print of the project reveals that, if completed, the works will begin at the end of 2022.
"If they don't do something soon, the disaster will be worse. During the rainy season, the river overflows on one side, and the sea pushes from the other ", laments Daniel S. Grant, president of the Disaster Victims Association (DVA). The organization was born in 2014 after a flood that left hundreds of people homeless. Now, they represent 4,081 affected by sea erosion in this small peninsula of Liberia.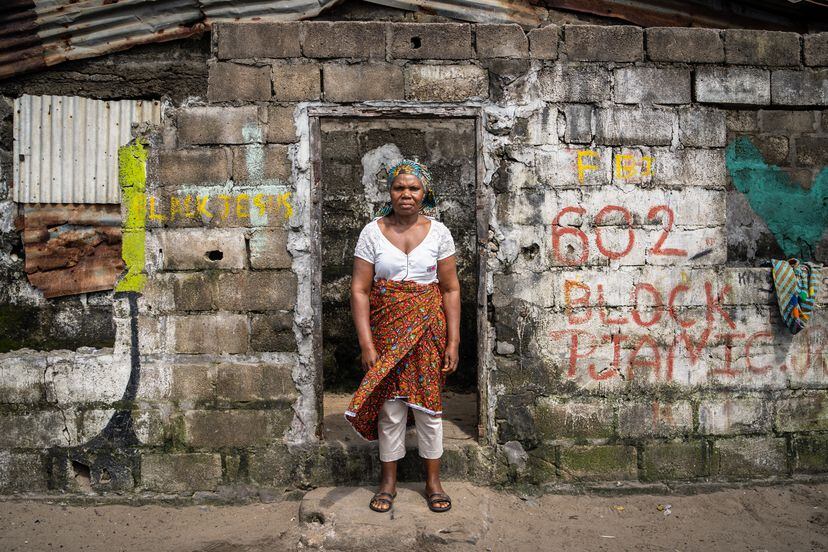 The NGO tries to be the link between the injured parties and the Administration, although since the departure of former President Ellen-Johnson Sirleaf and the coming to power of George Weah (2017) they have not received any response. It's been four years sending letters through the district representative. Four years listening to desperate men and women who come daily to the headquarters because they have nowhere else to shelter from the harsh sun that punishes the asphalt.
This is the case of Lovetee Bryant, who hides her age with the same skill that she grabs a bag from which she does not detach. Her pearl earrings and a spotless yellow dress full of colors make it difficult to imagine her as one of 700 homeless victims. Only 60 families have been relocated in the last seven years, the rest have had to get by on their own. But Bryant, like many other women here, lacks a family to take her in. Therefore, he wanders down the street and begs for alms.
"It's embarrassing when they ask and we have nothing to give them," Grant acknowledges. "Our dream is to build a disaster management and shelter center, but nobody cares about us. Politicians and organizations come on the day of commemoration, put T-shirts on us and leave ".
Filth in a prime location
The other big problem facing this settlement is waste management. It is customary to dress beach waste, bottles and faeces with sand to gain meters of land and rebuild during the dry season. An unhealthy practice that condemns West Point to a boomerang of endless destruction. When the tide goes out, they build. When it goes up, they lose everything.
With a population similar to Toledo or Fuengirola, there is not a single container in which to deposit rubbish and the narrowness of the only road prevents truck access. The situation has led the two governments of a young democracy born in 2005 after two civil wars to propose the dismantling of the neighborhood, but no one has dared to do so.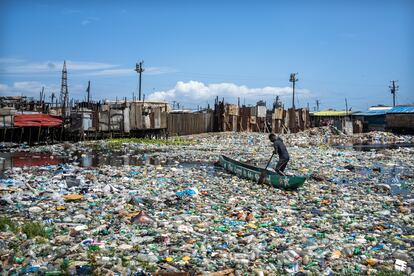 "Urban development is non-existent. There are no toilets, institutes, sewers … But you have to understand that people want to stay, or even return, because they have their economy there. There is no solution in the short term ", laments Francisco M. Juárez, director of Cities Alliance, a United Nations-hosted global consortium fighting urban poverty, in Liberia.
Located between the sea and the city center, the slum it is an ideal location for a community made up of fishermen and street vendors. The cost of transport is practically non-existent and it also avoids the need to freeze the fish.
One option, Juárez considers, would be to develop businesses in other parts of the city. A project that takes decades for the population to interpret the new locations as an opportunity. With a national budget that does not reach 500 million euros, it does not seem that the administration is going to opt for that alternative.
With a population similar to Toledo or Fuengirola, in West Point there is not a single container in which to deposit garbage and the narrowness of the only road prevents the access of trucks
"If they don't have a road, hospitals and a job to earn a living, it is clear that they will always find a way to return. The government needs to realize that relocating goes hand in hand with enhancing basic services, "says Andrew Senjovu, monitoring and evaluation specialist at Cities Alliance.
Money and lies
A 50-kilo sack of rice and $ 230. That was the government's promise to the last victims. And, although it does not differentiate between family units of one member or 15, many recognize that the compensation – only received by some – would be enough to rent a room.
With a Liberian flag in the background, William C. Weah, the neighborhood's highest political representative, denies the victims' complaint in his office and hides behind the expenses of the pandemic to explain, for example, the lack of cleanliness on the beach .
They talk and talk and talk, but no one thinks about the victims. If they came here and saw how people live they would feel sorry

Abraham V. Conneh, one of the local leaders at West Point
The reproduction of his words alters the atmosphere at the DVA headquarters and uncovers e-mails exposing the cases of 45 families who lost their homes in 2020 and have not received a single cup of rice. Number 36 on that list is Mercy Brown, who frowns upon hearing the delegate: "You know you're lying. There are many of us women who have not received a single dollar ".
"They talk, talk and talk, but nobody thinks about the victims. If you came here and saw how people live, you would feel sorry. There are many who have nothing. There are 48 children without education because parents cannot afford to pay for school and you have to see them on the streets! "Interrupts indignantly Abraham V. Conneh, one of the leaders.
When the sun goes down, Confort Nyenetue walks to a friend's house. She has only been living there for a few days after spending more than 370 nights at school with her four grandchildren. After a year closed by covid-19, and with no intention of reopening it, in November they were asked to leave. Other victims go to church or mosque. Musu Boipha is one of them and with a sigh she lets out: "In Liberia we even suffer to be able to sleep."
They are stories of escape due to lack of planning. Biographies marked by an ocean that has already swallowed nearly a thousand houses. Neighbors condemned each year to become the first line of defense in a neighborhood that the citizens of Monrovia themselves avoid stepping on. This is West Point, the place where the poorest, of what was once considered the world's poorest capital, swim against the current struggling to survive.
You can follow PLANETA FUTURO in Twitter, Facebook e Instagram, and subscribe here a nuestra 'newsletter'.



elpais.com
George Holan is chief editor at Plainsmen Post and has articles published in many notable publications in the last decade.