A debate runs through Europe: should we bet on nuclear energy in the fight against climate change? And for natural gas? The European Commission is finalizing its taxonomy proposal (the classification of investments that can be considered sustainable) and there is a great debate among countries about whether, accompanying renewables, nuclear and natural gas should be included in that list . Their inclusion is controversial because nuclear plants do not emit greenhouse gases, but they do leave a legacy of radioactive waste for subsequent generations, regardless of high costs. And natural gas, although the plants that use it emit less gases than those that use coal and oil, it is still a fossil fuel. The European Commissioner for the Environment, Oceans and Fisheries, Virginijus Sinkevičius (31 years old, Vilnius, Lithuania), tries to maintain in this interview a balanced position like the rest of the Community Executive and believes that nuclear can be considered a transitional energy, but not the future. Sinkevičius also defends the environmental standards that the EU puts forward, although he acknowledges that there is a gap between those directives and the way in which the 27 then comply with them.
Question. Why is the new deforestation rule just proposed by the Commission important?
Answer. It is important because, above all, it is a pioneering initiative that really stops deforestation, not only illegal, but also legal. Ultimately, when a forested area is cut down, it tends to become agricultural, that is, there is a change in land use. The most important thing is that we are sending a signal and a very clear message: we cannot ask our partners in third countries to do more for the climate when here, in the European Union, we are also partly responsible for causing deforestation, loss of biodiversity and climate change in those countries. That is, we take full responsibility. Another important thing is that it offers very defined standards. So companies have to be happy, because now there are companies that already use localization to show where goods come from and that there is no relationship between their products and deforestation. But there are some who practice a greenwashing [lavado de imagen verde]. Now, with clear rules and strict implementation, it will be ensured that these products do not enter the EU market.
P. Do you think Europe will finally ban gasoline cars in 2035?
R. Let's not rush into banning anything. I think the industry will do its job for itself much faster than politicians will react. We are seeing very clearly a big change in the industry. We have to continue helping change, investing in R&D, in clean technology, making clean cars more affordable for citizens and that they can also opt for a clean bus, something that I think is also very important. What we are definitely going to do is focus on very strict regulations on emissions from cars and vans, and I think that will be an important turning point that will bring changes in the future.
P. The European Union is now discussing whether to include nuclear in the new classification on green investments. Is nuclear energy a green energy?
R. We cannot ignore the fact that it has a dangerous part. Nuclear waste cannot be ignored either. And adding all this, it is not easy to make a decision to have a number of states highly dependent on nuclear energy. So the question is whether it is the future or is it a transitional energy source. I think it could be transitional, but I don't think that at the moment we are in, with the technologies we have, it is the future.
P. What about natural gas?
P. All fossil fuels should remain in the vocabulary of the past. We should systematically reduce them and invest in renewable projects that show that they really are our future. And that's why we bet. I believe that the European Union has very ambitious plans for renewable projects, and that they must be put into practice. I think that Member States can work harder and better to ensure that permits are granted more quickly, taking into account, of course, all the environmental regulations and directives, but granting them more quickly to ensure that renewables are developed earlier. Recently we were discussing, the whole of Europe was discussing, the rapid rise in gas prices. If we had started the green transition five, or better yet 10 years ago, we would be less dependent on gas, less dependent on energy imported from third countries, and electricity would not cost as much.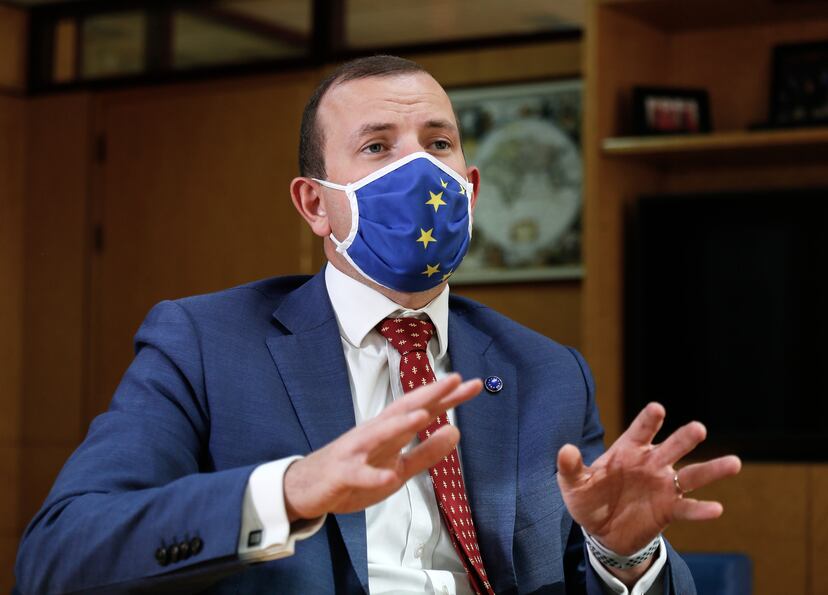 P. Spain is the EU country with the most open community infringement procedures for environmental breaches. Why? What is being done wrong?
R. I would not say that something is being done wrong, I would say that things are getting better. In the last 10 years we have seen significant improvements in the application of environmental legislation. But of course more could be done. For example, we have open non-compliance procedures for air quality in Madrid and Barcelona. We see that things improve. And since 2019, in Madrid, for example, the air quality has improved. Not enough, but we see that there is political will to act. I think this is very important. Then, for example, there is wastewater treatment, which is a big problem in Spain. The recent court ruling referred to 17 urban agglomerations and now there are seven that still have problems. So it is getting better. I think now we have a good opportunity to really give it a boost with public money to ensure that recovery funds are used to make the green transition and close the gap in the application of European law. Most of our legislation is adequate, for example, in the case of air quality. The main problem is closing the application gap [de los Estados], and that is what we want to accomplish. I have many meetings with ministers and mayors where we talk about how we can best channel EU funding to ensure that the implementation gap is closed. Most importantly, in the end, citizens will quickly see the difference when they are rewarded with clean air and water. First of all, it will have a huge effect on your health.
P. But when it comes to urban wastewater in Spain, how is it possible for a country to take more than 30 years to comply with European regulations?
R. It is very difficult for me to say what the political priorities were before. I can only speak to the current guidelines, and I am happy with them. I see clear commitments. I see great efforts on the part of Vice President Teresa Ribera and clear commitments on the part of the autonomous governments. Only by working together the autonomous governments with the central government can change be achieved. Therefore, the last 10 years have put Spain on the right track. Yes, it is taking too long. We have to act. We can't wait another 10 years.
P. Are low emission zones the solution to the problem of air quality?
R. It is a temporary solution. I hope that, with our decisions, between now and 2030 and 2035 all of Europe will be a low-emission zone, but for now it is a good and productive solution. Numerous cases show that, indeed, there is a rapid improvement in air quality. But, of course, it cannot be the only measure. In addition to the low-emission zones, work must be done on the mobility and micromobility networks. You have to start by really changing people's minds, who see that leaving the car at home, or even not having a car, can be a good solution that saves a lot of money, but also time.
P. What do you think about Madrid abolishing its low emission zone when it changed mayor?
R. Now Madrid has a plan that I think is a solid plan that, if implemented, is sure to bear fruit for the citizens of the capital. What I would like, not specifically for Madrid, but for all cities and EU Member States, is that the Green Pact is not considered as a legacy of a party or a previous politician, but as a long-term plan for citizens, for the city and for the country. Our European Green Deal has only just begun. Its life will last until 2050, when we reach the goal of decarbonizing Europe. It is impossible to solve air quality problems in the city in four or five years. It takes a continuous effort and the agreement of all the political parties in this regard, because I believe that the health of the people of our cities should be at the center of the political agenda.
You can follow CLIMA AND ENVIRONMENT at Facebook and Twitter, or sign up here to receive our weekly newsletter



elpais.com