[ad_1]

Virginia Torrecilla (Cala Millor, Mallorca, 27 years old), midfielder for Atlético de Madrid, has overcome one of the toughest illnesses a person can suffer from. A tumor in the head kept her away from professional football for a long time. But a week ago, a few minutes from the end of the Super Cup final between Barça and Atlético, he returned to the pitch 683 days later. An emotional and happy moment that was crowned by the rivals' blanket in recognition of their fight.
Ask. How are you?
Answer. Very happy. I've been a few days with an adrenaline rush for everything I've experienced. But now it's time to continue working to be able to continue fulfilling my dream. I have been full of messages and I thank you from the bottom of my heart, but it has also been a bit overwhelming. I have realized the moment I am in and that I have to be better every day. I'm taking it. For me, and for all the people who have lived experiences like this.
P. How did you feel when you went out to play after so long?
r I got really nervous. They told me, "Come on, Virginia, warm up that you're out." I remember that they caught my attention because I was going to get warm with my coat and mask on. And I thought: I haven't done this in a long time. At the moment of going out to the field, I thought of my family, in the desire they had for this to happen after so many bad moments. Then I remember people clapping, shouting my name. But quickly I began to think that I had to do well those five minutes.
P. Have you felt sheltered during all these months?
r I have felt very loved, starting with my family and my brothers. Everyone was with me, not just my team, which has been like my family, or my club, whose medical service I thank for being here today. Many people, without knowing me, have turned to me and have told me about their own experiences in very complicated phases. That has made me very strong.
P. His cloak was the image of companionship.
r At Barça I have many friends that I really appreciate. But at that moment when they win a title and before celebrating it they do that for me… You don't see that in all sports or in life itself. I wish we had won, of course, but I prefer that moment. We work every day to be better, but above all we are people. And those people, after winning a final 7-0, what they did was throw me in the air and cry with me for my return to the soccer fields. It is a very beautiful image that no one should forget.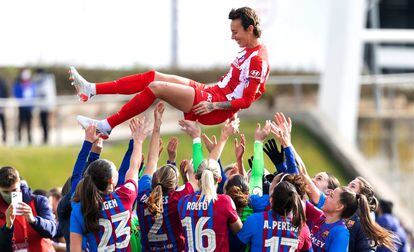 P. Among the players who kept her was Alexia Putellas, how is your relationship with her?
r I have Alexia like a sister. We have experienced very difficult moments in life. When I arrived at Barça at the age of 17, she welcomed me. She was always with me, she was like the foster daughter of her family and my parents have been very grateful. He is also an example of a struggling person who has worked hard to get to where he is now. He deserves everything he is getting.
P. And, after that path to be a professional player, how was the moment when they told you that you would not play football again? How did you fit it in?
r A few weeks after the operation I had to visit my oncologist to see how the tumor was doing. He told me it was malignant and that I had to go through radiotherapy and chemotherapy, with the side effects of losing feeling in my hands and feet. When they told me that I would not play professionally, the first thing I thought was that I did not care about football. That had passed to a fifth plane of my life. I wanted to recover and be well, even if I had to go to Mallorca to work as a waitress. Then, as the side effects subsided, I was already told I would be back. But I spent many months without knowing what was going to happen. I was crying thinking that I couldn't be here today, and I'm not speaking on a sporting level.
P. What was the worst moment?
r I had very bad moments. When everything came to me out of the blue I thought it was time to move on and I knew I could do it. But I saw that time was passing and that I had to face more phases of chemotherapy, each time with less force. The last three months of illness I had a really bad time, crying practically every day. I remember my mother asking me how I was and I told her I didn't want to talk. It got to a point where I didn't even want to go through the last two anymore. chemo. Although the worst moment was when, while I was with my mother, we suffered a traffic accident that sent her to the ICU. Two months after recovering from the chemo I start to get better and that's exactly what happens. After getting out of everything, seeing my mother like that… If something had happened to her and she hadn't recovered, I think she wouldn't have gotten over it. I suffered more from that than from my own cancer.
P. What did you cling to to recover from such an experience?
r I was in a vicious cycle of training, going home, crying, getting up in the morning and not eating. I felt very guilty. When I saw my mother smile, even though she was in a wheelchair, and I was able to go eat with her at a restaurant, I began to feel a little better. There was a moment when I thought I had really gotten sick and that I had depression. And that's where I wanted to leave football. Three weeks ago I thought about going back home with my parents and not playing anymore. They pulled me because they are fighters and told me: "Virginia, get up from here, we are alive. It is a new life and we have to face it in the best possible way". During my illness I also clung a lot to Nahikari García (Real Madrid), who accompanied me throughout the process along with Silvia Meseguer (Atlético). I got the strength from my family and from the people who loved me. But I have had to mature very soon, because all this is to mature.
P. What goals do you have now?
r As an athlete, I want to continue working and reach the level I had before. I think short term. I also want you to forget about pitiful Virginia, cancer-ridden Virginia, and bald Virginia. I tell my experiences so that you know that, despite going through a very difficult time, you can get out of this. And it comes out.
You can follow EL PAÍS DEPORTES on Facebook Y Twitter, or sign up here to receive our weekly newsletter.


[ad_2]
elpais.com
George Holan is chief editor at Plainsmen Post and has articles published in many notable publications in the last decade.