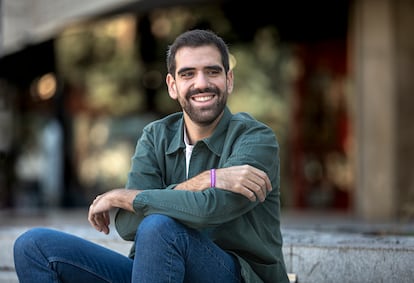 Víctor Camino (Valencia, 27 years old) is the new general secretary of the Socialist Youth. Graduated in Political Sciences and with studies in Law, he works managing the social networks of the presidency of the Generalitat Valenciana. It seems he's been at this all his life. Modulate each answer as if each of them were the position. He talks about inspiring, brave debates and representing a marginalized periphery. And they demand that their elders listen to them and give them a place in decision-making spaces. When everyone seems to agree on the lack of consensus for a constitutional reform, he calls for a greener constitution.
Question. He has fought his battle to lead Socialist Youth with another candidate, a regional deputy from Madrid. Has it been the fight of the center against the peripheries?
Answer. It has not been a fight, it has been a debate of ideas, but that has not been the axis of the debate but rather unity and re-illusion of a socialist generation that has to leave its borders to address the pending challenges. Now the candidacy From utopia to action it claimed a project from the periphery to the center without skipping the women.
P. What is your project?
R. To be useful to a working generation to which no one has given anything and that needs the welfare state to put our priorities in the centrality of the debate, young work, feminism and also the climate emergency.
P. Are the youths closer to ecofeminism than the PSOE?
What affects the most is what happens closer. To not miss anything, subscribe.
Subscribe
R. Feminism is going to structure youth, it is cooperation, it is empathy, it is solidarity, it is the struggle of women but also the care of the planet and of our own metal health. Youth has to be the vanguard and dare.
P. Dare what?
R. To open debates that will shape politics in the coming years. We are the present, let no one tell us about the future. The future is what we want to build.
P. What is missing from the PSOE?
R. More forcefulness in making the young social elevator work again. Great steps have been taken and the Prime Minister, Pedro Sánchez, must be recognized for the implementation of policies that go to the heart of young people's problems, such as housing, access to culture or autonomy and freedom.
P. Are the partners of the central government eating the toast to the PSOE in these aspects?
R. I do not think so. There are many open debates and it is necessary to add views from different perspectives to find the most consensual path on the left. The unit on the left is represented by Sánchez.
P. In what should I listen more to Socialist Youth?
R. It should address youth social dialogue in all institutions, a comprehensive response to this generation based on meetings between unions, companies, institutions, training centers and youth councils to rescue our generation that lives between crises.
P. He has not answered me.
R. There should be more young people in decision-making places. If democracy has long bordered young people, now it must put us first and, if it does, it will succeed in inspiring people who are far from politics. Instead of talking about unattached youth, let's talk about politics unattached to young people. As soon as we get closer to everyday challenges, there will be greater confidence, the revolution of the everyday.
P. Socialist Youth has spoken of a state pact for youth. Do you believe in the need for this state pact?
R. The project From utopia to action is to transfer that great alliance to something material as a great platform, taking advantage of digitization, which is the space to guide young people from public-private collaboration. It would be the last station of that State pact. First, job insecurity must be addressed, adequate training for the production model or the climate emergency leading to solutions, with a possible constitutionalization of the climate emergency.
P. Talk about things that not only have to do with young people. Aren't they too common themes to be the basis of a state pact on youth?
R. There are shared problems, but those who are most affected are young people and, especially, young people from the working class. They are the ones who are affected the most.
P. What do you mean by the "constitutionalization of the climate emergency"?
R. The youths are going to work for a constitutional reform in a green perspective to address the climate emergency because we cannot stand still. We have to act and this reform would involve companies, institutions and ultimately the public. It cannot be that the individual is always held responsible for great social transformations because when they have been achieved it has been through collective action.
P. Does that mean a complete revision of the Constitution so that it has a green look?
R. It means a battery of articles that regulate the coexistence of all the agents to save the planet or, at least, to maintain it. That means that later laws and proposals are developed so that this constitutionalization reaches the last corner of the country, until the last institution.
P. Isn't it a bit utopian that the constitutionalization of the climate emergency in Spain is going to save the planet?
R. It must be done with Europe and with the world. Just like gay marriage. He saved many generations who saw that they should not be unhappy and he was an example for many countries in the world that adhered to the model that Spain implemented in a difficult time. We were the vanguard, why not be it in climate rights, if we were in civil rights? Going from utopia to action is a job of resignation and effort to specify policies.
P. What are youth going to do to get people to talk about them?
R. Propose courageous debates.
P. Are you going to sweep for home?
R. I am going to do a project that represents the periphery that has not had the opportunity to speak before. Many voices will be heard, from home, away from home and, above all, revolutionary voices.
P. If the secretary general of the PSOE, who is president of the Government, allowed you to make one of your demands possible, what would you ask him?
R. Work for constitutional reform in a climate key, make youth a meeting point for experts, associations against climate change so that we do not have to move to another planet because without a planet there is no politics, coexistence or freedom.

elpais.com