Asunción Loriente is 50 years old and is the only woman who presides over an Olympic federation in Spain. She has been a national referee since 1994 and an international referee since 2004 and has held the reins of the Rowing Federation since 2018. She was re-elected on June 27 with 54 votes in favor, nine abstentions and one invalid vote (there were no more candidates). Seven months after her re-election, the opposition -which supported her in 2018 and also in June- has promoted a motion of censure, which will be voted on Wednesday in Banyoles (Girona), led by José Agustín Gómez-Raggio, a 65-year-old lawyer. and author of some tweets in which he calls Pedro Sánchez and Pablo Casado "son of a bitch" and who has retweeted a message calling for the closure of all mosques. The 76 members of the Assembly will vote and the motion will prosper with a simple majority (half plus one).
In the Higher Sports Council they are "concerned" about the instability of the Federation and even "respecting the internal processes" they do not see "logical" that a motion of censure has been reached seven months after an election and "less with the good results achieved at the Tokyo Olympics (two Olympic diplomas)". They believe that the motion "does not respond to a sports or federative management but to territorial interests" and they do not appreciate "problems neither in the management nor in the sports part."
Gómez-Raggio was chosen among others by José Manuel Seijas, president of the Galician Federation, the one with the most weight in terms of number of clubs (42) and licenses (2,796 of the 12,738 total, 22%), to lead the motion as he was against the management of Loriente. Seijas, 74 years old, 39 at the head of the regional government (since it was founded in 1983), who in conversation with this newspaper wonders "what experience that girl has [Loriente] Apart from being a housewife", she says that she does not have social networks and that the networks "invent many things". Gómez-Raggio's insults, however, are not invented. "Those are things taken out of context. That's fucking shit. I know him and I treat him, he is a lawyer", she insists.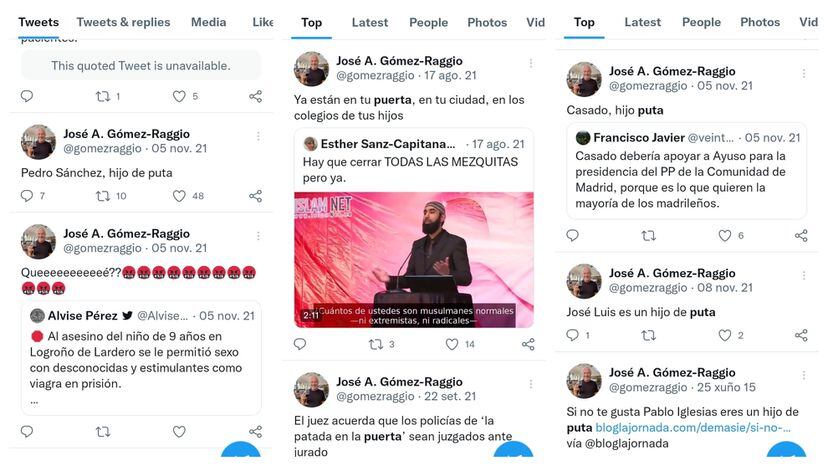 If Loriente does not have experience for this position, why did he support her twice? "I supported her as far as I supported her. In 2018 I practiced a saying: between the bad and the worst, that there is no candidate, because I keep the bad. It was my formula. Three showed up, none was to my liking and I kept the bad, "she replies. If it's not her fancy and you don't have experience, why don't you introduce yourself? "Because I am not old. I am old enough to help and a family to take care of, "she replies.
Loriente, who does not receive the position of president, accuses the presidents with more weight in the territorial ones of "caciquismo". To get angry "because they haven't managed to place to their favorites in the technical secretariat or in the general management" and the "discomfort" that causes certain people that it is a woman who is presiding. She assures that she knows that this is still politics: "And that you have to make concessions, negotiate many things, but everything has a limit." And she adds: "I have been told that my board is a joke because it is made up of four women [además de ella hay, de ocho miembros, dos vicepresidentas y una vocal]. They are used to imposing their criteria and when they take things to debate and see that the world is going in the opposite direction to theirs, they rebound, get angry and do not propose alternatives. It is destroying for the pleasure of destroying."
Seijas replies that Loriente, whom he refers to with the term "this girl", has a desire "for protagonism" and "he believes the host" and "the salvation of the world". The Galician gets angry when he is asked about the accusations of machismo. "Buah, another one, we are already with the same thing, now we bring up the issue of women. I'll tell you one thing, my mother was a woman and she was the one I admired. Women, like men, either know or they don't, or they know how to row or they don't, or they know how to play soccer or they don't. That's ridiculous. That of carrying the sanbenito that the motion is going to be made because she is a woman is not true. It is a fashion now. A very easy name [de hablar] and difficult to debate. Is anti-womanDamn, no, that's not true, not even that the rest of us didn't have a mother. What is my mother? A Martian or what?" she argues.
When asked about the reasons that have led to the motion of censure, Seijas answers that it is "the million dollar question". And he adds: "It's an accumulation of many things." Can you detail any? "No, none. In general I am not satisfied with his work, period. He has little experience."
"Son of a bitch is not an insult"
Why was Lorient supported then in June? Víctor Canal, president of the Cantabrian Federation, answers: "Because there was no other. And between the bad and the worst, I'll stick with the bad." Gómez-Raggio, who according to Seijas was contacted after others said no, describes as "surprising" the fact that seven months after she was re-elected, Loriente faces a motion of censure. This is how Gómez-Raggio himself tells it: "It is what surprised me the most. I told him [a Seijas y al grupo opositor que le contactó]: 'But there have been elections very recently'. They replied: 'Yes, but nothing that we had promised is being done and Asunción is acting on her own behalf'.
Gómez-Raggio first assures that he has not yet done an X-ray of what the Rowing Federation needs if he is elected president because that "is a collective effort" and then, asked how there can be a motion if there is no list of what fails, he answers that things don't work. "The president and the board do not agree, they argue, they do not reach agreements, they fight, there are actions behind the backs of the rest. That is what they are telling me from the first moment and I have no reason not to believe them".
Former president of the Mediterranean Club of Malaga, with 8,000 members and a long tradition, he left the command posts in 2015 to dedicate himself to politics. He was expelled from Ciudadanos for calling a meeting – a pre-primary one – without being authorized by the party. He tells it like this: "Since he always said what he thought… apparently in party discipline it is not allowed." Asked about the tweets in which he insults Sánchez and Casado, he says that they are not insults but "a political opinion" and that he lives on the street. "I walk, I am on a terrace, I chat with friends and acquaintances. We are people who live and have a Greek or Latin heritage: talking and ranting on the forum is the most normal thing in the world and we all do it. I am convinced that anyone sits down, talks and says what he thinks without any kind of filter. That's social media, whether we like it or not."
It is one thing to rant in the street, another is to call the president of the government and the leader of the opposition a "son of a bitch" in public, he is pointed out. "But when I am on the street I am in public and in the forum too", he points out at the same time that he says that everything is "extrapolated and interpretable". Don't you think that publicly insulting politicians or a person is incompatible with holding office in a Federation? "I understand that it calls someone's attention," he ditches. And he concludes: "With the subject of insults, I was looking for the algorithm that closes the account. People change the u for whore and put a v to prevent the robot from detecting it and I said: 'I'm not going to put the u, let's see if I can get twitter to close me'. But since I didn't have much importance, he didn't sanction me, unfortunately. It would have been more fun."
You can follow EL PAÍS DEPORTES on Facebook Y Twitteror sign up here to receive our weekly newsletter.
Exclusive content for subscribers
read without limits



elpais.com
George Holan is chief editor at Plainsmen Post and has articles published in many notable publications in the last decade.