[ad_1]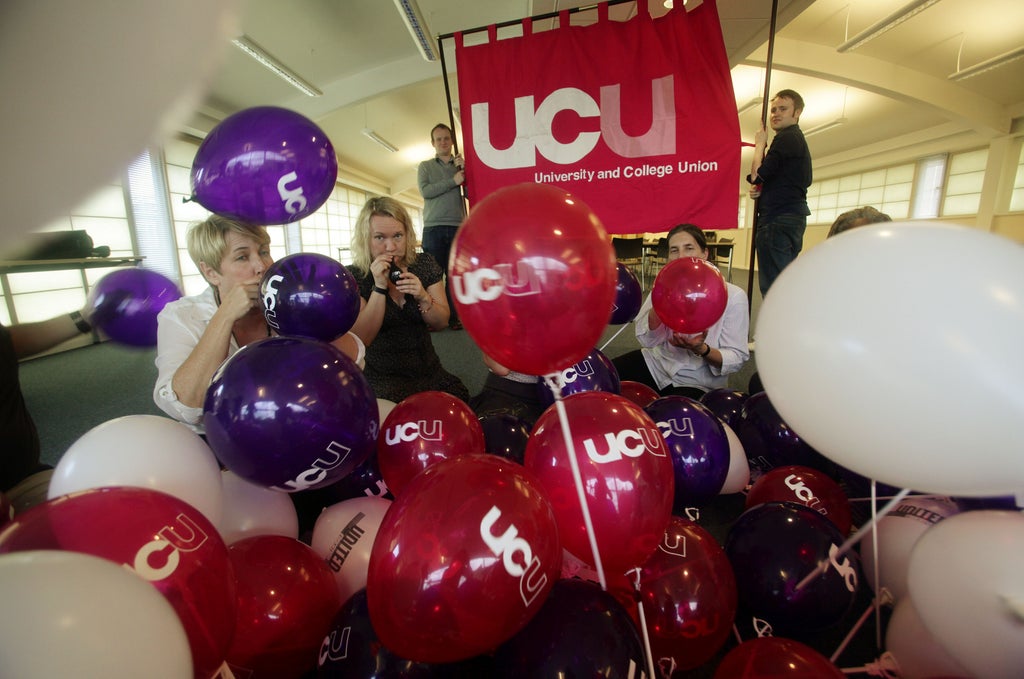 More than a million university students will face up to 10 days of teacher strikes in February, a union has announced.
Students at 68 institutions will see their professors walk away in disputes over salaries, conditions and pensions "more than embarrassing", the Union of Universities and Colleges (UCU) said.
The union has called the strikes "a fight for the future of higher education."
He added that the staff is at a "breaking point" due to years of declining wages and unsafe working conditions.
More than 50,000 staff members are expected to participate, with more than one million students affected.
In the first week of strikes, starting February 14, 44 universities will be embroiled in a dispute over cuts to the Universities Superannuation Scheme (USS) pension plan, which the union says would cut guaranteed retirement income from a typical member by 35%. .
Meanwhile, 68 universities will participate in the second week of strikes over pensions, wages and working conditions, with staff walking out in two days: February 21 and 22.
In the third week of the strike, 39 universities will stand up for three days just over wages and working conditions, from February 28 to March 2.
The March 2 strike has been coordinated with a student strike organized by the National Union of Students (NUS).
The UCU said more strikes are "on the cards", including a UK-wide strike over wages and working conditions, as well as plans for a national rating and evaluation boycott.
"The NUS is calling for higher and higher education to be free at the point of use for students and for staff to get better working conditions, salaries and pensions," the UCU said.
On Wednesday, the UCU announced that if its pension proposals were heard, it offered a "way out" of the impending strike.
He called for new pension proposals to be formally tabled and voted on and for the financial health of the USS pension plan to be assessed, as well as for employers to pay more for the plan starting in April 2023.
UCU General Secretary Jo Grady said: "It is a damning indictment of the way our universities are run that staff have no choice but to leave again.
"For a sector worth tens of billions of pounds and enjoying record levels of student growth, it is beyond embarrassing that in return staff get ruthless cuts in pensions, slash pay and are pushed to the brink in deteriorating working conditions.
"Time is running out fast for vice chancellors to avoid a strike, but it can be done.
"Staff need a proper pay increase, measures to address insecure contracts, insecure workloads and pay inequality, and devastating pension cuts to be reversed.
"Any disruption that occurs will be the clearest indication yet that university bosses don't value their staff."
Raj Jethwa, chief executive of UCEA, which is representing the employers in the wage dispute, said: "It is disappointing for UCU to try to ask a minority of its members to take action again on last August's wage increase.
"It is important to remember that only a quarter of the branches reached the legal threshold for industrial action in the most recent UCU vote. In terms of staff engagement and teaching loss, the impact of industrial action has so far been quite low at most higher education institutions, and even below the levels seen in the 2019 dispute.
"Instead of continuing this disruption, UCU should engage constructively in this year's (2022-23) multi-employer negotiation round, which is scheduled to start at the end of March."
[ad_2]
www.independent.co.uk
George Holan is chief editor at Plainsmen Post and has articles published in many notable publications in the last decade.