[ad_1]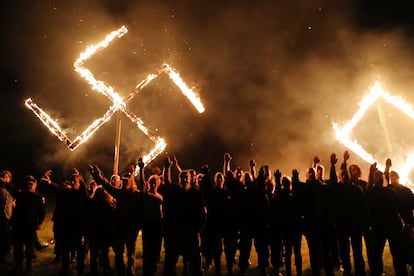 A federal jury in Charlottesville, in the state of Virginia, on Tuesday found known white supremacists Richard Spencer, Jason Kessler and Christopher Cantwell, as well as 14 other people, guilty of civil conspiracy, according to state law. All of them were involved in a conspiracy involving hundreds of white supremacists in August 2017, which led to race riots that resulted in the death of a 32-year-old woman, run over by a 20-year-old neo-Nazi, who drove her car into the crowd. anti-fascist who rejected the presence of the ultra-rightists.
The jury was unable to reach a resolution on two of the three counts that weighed on the defendants who participated in the Unite the Right rally in the summer of 2017. What the jury did agree on was to award $ 26 million for the victims. James Fields, the self-described neo-Nazi who ran over Heather Heyer and was convicted of first-degree murder in a previous trial, is responsible for 14 of those 26 million.
Seventeen people and 10 white supremacist organizations were civilly sued by those attending the rally who argued that they suffered injuries as a result of what happened, when they came out to protest against white supremacists who opposed the authorities removing the statues of Robert E. Lee and Thomas Jackson, two generals in the Confederate Army who rebelled against the United States to defend slavery by causing the Civil War. The antifascists defended to dismantle the monuments when considering them a slavery legacy. The plaintiffs maintain that the organizers of the demonstration participated in a conspiracy and planned that violent day to start a racial and religious war.
The jury was unable, however, to reach a verdict on two of the main charges: that of federal conspiracy, which alleged that the defendants conspired to commit acts of racially motivated violence, and that the defendants had knowledge of a conspiracy and did not avoid it.
Speaking to CNN, Joshua Smith, the lawyer representing the three main defendants, warned before the verdict was known that it was a situation with "a lot of political charge." "It's going to be difficult to get 11 people to agree." For the lawyer, the fact that the jury has been unable to have a unanimous decision on two of the charges is "a victory." The plaintiffs' attorneys, Roberta Kaplan and Karen Dunn, were satisfied with the outcome of the ruling as they considered that justice had finally been served after the horrible weekend of violence and intimidation experienced in August 2017 ″.
Subscribe here to the newsletter from EL PAÍS América and receive all the informative keys of the current situation of the region
Join EL PAÍS now to follow all the news and read without limits
Subscribe here
[ad_2]
elpais.com
George Holan is chief editor at Plainsmen Post and has articles published in many notable publications in the last decade.