Kateryna Sivorenko puts on tight black gloves that hide fine hands with perfect carmine manicure. He grabs a cardboard rifle and prepares to train in a dilapidated factory on the outskirts of Kiev, surrounded by fog and snow. It is the first military training session for this 28-year-old documentary filmmaker. With the concentration of Russian troops along the eastern borders of Ukraine and the escalation of the Kremlin, the woman has decided to prepare for the worst. "I had never imagined myself with a gun; not even cardboard," he says with a somewhat sad smile. Like beginners and those without a gun license, Sivorenko trains with a fake rifle. "I'm calm, I don't think this situation will escalate, but knowing what to do gives me security. It is always better to be prepared," she says. At his side, dozens of people, divided into groups or brigades, learn shooting postures, how to read maps, first aid maneuvers —such as making a turnstile— and even the best way to hide a vehicle with branches or snow.
Since last November, when Moscow began this latest escalation, thousands of people have signed up for the so-called Territorial Defense Forces, a strategic program of the Ukrainian Defense Ministry that recruits civilian volunteers and trains them, on weekends, in case war comes to their cities. The Government's objective is to form 25 brigades in each region of the country and in the most important cities, such as Kiev, the capital; Kharkov, to the east; or the port Odessa. The goal is to enlist 100,000 civilian reservists. Not so much to directly confront the powerful Russian army, but as a "resistance force" and deterrent to military aggression, explains Denys Semyroh-Orlyk, 46, an architect and instructor at the Kiev brigade program. .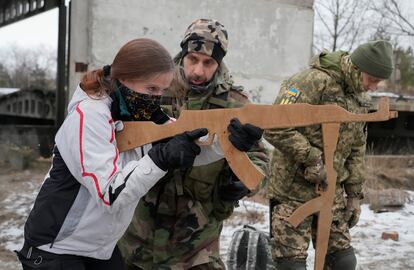 With just under 250,000 active soldiers, the Ukrainian army is much smaller than the Russian, with a million active soldiers and much more numerous and sophisticated defense material. In addition, the majority of the Ukrainian troops carry out large rotations in the east, near or in the contact line of the Donbas region, where the war against the pro-Russian separatists supported by the Kremlin will be eight years old. Defense Minister Oleksiy Reznikov, who insists that nothing indicates that Russia has amassed sufficient forces for a large-scale invasion or that it plans to do so, explains that, in the event of a new Kremlin aggression, the objective of this civilian force it would be to defend cities, towns or basic infrastructure such as bridges, tunnels or roads.
This Saturday, a particularly bleak and foggy day, Artem Troizku, civil engineer and artilleryman in the Territorial Defense Forces mortar brigade, acknowledges that his family, particularly his wife, who has stayed at home In charge of her baby who is less than a year old, she is not happy that he spends every weekend in the field, receiving military training. "Each one of us does what we can to ensure the safety of our own," says Troizku, pulling a black wool hat down over his eyebrows. Like him, teachers, scientists, engineers, bankers or shopkeepers participate in these training sessions. Many go with camouflage suits, beginners with tracksuits and comfortable clothes. The atmosphere next to an abandoned train track, in the mud, would have an apocalyptic touch if it weren't for the laughter and jokes of some of the participants.
To join the Territorial Defense Forces, whose instruction is financed by the Government, you have to meet some requirements: the first screening is a conversation with the brigade commander; then, medical check-ups, a certificate of absence of a criminal record and signing a contract. Only after these steps do the classes begin, first theoretical and then practical. "Any help is little. Eight years ago the Russians caught us off guard. It will not happen again," says Troizku. Russia has denied plans to invade Ukraine and accuses the West of fomenting the conflict.
Join EL PAÍS to follow all the news and read without limits.
subscribe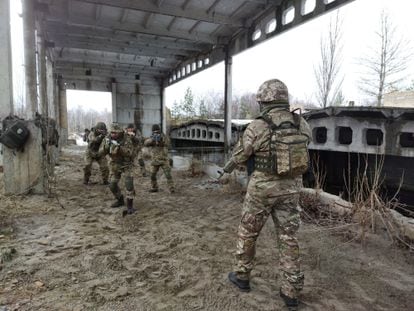 Civil defense
The concept of civil defense is not something new in Ukraine. In 2014, when Russian spies and Kremlin soldiers without a flag (the so-called green men) entered the Ukrainian peninsula of Crimea and prepared the referendum not recognized by the international community with which Russia annexed that strategic territory, thousands of people joined brigades of volunteers of various kinds, who tried to shore up the damaged spine of the Ukrainian Army, weak, poorly organized and poorly equipped. These paramilitary groups —some with clear roots of the extreme right and neo-Nazi ideology, which fish so well in territories in conflict— went to fight in the east.
Since then, the Government has tried to regularize and control these paramilitary organizations in some way and has taken over some, such as the Azov Battalion, with roots in ultra-nationalism, although whose leaders from those early days have gradually abandoned it with that integration. Now, some groups, highly critical of President Volodymyr Zelensky, whom they see as too weak with Russia, have also launched their own weekends of private military training, financed by their participants.
But the Territorial Defense Forces are a "serious" thing, says Ivan Polozk, 33, a businessman in civilian life and a lieutenant in the mortar unit in a Kiev brigade. Other countries, such as the Baltics, also have some programs for civilians or to update those who did military service years ago. In Ukraine, with a territory equivalent to that of Spain and 44 million inhabitants, 58% of men and almost 13% of women say they are prepared to defend the country "with a weapon in hand" against Russian troops, according to a December survey of the Kiev International Institute of Sociology. 25% of women and 17% of men said they were prepared to respond to the attack with other means, such as subversive activities or protests, according to the survey.
Hairdresser Olha Svyrydova, 40, is one of those willing to pick up a rifle. The one he carries in military training, he says, is borrowed. "These things are quite expensive," says the woman. In Ukraine, 1.3 million people have licensed civilian firearms. Svyrydova has already had several training sessions. In the brigade he is an intelligence communications officer. "I'd rather be here than go to the movies or the theater," he says. A little further on, between the group that does warm-up exercises and the one that learns to perform a resuscitation maneuver, the scientist Marta Yuzkiv talks about her reasons for joining that popular militia. "Our Army is strong, but not as strong as the Russian. Our job is to learn to form the resistance in case of occupation", he stresses.
Some observers are concerned that these civil defense groups, especially those of private initiative, will break up and become a tool for destabilizing the government, as indicated in a report by the US Institute for the Study of War. An article by Valery Akimenko published by the group of experts The Carnegie Institution mentions the possibility that interested private actors use those groups of military reservists that already existed to resolve their own disputes. Other sectors are also concerned about the militarization of society. Analyst Aleksandr Kovalenko does not entirely share this idea. "Ukraine has been at war for eight years," he says, "with the present threat of a large-scale invasion, society has become militarized to a certain extent, but above all morally and psychologically," the expert concludes.
On the outskirts of Kiev, in the half-ruined factory, Sergi Kalinin, 64, watches the instructor unfold a Velcro band and make an "American tourniquet". He is retired and says he is too old to formally join the ranks of the Territorial Defense Forces, but even so, this is the second weekend that he has attended training to "refresh" what he learned in military service decades ago. : "I doubt this will happen to adults. The West will not let us down and will put pressure on Putin, but Russia will not budge from there, so we better teach them that if they come, we are ready."
Follow all the international information in Facebook Y Twitter, often our weekly newsletter.
Exclusive content for subscribers
read without limits



elpais.com
George Holan is chief editor at Plainsmen Post and has articles published in many notable publications in the last decade.