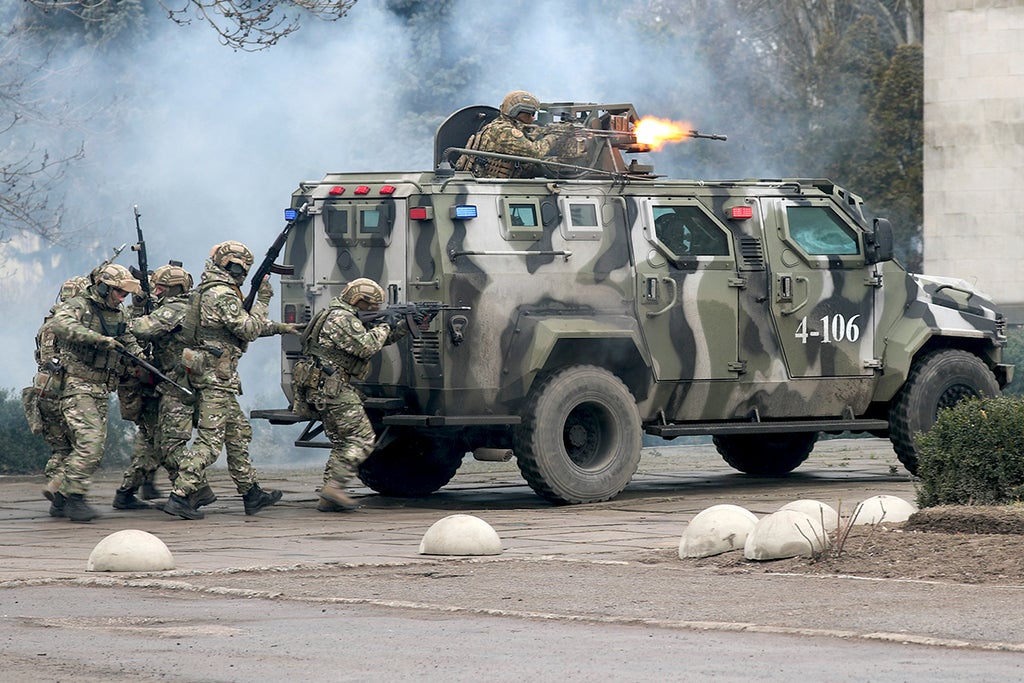 Ukrainians rally in support of government amid tensions with Russia
The UK defense secretary has compared the West's efforts to halt a feared Russian invasion of Ukraine to appeasement, saying there is a "whiff of Munich in the air" in an apparent reference to the agreement that allowed German annexation of the Sudetenland in 1938 but failed to prevent the Second World War.
Ben Wallace said it was now "highly likely" Vladimir Putin will order an attack despite the concerted talks to avert war.
Speaking after his trip to Moscow earlier this week, Mr Wallace said in an interview with The Sunday Times that Moscow could "launch an offensive at any time".
With 130,000 Russian troops massed along Ukraine's border, the US has also claimed war could begin at any moment and, along with several other countries, has advised its citizens to leave the country immediately. On Saturday, Joe Biden and Mr Putin spoke for an hour on the phone.
1644740687
Portugal and Belgium among countries urging Ukraine evacuation
Portugal and Belgium are among a number of countries that have urged their citizens to leave Ukraine immediately.
UK nationals in Ukraine are also being urged by the Foreign Office to "leave now while commercial means are still available".
The US, Japan and Israel have all issued similar guidance.
Tom Batchelor13 February 2022 08:24
1644739465
Chance of war 'extremely low', claims Russian commentator
The likelihood of armed conflict between Russia and Ukraine is "extremely low", the head of the Russian International Affairs Council Andrey Kortunov has claimed.
Speaking to Russian news agency TASS, he said: "It seems to me everything is not critical and I believe chances for hostilities to start are extremely low."
However, he said fighting could begin due to "inadvertent escalation".
"It does not mean that the war cannot occur because the unease increases risks of what is called 'inadvertent escalation' – an error, a technical failure, a wrong assessment of intentions from the other side. All these factors, as it repeatedly occurred in the past, may result in a conflict that nobody wants," he said.
Tom Batchelor13 February 2022 08:04
1644738365
Crisis sees Russian stocks fall
The Ukraine crisis is said to be hitting Russia's wealthiest in the pocket.
Evraz, a London-listed steel and mining group which operates in Russia, counts Roman Abramovich as its largest investor.
The Chelsea Football Club owner has reportedly seen the value of his 29 per cent stake fall by around £500m in the last three weeks amid a standoff between Moscow and Kyiv which investors fear could disrupt operations as well as triggering tough economic sanctions.
Tom Batchelor13 February 2022 07:46
1644737045
OSCE staff withdraw from eastern Ukraine
US staff at the Organization for Security and Cooperation in Europe (OSCE) have started to withdraw by car from the rebel-held city of Donetsk in eastern Ukraine, according to a Reuters witness.
The OSCE did not respond to a request for comment.
Tom Batchelor13 February 2022 07:24
1644732033
Why would Russia invade Ukraine?
With more than 106,000 Russian troops stationed near the Ukrainian border, fears that Vladimir Putin intends to invade his western neighbor continue to linger.
The standoff comes eight years after Russia annexed Crimea and sparked fighting in the Donbas region of eastern Ukraine, where a low-level conflict that has since killed more than 14,000 people is still rumbling on between Kyiv and pro-Russian separatists.
Although the West hopes to alleviate tensions and avert the prospect of bloody war in Eastern Europe, diplomatic talks between the Kremlin and the Nato allies have made no ground so far and, as things stand, it is far from clear what will happen next.
My colleagues Rory Sullivan and Joe Somerland have the details:
Emily Atkinson13 February 2022 06:00
1644728433
Israel orders 'immediate' evacuation of its citizens from Ukraine
Israel's prime minister today called on its citizens in Ukraine to evacuate the country immediately on Saturday amid fears of Russian invasion.
According to The Times ofIsrael, there were around 4,500 Israelis registered with its embassy in Ukraine. The foreign ministry also estimates that there are between 10,000-15,000 Israeli citizens living in the country.
A spokesperson for prime minister Naftali Bennett said in a statement: "It was agreed to raise the travel warning for the area, along with calling on Israeli citizens to immediately leave."
Emily Atkinson13 February 2022 05:00
1644724833
Watch: Ukrainians rally in support of government amid tensions with Russia
Ukrainians rally in support of government amid tensions with Russia
Emily Atkinson13 February 2022 04:00
1644721233
Could British troops be caught up in the Ukraine crisis?
The UK soldiers currently on standby would be used to bolster Nato's presence in eastern Europewrites our political editor Andrew Woodcock.
Emily Atkinson13 February 2022 03:00
1644717600
US denies carrying out military operations in Russian territory
The US did not carry out military operations in Russian territorial waters, a military spokesperson said on Saturday.
It follows rumors that a Russian naval vessel chased away a US submarine in Russian waters in the Pacific.
"There is no truth to the Russian claims of our operations in their territorial waters," Captain Kyle Raines, a military spokesman, said in a statement.
"I will not comment on the precise location of our submarines but we do fly, sail, and operate safely in international waters."
Emily Atkinson13 February 2022 02:00
1644714000
Germany's foreign minister says Ukraine crisis is escalating
Germany is making all efforts to find a diplomatic solution to mounting tensions between Russia and Ukraine, the country's foreign minister Annalena Baerbock said today.
"We must be prepared for all scenarios," Baerbock told a news conference in Cairo.
It comes after Berlin urged citizens to leave Ukraine as Chancellor Olaf Scholz prepares to visit the country and Russia for talks next week.
Emily Atkinson13 February 2022 01:00

www.independent.co.uk