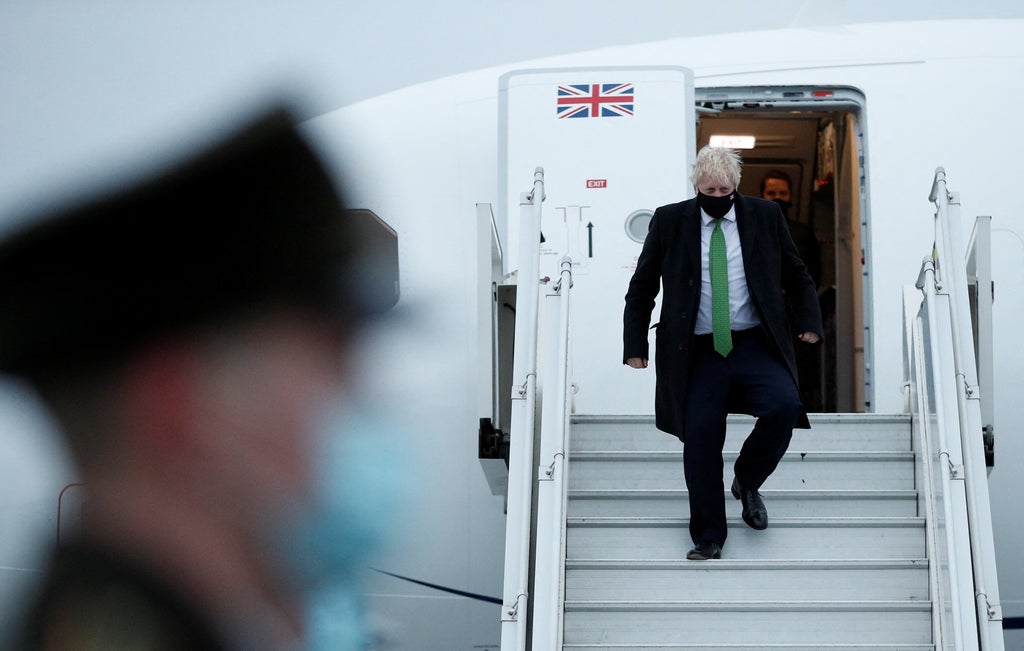 Johnson urges Russia to 'step back' from Ukraine invasion during Kiev address
Prime Minister Boris Johnson has warned that a Russian invasion of Ukraine would be a "political disaster, a humanitarian disaster and a military disaster".
In a press conference held in Kyiv today, Mr Johnson added the UK will impose sanctions the "moment the first Russian toecap" breaches the border with the eastern European country.
"We have the sanctions ready," he added in his opening statement alongside Ukrainian President Volodymyr Zelensky.
Following the conference, a joint statement issued by the two leaders declared Britain stands "shoulder to shoulder with Ukraine in the face of ongoing Russian aggression."
"The Prime Minister emphasized the United Kingdom's unwavering commitment to Ukraine's sovereignty, independence, and territorial integrity within its internationally recognized borders," it adds.
"The United Kingdom stands shoulder to shoulder with Ukraine in the face of ongoing Russian aggression, which threatens regional peace and security and undermines the global order. The two leaders emphasized that it is the right of every Ukrainian to determine their own future.
"The leaders warned that any further Russian incursion in Ukraine would be a massive strategic mistake and have a stark humanitarian cost."
1643770800
Delayed phone call between Johnson and Putin rescheduled for Wednesday
Prime Minister Boris Johnson is expected to hold a phone call with Russian President Vladimir Putin on Wednesday afternoon.
The call was rescheduled after Mr Johnson was forced to spend time addressing the Westminster partygate saga on Monday.
Emily Atkinson2 February 2022 03:00
1643767200
UK to improve cooperation with Poland and Ukraine amid Russian tensions
The three nations are working to strengthen their cooperation in the face of the threat of a new Russian military intervention, the leaders of the two eastern European countries said in Kyiv on Tuesday.
That could bring the former Soviet republic closer to NATO, which has massed tens of thousands of troops near Ukraine's borders.
It comes as Boris Johnson is due in Kyiv later on Tuesday.
"I hope that in the near future we will be able to officially launch a new regional format of cooperation Ukraine-Poland-UK, in the context of ongoing Russian aggression, we should sign a trilateral document on cooperation to strengthen regional security," said Ukraine's Prime Minister Denys Shmygal.
Emily Atkinson2 February 2022 02:00
1643763600
EXPLAINER: Why US sanctions may target individual Russians
A look at how and why the West might opt ​​to target sanctions at specific people or industries in Russia rather than going bigger:
Emily Atkinson2 February 2022 01:00
1643760000
Ukraine to increase army by 100,000 as war fears with Russia continue
Ukraine's army will grow by 100,000 troops over the next three years amid ongoing tensions with Russia, the country's president has said.
Volodymyr Zelensky announced the decision in parliament on Tuesday, saying the move should not be seen as an indication that war with its neighbor Russia is imminent.
Under the plans, the size of the Ukrainian armed forces will expand from roughly 250,000 to 350,000 soldiers, which is still less than half the number at Moscow's disposal. Personnel will also receive higher pay.
My colleague Rory Sullivan have more:
Emily Atkinson2 February 2022 00:00
1643756439
Watch: Boris Johnson arrives in Ukraine to meet president Zelensky amid Russia tensions
Boris Johnson arrives in Ukraine to meet President Zelensky amid Russia tensions
Emily Atkinson1 February 2022 23:00
1643752839
Hungarian PM seeks gas deal with Putin amid Ukraine tensions
Hungary's prime minister lobbied for larger shipments of Russian natural gas Tuesday during a meeting with President Vladimir Putin in Moscow amid high tensions over Russia's buildup of troops along Ukraine's borders.
During a news conference following their meeting in the Kremlin, Hungary's right-wing nationalist leader Viktor Orban said he had requested the expansion of Hungary's 15-year gas contract with Russian energy company Gazprom to ensure larger-volume deliveries amid ballooning energy prices in Europe.
While no formal agreement was reached, Orban's request underscored the close economic and diplomatic ties that Hungary — a member of both the European Union and NATO — has pursued with Moscow. Those actions have raised eyebrows in some European capitals where Russia is viewed as a malignant actor and threat to the security of the whole 27-nation EU.
Emily Atkinson1 February 2022 22:00
1643749239
Watch: Liz Truss announces 'toughest sanction regime against Russia we've ever had'
Liz Truss announces 'toughest sanction regime against Russia we've ever had'
Emily Atkinson1 February 2022 21:00
1643747650
In pictures: Boris Johnson with Ukrainian counterpart Volodymyr Zelensky after joint news conference in Kyiv
Emily Atkinson1 February 2022 20:34
1643745877
Russia has capacity to move into Ukraine 'now', says US government spokesman
A US government spokesman has said President Vladimir Putin could move into Ukraine "at any time."
When asked at a news conference if a potential invasion from Russia into Ukraine is imminent, following reports Moscow has moved blood supplies to the border, John Kirby replied: "Is that alone, all by itself, some sort of tripwire indicator … that an invasion is imminent, not necessarily.
"We look at a whole mosaic of information as we evaluate what we're seeing on the ground.
But he added: "We have reason to believe he has enough capability to move now.
"He could move at any time."
Emily Atkinson1 February 2022 20:04
1643745612
'No new announcements' on Ukraine situation from US, says government spokesperson
Emily Atkinson1 February 2022 20:00

www.independent.co.uk