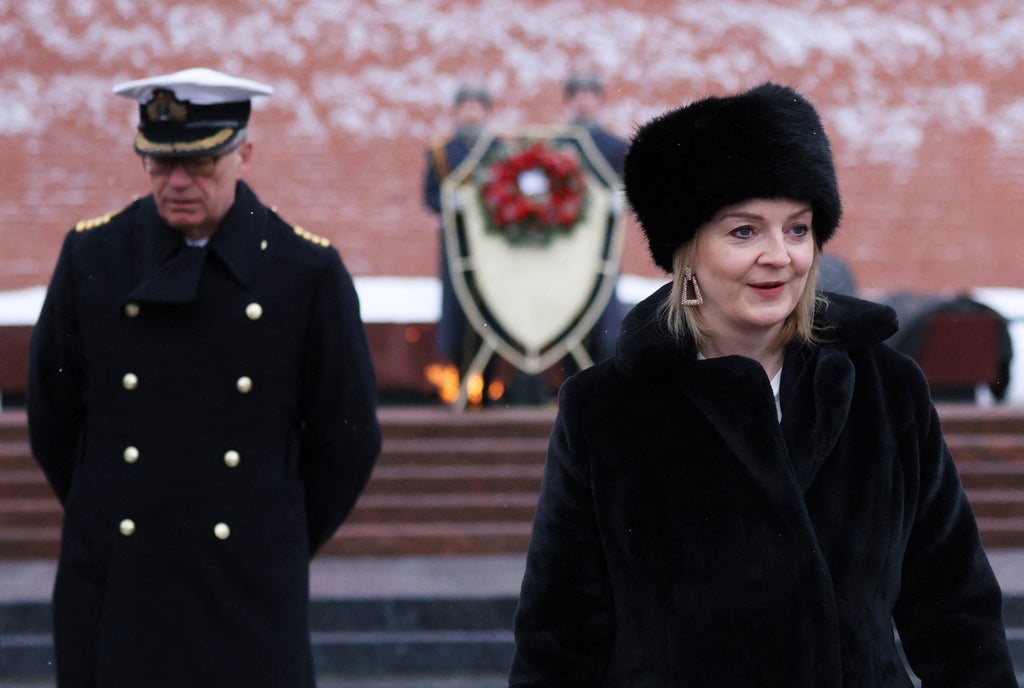 Watch live as Liz Truss and Russian foreign minister hold press conference in Moscow
The British foreign secretary, Liz Truss, is in Moscow for talks with her Russian counterpart Sergei Lavrov amid continued efforts to find a diplomatic resolution to the tensions over Ukraine.
Ms Truss urged Russia to "avoid bloodshed" and told the country's foreign secretary that a "war in Ukraine will be disastrous for the Russian and Ukrainian people".
In response, Mr Lavrov said that the Kremlin were prepared to engage diplomatically but only from a position of "mutual respect" with Britain.
He warned that threats towards Russia regarding a potential invasion were a "road to nowhere".
His comments come after warnings from the commander of Ukraine's ground forces that his troops were ready to fight for every meter of land until their last breath.
General Oleksandr Syrskyi told SkyNews that any Russian invasion "will not be a simple walk in the park", adding: "This is a warning… we will make sure to fight until the very last breath for every single meter of Ukrainian land."
Boris Johnson announced yesterday that he was putting 1,000 more British troops on standby to boost Nato's presence in eastern Europe.
1644484022
Boris Johnson vows to protect central European allies ahead of Nato meeting
British Prime Minister Boris Johnson has rejected a Western push for a reworking of the Minsk agreement without the backing of Ukraine.
Writing in the Wall Street Journal, Mr Johnson said: "We are not going to conclude a grand bargain heedless of our allies in central Europe. We are not going to treat the nations at the heart of our Continent as pawns on a chessboard, to be haggled over or sacrificed.
"Every independent state, including Ukraine, has a sovereign right to decide its own foreign policy and seek its own alliances.
"This is not solely about avoiding the blood-soaked tragedy of another Russian invasion of Ukraine – heart-rending though that prospect is – but about preserving the essential principles that allow nations to live in peace and freedom".
French president Emmanuel Macron said on Tuesday that the leaders of both Russia and Ukraine had committed to honoring the Minsk accords – the deal, which aimed to create a ceasefire in the conflict in eastern Ukraine, was never fully implemented.
"We have now the possibility of advancing negotiations", Mr Macron told Ukrainian president Volodymyr Zelenskiy this week.
holly bancroft10 February 2022 09:07
1644482921
Extra troops will show Russia Nato is not 'flaky', says Ben Wallace
British defense secretary Ben Wallace has said that Britain's plan to put another 1,000 troops on standby will show Russia that the Nato security alliance is not "flaky".
speaking to Radio 4's Today programme, Mr Wallace said: "What this is really about is saying to president Putin: 'Nato is not flaky. Nato will stand by its members, big or small."
He said that the troops would provide "resilience" and "reassurance" to Nato allies, and suggested they could end up in any country that will feel the consequences of an invasion of Ukraine, such as Poland, Romania and the Baltics.
Mr Wallace added: "We're not going to deploy them, first and foremost, to war fight".
holly bancroft10 February 2022 08:48

www.independent.co.uk
George Holan is chief editor at Plainsmen Post and has articles published in many notable publications in the last decade.