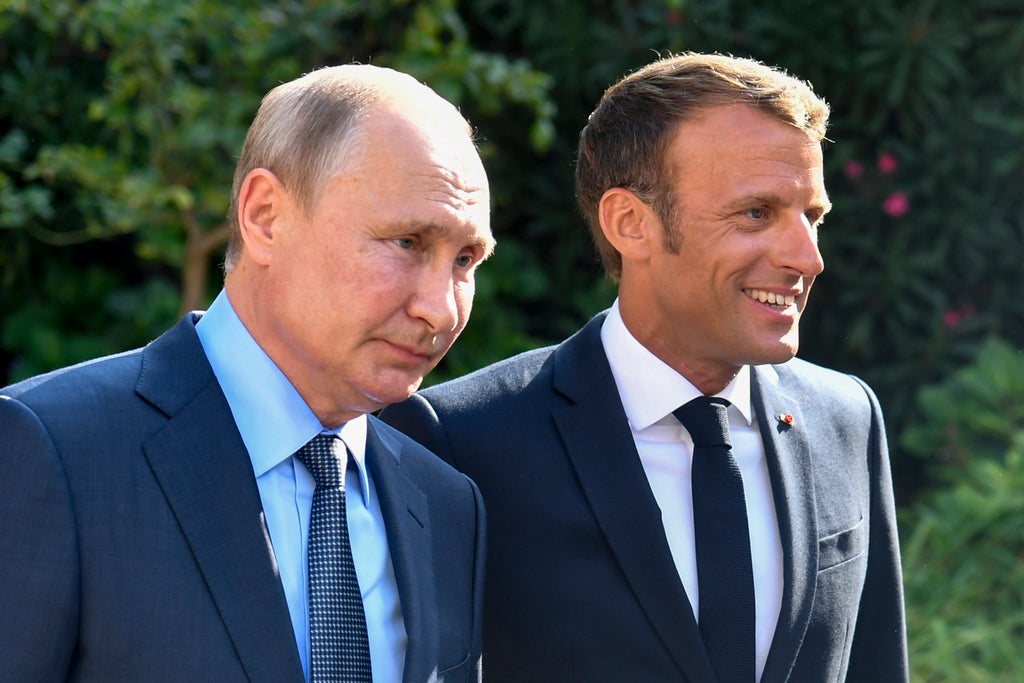 Scholz and Biden warn of consequences for Russia in Ukraine
Joe Biden and Olaf Scholz have warned that the "high price" Russia will pay if it invades Ukraine would include the end of the Nord Stream 2 gas pipeline.
On his first trip to the White House as German Chancellor, Mr Scholz said Berlin and Washington "will be united" in their response to an incursion by Moscow, after the US president warned they would bring the £8.3bn project "to an end" if Russian troops cross the Ukrainian border.
It came after French president Emmanuel Macron told his Russian counterpart Vladimir Putin, at the start of talks in the Kremlin, that he was seeking a "useful" response "that of course allows us to avoid war and to build bricks of trust, stability, visibility".
Mr Putin said Russia and France shared "a common concern about what is happening in the security sphere in Europe". Moscow has demanded a promise that Ukraine will never be admitted to Nato.
Talks between the pair took place as UK defense secretary Ben Wallace announced that 350 more troops will be deployed to Poland in the "spirit of solidarity".
1644288600
Putin says European nations will be drawn into war with Russia if Ukraine joins Nato
Vladimir Putin has said that Russia will keep trying to obtain answers from the West to its main security demands – even though he said the US and Nato had "bypassed" them in their formal responses to Moscow's demands last month.
At a joint news conference with Emmanuel Macron, Mr Putin said Washington and Brussels had raised some issues that could be discussed, although for Russia they were secondary.
But the Russian president said it was important to find a way out of the situation over Ukraine and that dialogue was not over.
Mr Putin warned that, if Ukraine is allowed to join Nato, European nations will be drawn into conflict with Russia.
andy gregory8 February 2022 02:50
1644284940
Macron sees decisive next few days in Ukraine standoff
Emmanuel Macron, who has pushed his diplomatic credentials as he eyes possible re-election in two months' time, held more than five hours of talks over dinner on Monday with the Russian president.
"The next few days will be decisive and will require intensive discussions which we will pursue together," Macron told reporters after the meal, which included reindeer with sweet potatoes and blackberries.
Putin suggested some progress had been made at the summit.
"A number of his ideas, proposals, which are probably still too early to talk about, I think it is quite possible to make the basis of our further joint steps," he said.
The pair are due to speak again after Macron meets with Ukraine's leadership on Tuesday.
Reuters8 February 2022 01:49
1644281100
Boris Johnson warns Britain will not 'flinch' in verbose Times article
Boris Johnson has warned Russia that invading Ukraine would only strengthen Nato, and mooted the possibility of sending further troops to southeastern Europe.
Writing in The Times tonight, Mr Johnson said the UK would not "flinch" and that its support to Europe and Nato will remain "unconditional and immovable".
The prime minister's article begins: "You enter St Sophia's cathedral beneath a nest of golden cupolas and you stand in a nave of icy granite and take in the blue and ochre mosaics, scarcely faded for being 1,000 years old.
"And when you learn that this cathedral has stood in Kyiv since the 11th century, surviving even the Mongol horde, you find yourself meditating on how it could be that, in 2022, another hostile army is camped on Ukraine's frontiers.
"When I visited Kyiv last week, the city was visibly livelier than during my last trip five years ago, despite the reality that over 130,000 Russian troops are massed within striking distance from Ukraine."
andy gregory8 February 2022 00:45
1644277528
Former Russian general calls on Putin to resign over Ukraine crisis
A former Russian general has called for Vladimir Putin to resign over his threats to Ukraine, accusing the Russian president of manufacturing the "artificial" conflict as a "distraction tactic" from mounting domestic problems.
In an open letter, 78-year-old Leonid Ivashov, who chairs the unofficial All-Russian Officers Assembly, said that going to war would not only cost tens of thousands of lives on both sides, but would "forever make Russians and Ukrainians mortal enemies".
He accused the Moscow elite of appearing willing to risk the "final destruction of Russian statehood and the extermination of the indigenous population of the country".
andy gregory7 February 2022 23:45
1644274228
Russian aggression will provoke 'very things Putin says he doesn't want', Wallace says
For those catching up on today's developments, here are more details about the UK's move to send a further 350 troops to Poland, which is also facing a crisis on its own border with Belarus, whose leader Alexander Lukashenko is an ally of Russian leader Vladimir Putin .
The bilateral deployment will "show that we can work together and send a strong signal that Britain and Poland stand side by side", defense secretary Ben Wallace said.
He warned that, if it invades Ukraine, Russia will face severe sanctions, isolation and "more Nato – the very things that President Putin says he doesn't want".
He pointed to the way the illegal annexation of Crimea in 2014 led to Nato's "enhanced forward presence" in alliance members Poland and Latvia – and denied that Nato is trying to use "divide and rule" tactics against Moscow.
"Nato is a defensive alliance. It poses no threat to Russia. It is a self-defense mechanism amongst our allies. That is what it is there for. No one wants to divide and rule Russia," he said.
andy gregory7 February 2022 22:50
1644270835
Here's the footage of Joe Biden warning that a Russian invasion of Ukraine would mean an "end" to the Nord Stream 2 gas pipeline between Russia and Germany – a move Berlin has previously appeared reluctant to back explicitly.
Scholz and Biden warn of consequences for Russia in Ukraine
andy gregory7 February 2022 21:53
1644270255
A diplomatic off-ramp still exists, Biden says
As Joe Biden and Olaf Scholz wrapped up their press conference, one reporter shouted a question as to whether they still believed there was a diplomatic off-ramp for Russia.
"The answer's yes," the US president said as he left the stage, but left a follow-up question of "how?" unanswered.
andy gregory7 February 2022 21:44
1644269626
Only Putin knows whether he will make 'gigantic mistake' of invading Ukraine, Biden suggests
Asked by a Wall Street Journal reporter whether he believed Vladimir Putin could authorize an invasion of Ukraine before the winter's end, Joe Biden said: "I've had numerous discussions with the Russians, and particularly with Putin.
"I don't know that he knows what he's going to do, and I think he has to realize that it would be a gigantic mistake for him to move on Ukraine. The impact on Europe and the rest of the world would be devastating, and he would pay a heavy price.
"I have been very, very straightforward and blunt with President Putin, both on the phone and in person – we will impose the most severe sanctions that have ever been imposed, economic sanctions, and there will be a lot to pay for that down the road.
"It will affect others as well, it will affect us somewhat, it will affect Europeans. But it will have a profound impact on his economy. "
He added: "I know that he's in a position now to be able to invade… he has capacity to do that. What he's going to do I don't know, and I don't think anybody knows but him."
andy gregory7 February 2022 21:33
1644269020
Biden and Scholz warn of 'end' to Nord Stream 2 pipeline if Russia invades Ukraine
Joe Biden and German Chancellor Olaf Scholz have warned the "high price" Russia would pay for launching a new invasion of Ukraine would include an end to the Nord Stream 2 gas pipeline, Andrew Feinberg reports.
Speaking to reporters after their first meeting since Mr Scholz took over Angela Merkel's former role, neither mentioned the pipeline in their respective opening remarks. But when Mr Biden was pressed on whether the controversial project would move forward if Russian troops cross Ukraine's eastern border, he addressed it directly.
"If Russia invades — that means tanks or troops crossing the border of Ukraine again — then there will be no longer a Nord Stream 2," the US president said. "We will bring it to an end".
Mr Scholz did not use the pipeline's name when asked about it immediately following Mr Biden's answer, instead telling reporters through a translator that it was important to "not spell out everything in public" while adding that "far-reaching measures" had been "well -prepared" by both countries in advance.
But he stressed that the US and Germany would "act together jointly" to impose severe sanctions in the event of an invasion, saying: "There won't be any measures in which we have a different approach."
Switching to English for emphasis, I have added that the US and Germany "will be united".
andy gregory7 February 2022 21:23
1644268430
Biden tells US citizens to leave Ukraine
"It would be wise" for US citizens who are in Ukraine – apart from diplomats – to leave the country because of the threat of invasion from Russia, Joe Biden has said.
Speaking to reporters alongside German Chancellor Olaf Scholz after the two met in the White House, the US president said he would hate to see Americans caught in the cross-fire in the event of an invasion.
andy gregory7 February 2022 21:13

www.independent.co.uk
George Holan is chief editor at Plainsmen Post and has articles published in many notable publications in the last decade.