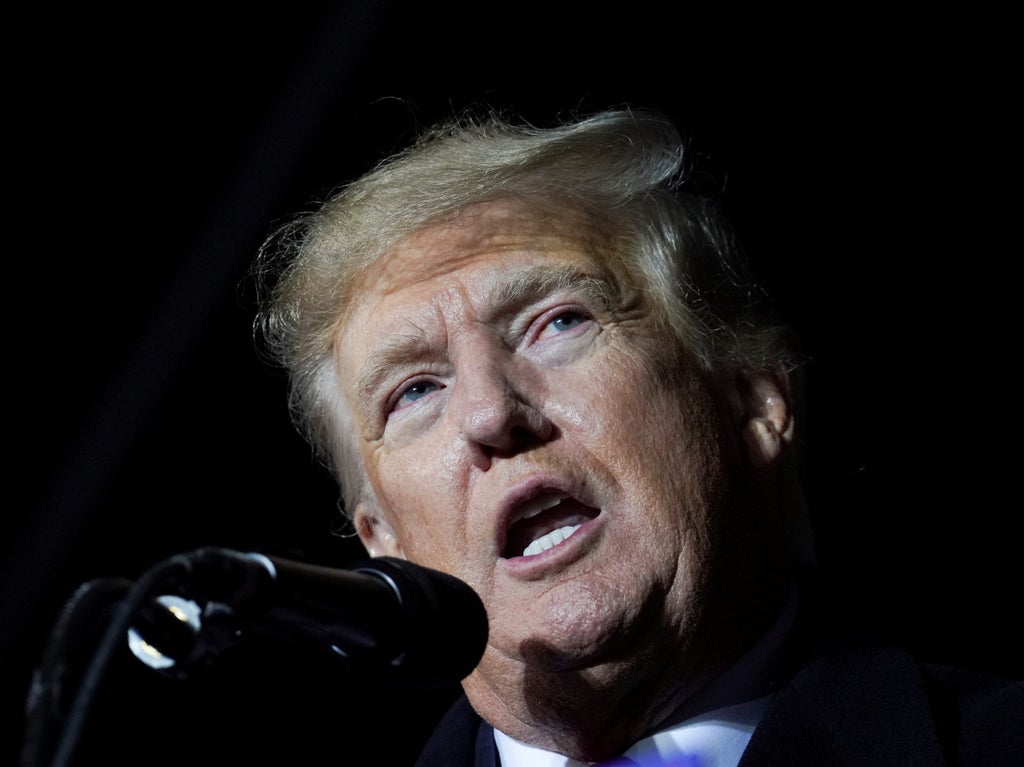 Stormy Daniels obliquely denies having written statement on Trump affair
The Trump Organization's long-time accounting firm, Mazars USA, is cutting ties with the company, writing in a court filing that a decade's worth of Donald Trump's financial statements could no longer be relied upon.
And that's just the beginning of an onslaught of investigations encircling the former president. As a US congressional committee prepares to investigate Donald Trump's handling of administration documents after 15 boxes of records were transferred from his Mar-a-Lago residence.
The former president insists he was "under no obligation" to hand over any materials – despite laws requiring him to do exactly that.
Mr Trump also reportedly used a secret service agent's phone to call Melania Trump after news of his alleged affair with Stormy Daniels broke in 2018, it was revealed on Sunday.
CNN reported that the agent was not pleased that his phone was used in this manner.
"Unusual gaps" in Mr Trump's White House phone log have frustrated the 6 January select committee that is investigating the Capitol riot as well.
1644893113
Embattled pro-Trump Colorado official announces bid for secretary of state
A county clerk in Mesa County, Colorado announced her plans to run for secretary of state on Monday as she remains under FBI investigation for a leak of passwords used by state election officials to a QAnon-affiliated Telegram channel.
Tina Peters said in a campaign announcement that "Colorado deserves a secretary of state who will stand up to the Biden administration that wants to run our country into the ground with nationalized elections."
Her candidacy is just the latest example of Republicans who fought for Donald Trump's false claims about voter fraud and the 2020 election to try for positions that would place them partially or completely in charge of election systems in their respective states.
Ms Peters was stripped of her duties as a result of the investigation against her and faces a separate lawsuit to bar her from any oversight duties in the 2022 election.
John Bowden15 February 2022 02:45
1644891313
Trump suggests Hillary Clinton should die
In one of his most vicious attacks aimed at his former 2016 opponent, Hillary Clinton, Donald Trump suggested on Monday that his Democratic foe would have faced the death penalty for allegedly spying on his campaign and presidency, which he has long alleged.
His latest comment came as the Justice Department's special counsel accused a lawyer who formerly worked for Ms Clinton's campaign of passing along data to the CIA and accusing the Trump team of using Russian-made cellphones in or around the White House; that allegation was never substantiated. The data in question was apparently compiled by a company whose executive admitted to exploiting a relationship with the Trump White House to look through White House data for damaging information about the president regarding a supposed relationship with Russia.
"This is a scandal far greater in scope and magnitude than Watergate and those who were involved in and knew about this spying operation should be subject to criminal prosecution. In a stronger period of time in our country, this crime would have been punishable by death," Mr Trump said in a shocking statement.
He then added: "In addition, reparations should be paid to those in our country who have been damaged by this."
John Bowden15 February 2022 02:15
1644889536
#DayWithoutImmigrants protest comes to DC
As Republicans continue to demand the Biden administration do more to lock down the southern border and stop illegal border crossings of migrants, immigrant activists converged on the White House to call for action on a pathway to citizenship for undocumented individuals.
In addition to the rally in DC's Lafayette Square, smaller rallies took place in cities around the country on Monday as well.
John Bowden15 February 2022 01:45
1644887736
Manchin says no SCOTUS nominee right before 2024
Sen Joe Manchin, a swing vote in the upper chamber credited with dooming President Joe Biden's Build Back Better Act, said on Monday that he would not vote to confirm a nominee to the Supreme Court in 2024 before the presidential election took place that year.
He previously criticized then-Senate Majority Leader Mitch McConnell for rushing through a Supreme Court nomination in 2020 in the weeks before Donald Trump lost the presidential election, which he said fanned the flames of division in the country.
"I'm not going to be hypocritical on that," Mr Manchin said on Monday. "If it comes a week or two weeks before like it did with our last Supreme Court nominee, I think that's a time it should go to the next election."
John Bowden15 February 2022 01:15
1644885936
Judge rules against Sarah Palin in New York Times defamation case as jury deliberates
A judge handed a victory to New York Times on Monday as it faced a lawsuit from former Alaska Governor Sarah Palin.
The newspaper was accused of defaming Ms Palin over an editorial that falsely linked her political action committee to the 2011 shooting of then-Rep Gabby Giffords in Tuscon, Arizona. A judge ruled before a jury could finish deliberating on Monday that the former governor did not provide the "actual malice" standard that must be met for a public figure to successfully claim defamation against a journalist or publication.
"I think this [was] an example of very unfortunate editorializing on the part of the Times," Judge Jed Rakoff said. "The law here sets a very high standard. The court finds that that standard has not been met."
Read more from The Independent's Alex Woodward:
John Bowden15 February 2022 00:45
1644884307
NYC fires small fraction of workforce for ignoring Covid-19 vaccine mandate
New York City moved forward with plans to fire just over 1,400 city workers this week after they failed to comply with the city's vaccine mandate.
The number, while representing a significant amount of people, is actually less than one per cent of the city's entire municipal workforce. The vast majority of city workers complied with the mandate.
Republicans including former President Donald Trump are just about uniformly opposed to such mandates; some, however, have gone further and spread disinformation about vaccines and the virus itself.
Read more from The Independent's Alex Woodward:
John Bowden15 February 2022 00:18
1644882079
Mueller considered charging Donald Trump Jr with computer crimes, new version of report states
When Robert Mueller issued his report on the investigation into unproven ties between the Trump campaign and Russia in 2019, many pages were redacted while the ones that were public declined to allege that Donald Trump was guilty of criminal wrongdoing.
But in previously-redacted pages published on Monday thanks to buzzfeednewsthe Justice Department revealed that another Trump family member narrowly escaped charges as well: the president's eldest son, Donald Jr.
Read more from The Independent:
John Bowden14 February 2022 23:41
1644879027
Trump 'not happy' that Alaska governor won't openly oppose Murkowski
Donald Trump was seen in a video from Mar-a-Lago published on Monday addressing a crowd of supporters regarding his feud with Lisa Murkowski, a centrist GOP senator from Alaska who was one of a handful to support his impeachment after the bloody assault on Congress .
In a video, Mr Trump tells a laughing group of supporters that he is "not happy" with Gov Jerry Dunleavy's "neutral" stance on the issue. Mr Trump's efforts to unseat Ms Murkowski are part of a wider battle to purge the GOP of anyone he views as disloyal.
John Bowden14 February 2022 22:50
1644877827
AOC trolls Turning Point's Charlie Kirk
Rep Alexandria Ocasio-Cortez joined in on mockery of Turning Point USA's Charlie Kirk after the Republican and Trump ally posted a tweet blaming the NFL for spreading "sexual anarchy" with the Super Bowl halftime show.
"Like I said, weirdos," she quipped on Sunday as the game came to an end.
The remark was a throwback to some of her previous mockery of Mr Trump's allies for angry tweets they posted about her after the congresswoman was spotted on vacation.
Read more about her battles with the GOP on Twitter:
John Bowden14 February 2022 22:30
1644876656
Comedy heading back to the White House Correspondents' Dinner after Trump hiatus
Comedy is officially back at the White House Correspondents' Association Dinner.
The event, which hasn't had a comedian host it since 2018, will be emceed by Trevor Noah of TheDailyShow.
Donald Trump was memorably skewered at multiple correspondents' dinners in previous years, and comedians ceased hosting the event for much of his term in office.
For good measure, here are some of the Trump highlights from WHCA dinners of the past.
Josh Marcus14 February 2022 22:10

www.independent.co.uk