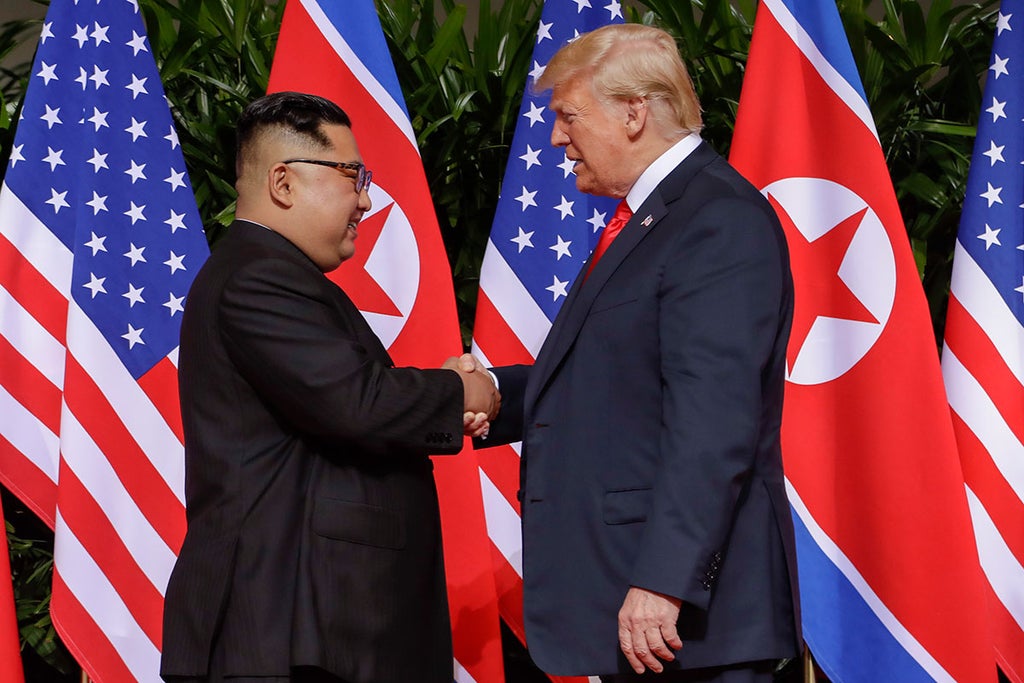 Trump tries to turn tables by claiming he was a victim of attempted coup
Former President Donald Trump is under suspicion of violating federal law by allegedly mishandling documents that the White House was required to keep safe for preservation.
A weekend report by Washington Post claimed White House documents ranging from schedules to sensitive memos were regularly ripped into quarters and tossed into trash bins or "burn bags" for incineration at the Pentagon.
The practice reportedly led to aides being forced to sift through the contents to determine which needed to be preserved under the Presidential Records Act, which requires the White House to maintain all documents touched by the president for preservation by the National Archives and Records Administration (NARA). ).
New concerns about Mr Trump's adherence to the Presidential Records Act emerged early Monday as another post report revealed NARA visited his Mar-a-Lago residence last month to retrieve multiple boxes that had been improperly removed from the White House.
Advisers to the former president insisted the boxes didn't contain any sensitive materials but rather mementos and correspondence from other world leaders – including letters from North Korea's Kim Jong Un.
1644289253
Capitol rioter sentenced to probation, home curfew
A Maryland woman was sentenced on Monday to a year of probation and two months of a nightly curfew beginning at 7:00 pm for her role in the Capitol riot.
Nicole Prado reportedly entered the Capitol and even joined with others in breaking in to an office before leaving the building on January 6, but avoided the harsher sentence that Justice Department attorneys were seeking.
The government wanted Ms Prado to spend two weeks in jail and an additional two years on probation. She will have to still pay a $500 fine for restitution under the judge's sentence.
Ms Prado reportedly left the building after witnessing a fellow rioter steal a drink from a refrigerator in a congressional office; she also witnessed paramedics attending to the body of Ashli ​​Babbitt, a woman shot by police for trying to violently breach the House chamber during the attack.
John Bowden8 February 2022 03:00
1644287453
Major scientific organization disinvites top White House official after bullying report
A major organization that oversees the publication of scientific journals including their flagship Science magazine disinvited a top White House official from their annual meeting on Monday after blowback over an investigation conducted by the White House that found credible evidence for claims that he bullied staff.
Dr Eric Lander was cut from the list of featured speakers at the annual convention of the American Association for the Advancement of Science, the group's CEO confirmed early Monday evening, hours after White House press secretary Jen Psaki defended the decision not to fire him.
NEW: American Association for the Advancement of Science disinvites Eric Lander from their annual meeting next week, per statement from CEO Sudip Parikh.
"We have decided to no longer feature Dr. Lander as a speaker at our meeting next week." pic.twitter.com/vqQn5NeUXd

— Alex Thompson (@AlexThomp) February 7, 2022
A report from the White House obtained by Politician and published on Monday revealed that Dr Lander had repeatedly demeaned and insulted coworkers and subordinates and even taken steps to marginalize and force people out of the small White House office he oversees. Dr Lander apologized in a statement, but one of his named accusers said that he had only acknowledged a small fraction of his rude and inappropriate behavior.
John Bowden8 February 2022 02:30
1644285624
Biden Covid adviser apologises for bullying staff
A top official who serves as the White House's main adviser on issues of science and technology who sits on the Covid-19 response team apologized on Friday after an internal White House report found he demeaned and belittled staff.
Dr Eric Lander issued an all-staff email to the White House Office of Science and Technology Policy on Friday, writing that he had "spoken to colleagues within OSTP in a disrespectful or demeaning way".
"I am deeply sorry for my conduct," he added. "I especially want to apologize to those of you who I treated poorly or were present at the time," his email from him reportedly continued. "It's my responsibility to set a respectful tone for our community. It's clear that I have not lived up to this responsibility."
John Bowden8 February 2022 02:00
1644283800
GOP congressman presses Jan 6 committee to investigate absurd conspiracy theory
Rep Madison Cawthorn, a right-wing Republican congressman known for sharing misinformation and conspiracies about January 6 and the 2020 election, was back on Monday with a new demand for the January 6 committee to investigate a conspiracy theory about the riot.
In an interview with one of Mr Trump's top allies, CPAC head Matt Schlapp, the North Carolina congressman questioned whether January 6 "was…a false flag operation to try and steal the election", and suggested the committee shift its focus to that topic.
Mr Cawthorn is one of many Republicans who has sought in recent months to minimize the destruction and violence of the attack on the Capitol, as well as the culpability of former President Donald Trump and his supporters for causing it.
He also suggested in the same interview that leaders of the US Capitol Police were "hiding" videos of the riot from the public, despite dozens of videos from numerous angles already being public record.
"What did all the Capital Police leaders know and when did they know it? Why are we hiding all of these videos?" he asked.
John Bowden8 February 2022 01:30
1644282024
Billionaire Peter Thiel to step down from board of Facebook parent company in order to help Trump
Peter Thiel, the billionaire investor who currently sits on the board of Facebook's parent company Meta, is stepping down in order to "increase his political support of Donald Trump's agenda during the 2022 election", BloombergNews reported on Monday.
The PayPal and Palantir co-founder plans to increase his political support of former President Donald Trump's agenda during the 2022 election and doesn't want his political activities to be a distraction for Facebook", a source close to Mr Thiel told the news outlet.
Mr Thiel previously supported Mr Trump's campaigns for office and previewed what his support for the ex-president could look like last month when he hosted a fundraiser for the primary challenger of Rep Liz Cheney, one of two Republicans on the January 6 committee.
John Bowden8 February 2022 01:00
1644280224
Supreme Court sets up case that could further weaken Voting Rights Act
The Supreme Court's conservative majority voted along ideological lines to protect a gerrymandered Alabama congressional district map that activists and civil rights experts say purposefully disenfranchises Black voters in the state.
In a decision on Monday that came before any oral arguments were heard in the case before the Court, the justices voted 5-4, with Chief Justice John Roberts abandoning his conservative colleagues and siding with liberals. The court will also hear the case in the months ahead, and could issue a decision that further weakens the Voting Rights Act's provisions for preventing gerrymandering for the purpose of marginalizing Black communities.
Justice Elena Kagan issued a dissent calling the decision to "diservice" to Black residents of Alabama. The decision illustrates the iron grip the Court's most conservative members now hold following the expansion of their majority under Donald Trump's presidency.
John Bowden8 February 2022 00:30
1644278424
Cheney reacts to latest Jan 6 texts: Trump ignored his duty
Rep Liz Cheney reacted in a statement to Associated Press on Monday after new information was revealed publicly about the efforts of Alyssa Farah and other allies of Donald Trump to convince him to take action during the Capitol riot.
Speaking with the news service, Ms Cheney said that it was difficult to "imagine a more significant and more serious dereliction of duty" than the one committed by the president on January 6.
Ms Cheney is one of two Republicans on the January 6 committee in the House, and serves as her vice chair.
John Bowden8 February 2022 00:00
1644276624
'Someone is going to get killed', former White House aide warned
More information is being released regarding the actions taken by White House staffers, current and former, to convince Donald Trump to take action and call off his supporters as the riot unfolded on Capitol Hill.
A text from Alyssa Farah, a former communications staffer in the Trump administration, was reported by Associated Press to have asked an aid to Mark Meadows, the chief of staff, to take action.
"Is someone getting to pothos? He has to tell protestors to dissipate. Someone is going to get killed," Ms Farah reportedly texted.
Ben Williamson, the Meadows aide, responded that he "literally stormed" into the outer Oval Office area to demand that Mr Trump release something on Twitter. The president would wait hours to go on camera and ask his supporters to dissipate.
John Bowden7 February 2022 23:30
1644274824
Trump reiterates Jan 6 conspiracy in angry statement
As the newest revelations about his failure to follow public records laws unfolded on Monday, former President Donald Trump responded with a statement once again falsely blaming Nancy Pelosi for the speed at which the National Guard responded to January 6.
"There would have been no January 6, as we know it, if Nancy Pelosi heeded my recommendation to bring 10,000 Soldiers, or the National Guard, into the Capitol. End the Unselect Committee January 6th Witch Hunt right now. Pelosi and the Dems are responsible!" Mr Trump said in a late-afternoon statement released by his office.
The deployment of the National Guard is not something the Speaker of the House can control; Despite frequent mischaracterisations of the process by Republicans, the deployment is handled by the Capitol Police Board, and there is no evidence that Ms Pelosi ever directed the House Sergeant at Arms one way or the other on the issue of whether they should support a decision to deploy the Guard.
That decision was initially declined before the riot, but was authorized by the board as rioters breached the Capitol grounds during the attack.
John Bowden7 February 2022 23:00
1644272724
Biden names McConnell challenger, John McCain's son to Naval Academy board
President Joe Biden dealt a blow to the egos of two allies of former President Donald Trump on Monday with a surprise nomination of two candidates to the Board of Visitors of the US Naval Academy, an apolitical body that is rarely the source of appointment drama.
A late-afternoon message from the White House confirmed the appointment of John McCain IV, son of the late Sen John McCain, as well as former Democratic candidate for the US Senate, Amy McGrath, to the board. The nominees are significant both in terms of who they are and who they replaced; Ms McGrath ran a widely-publicized campaign against GOP Senate Minority Leader Mitch McConnell during Mr Trump's campaign for reelection, and Mr McCain's father was one of Mr Trump's loudest critics in the GOP before his death.
The nomination of the pair also comes after two allies of the former president, his ex-press secretary Sean Spicer and Russell Vought of the Office of Management and Budget, were blocked by a judge from being seated on the Academy's board after Joe Biden took office in January and instituted a minor purge of a slew of last-minute appointments of Trump loyalists undertaken by the former president during his last weeks in office.
John Bowden7 February 2022 22:25



www.independent.co.uk
George Holan is chief editor at Plainsmen Post and has articles published in many notable publications in the last decade.