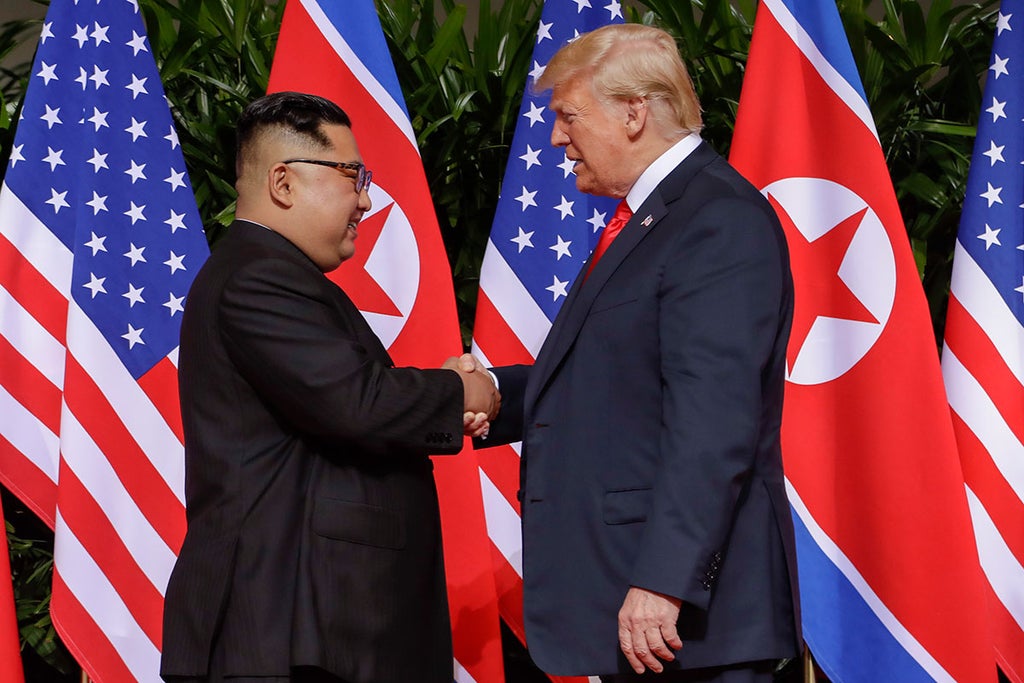 Trump tries to turn tables by claiming he was a victim of attempted coup
Donald Trump has weighed in on the row engulfing wildly popular podcaster Joe Rogan, telling the host to "stop apologizing to the Fake News and Radical Left" for his recent platforming of medical disinformation and his long history of racist, misogynistic and transphobic remarks.
Meanwhile, Mr Trump remains under suspicion of violating federal law by mishandling documents that the White House was required to preserve, from schedules to sensitive memos were regularly ripped into quarters and tossed into trash bins or "burn bags" for incineration at the Pentagon, forcing aides to sift through the contents to determine which needed to be preserved under the Presidential Records Act.
Advisers to the former president insisted that 15 boxes of administration records found at Mar-a-Lago didn't contain any sensitive materials, but rather mementos and correspondence from other world leaders – including letters from North Korea's Kim Jong Un.
The consequences of the former president's words and actions both in and out of office are the subject of particularly heated discourse at the moment, with Republican Congressman Adam Kinzinger warning that the strength of feeling whipped up among Mr Trump's supporters poses a risk of full-on civil conflict.
1644375631
House appears on the verge of passing bill to avert shutdown
The House advanced a stopgap spending bill to the full floor on Tuesday as Congress races to pass a short-term spending bill to keep the government funded for another month.
The Senate is expected to approve the bill as well; it's unclear at this time whether another major fight will dream over a longer-term bill resulting from partisan demands of GOP lawmakers, as the last shutdown fight saw, given the collapse of negotiations around President Joe Biden's signature Build Back Better Act. As of now , the House and Senate are addressing few, if any, of the White Houses' major legislative priorities as an evenly-divided 50-50 Senate frustrates Democrats.
John Bowden9 February 2022 03:00
1644373831
FBI arrests Jan 6 rioter who stormed Capitol while out on bail for attempted murder charge
The FBI on Tuesday reportedly arrested Matthew Beddingfield, a North Carolina man who was identified as a participant in the Capitol riot while at the time awaiting trial on charges of shooting a 17-year-old.
His arrest was first reported by NBC News. The Independent has reached out to the FBI for comment.
Mr Beddingfield was put on probation after pleading guilty to a lesser charge in relation to the shooting after the January 6 attack, which he reportedly attended with his father.
He was accused in an FBI agent's affidavit of multiple crimes related to the riot, including attempting to obstruct a session of Congress.
John Bowden9 February 2022 02:30
1644372031
Federal appeals court hands Biden a victory on Planned Parenthood funding
The 6th Circuit Court of Appeals handed Joe Biden a victory on Tuesday on the issue of abortion rights, rejecting a request by GOP-led states to stop the federal government from overturning a rule that banned Planned Parenthood for America, the nation's largest provider of reproductive health services including abortions, from receiving federal funding.
The ruling can now potentially head to the Supreme Court, but it means that at least for now the organization which was barred from receiving any federal funding under the Trump administration due to its clinics which perform abortion services will see that federal Title X funding resumed.
Tuesday's victory for the Biden administration is a major defeat for abortion opponents but may be short-lived if the Supreme Court tosses out all or parts of the Roe V Wade preceding later this year amid a challenge brought by state officials in Mississippi.
John Bowden9 February 2022 02:00
1644370231
White House rips Florida Republicans for anti-gay bill
The Biden White House on Tuesday a scathing statement directed at lawmakers in Florida who voted to advance a bill that would prohibit school districts from "encouraging" discussions about sexual orientations and other LGBTQ topics that are not deemed "age-appropriate" for students.
The Governor of Florida, Ron DeSantis, signaled his support for the legislation earlier in the day.
"Every parent hopes that our leaders will ensure their children's safety, protection, and freedom. Today, conservative politicians in Florida rejected those basic values ​​by advancing legislation that is designed to target and attack the kids who need support the most – LGBTQI+ students, who are already vulnerable to bullying and violence just for being themselves," said a White House spokesperson .
Read more about the bill from The Independent's Greg Graziosi:
John Bowden9 February 2022 01:30
1644368431
Donald Trump Jr retweets Republican who accuses Biden of sending 'crack pipes' to Black communities
Donald Trump Jr on Tuesday retweeted a Republican congressional candidate who accused Joe Biden of spending $30 million to "send crack pipes to the black communities".
"Build Back Better," Mr Trump Jr wrote, mockingly referring to the name of Mr Biden's now-shuttered economic safety net bill.
The tweet was authored by Fadde Mikhail, a GOP candidate for the House in California's heavily-Democratic 26th congressional district. It referred glowingly (and with mistaken spelling) to Donald Trump's never-instituted "Platnium [sic] Plan" for Black communities, and referred to a federal grant program that has become the target of criticism from conservatives for funding harm reduction programs aimed at drug abuse, such as monitored injection sites that provide clean and safe materials for drug abusers.
Such programs have been widely praised for cutting down on the risk of disease transmission and overdoses; one such facility visited by The Independent's Richard Hall has resulted in staff reversing dozens of deadly overdoses since it was opened.
Read more about why such sites are on the forefront on the efforts against drug abuse around the country:
John Bowden9 February 2022 01:00
1644366631
Joe Kent interview: Far-right candidate claims Trump's Jan 6 speech was 'tame'
Among the claims about January 6 that far-right Washington state Republican candidate Joe Kent made in his interview with The Independentthe congressional candidate and ally of ex-President Donald Trump characterized the former president's words on the day of the Capitol riot as "tame" and depicted the entire incident as an excuse to denigrate his supporters.
Mr Trump famously told his supporters to "fight like hell" at a rally outside the White House minutes before his supporters began battling with police at the Capitol; Mr Kent asserted in his interview that the president's words were "fairly tame" and denied that Mr Trump had "any part" in inspiring the violence.
"[T]or say it was a violent armed insurrection, I think it's just completely mischaracterises it. It not just mischaracterising it, it's intentionally doing so to paint Trump supporters in a certain way," he complained.
Read more from The Independent's Andrew Buncombe:
John Bowden9 February 2022 00:30
1644364831
Fox News host: Trump's claim he won Arizona an 'outright lie'
Fox News co-host Brian Kilmeade of Fox & Friends on Monday delivered one of the network's strongest rebukes yet of Donald Trump's ongoing claims that he won the 2020 election and was specifically victorious in states including Arizona, Michigan and Georgia.
Speaking on his radio show, Mr Kilmeade responded to a listener who shared his worry that Mr Trump's ongoing efforts to relitigate his election defeat on the national stage would harm the GOP's chances of retaking the House and Senate in November. Mr Kilmeade agreed.
"Nobody cares about 2020. Nobody. And everything that he said and the challenges that he made should have been done before the election," said the Fox host, adding: "[T]hey did a recount in Arizona, and the recount showed almost no difference, and he came out and said it showed that [Joe Biden] won Arizona."
Referring specifically to the claim that he won Arizona, Mr Kilmeade said that Mr Trump's assertion was an "outright lie", and appeared to address the former president: "[P]lease stop wasting our time with that, because [you're] capable of doing so much more".
John Bowden9 February 2022 00:00
1644363031
GOP congressman apologises after telling Democratic CBC chair to "kiss my ass"
Rep Hal Rogers told CNN on Tuesday that he had apologized to Rep Joyce Beatty, the chairwoman of the Congressional Black Caucus, after a minor confrontation over the issue of face masks on the House subway ended with Mr Rogers telling the Democratic congresswoman, "kiss my ass".
Moments earlier, members of the CBC had gathered on the steps of the House and demanded such an apology from Mr Rogers, a Republican from Kentucky.
"My words were not acceptable," he told CNN's Manu Raju.
News: Rep. Hal Rogers told me that he just apologized to CBC chair Joyce Beatty after she accused him of poking her in the back and saying to him, "kiss my ass" after she asked him to wear a mask.

"My words were not acceptable," he said

— Manu Raju (@mkraju) February 8, 2022
John Bowden8 February 2022 23:30
1644361231
Joe Kent interview: Pro-Trump Republican challenger says Jan 6 protesters 'held in DC gulag'
A Republican running to unseat a GOP congresswoman who voted to impeach Donald Trump after the Capitol insurrection complained about the treatment of January 6 rioters in an interview with The Independent.
Joe Kent, the Trump-endorsed candidate running to unseat Rep. Jaime Herrera-Beutler, falsely claimed to The Independent's Andrew Buncombe that "many" of those accused of offenses in connection to January 6 were being held without charges or access to a fair trial. In reality, some have been held without bond but all have been charged and many have already had trials and received sentences after pleading guilty.
"They should have their fair day in court. That right is due to them as American citizens. They shouldn't be locked away in essentially a DC gulag," said Mr Kent.
John Bowden8 February 2022 23:00
1644359357
Charlie Kirk's plans for 'America First' school in doubt as contractor pulls out
A contractor and subcontractor originally set to work with Charlie Kirk's Turning Point USA organization have pulled out of plans to create a K12 "online educational academy" with the group after realizing the extent of Mr Kirk and the organization's views.
Washington Post reported that educational firm StrongMind, based in Arizona, with drawn from its contract with Mr Kirk's organization after its own employees expressed disgust at the idea of ​​creating a K12 curriculum that aligned with Turning Point's far-right ideology.
Mr Kirk and other members of his conservative youth organization have a history of right-wing views and making statements considered racist or otherwise extremely offensive; Mr Kirk himself recently complained on a podcast that left-leaning immigration policies were supposedly aimed at "diminishing and decreasing white demographics in America".
Read more from The Independent's Ben Hurley:
John Bowden8 February 2022 22:29



www.independent.co.uk
George Holan is chief editor at Plainsmen Post and has articles published in many notable publications in the last decade.