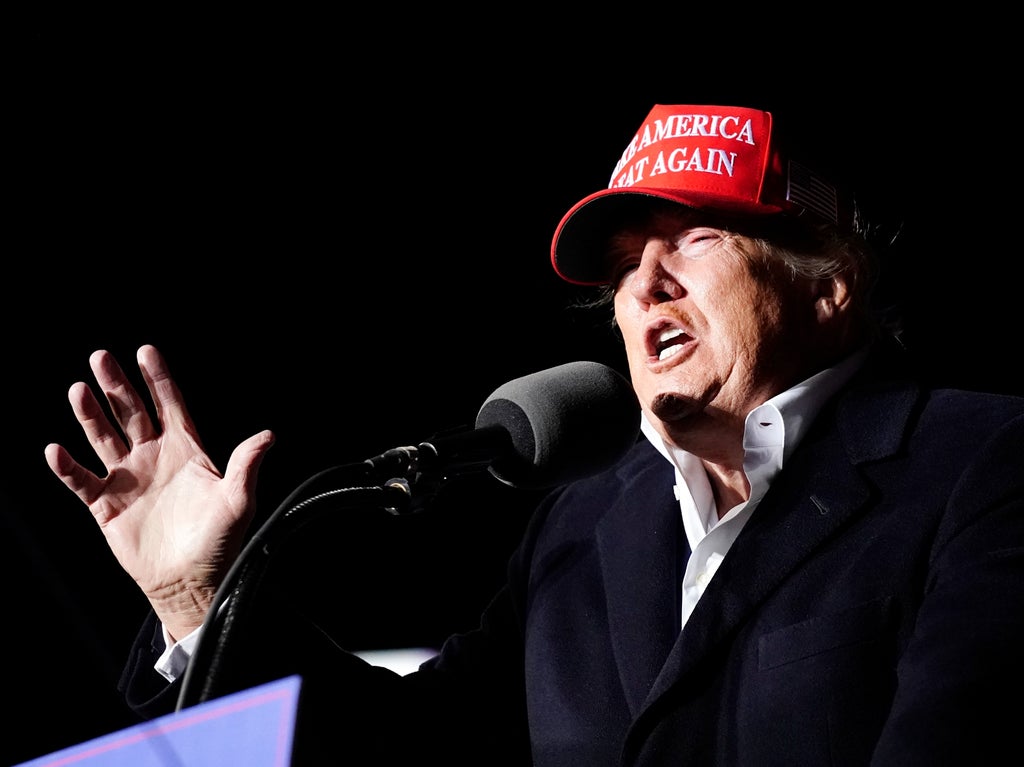 MSNBC panel on parallels between Trump documents and Clinton email investigation
As a US congressional committee prepares to investigate Donald Trump's handling of administration documents after 15 boxes of records were transferred from his Florida resort, the former president is insisting he was "under no obligation" to hand over any materials – despite laws requiring him to do exactly that.
US Rep Carolyn Maloney, chair for the House of Representatives Oversight Committee, said that she was "deeply concerned" as the documents "appear to have been removed from the White House in violation of the Presidential Records Act."
The news of the document haul, which appears to have contained sensitive or even top secret papers, has sent many experts pondering the chances that Mr Trump could face legal sanction for mishandling documents.
On Friday, the former president lashed out at the House select committee investigating the attack on the US Capitol as "out of control" while reviving baseless voter fraud narratives and attacking journalist Maggie Haberman over reporting from a forthcoming book about his term in office. Then, on Saturday morning, I described his presidency to Fox News as a "romantic period."
"Our country was thriving. We were just beating everybody," the former president said.
Mr Trump's former communications director Alyssa Farah, meanwhile, has said her onetime boss is "terrified" about the book's revelations into his character and behaviour, including that the former president flushed documents down toilets and remains in touch with North Korea's Kim Jong-un.
1644767089
White House call logs obtained by the House January 6 committee do not list calls made by Donald Trump as he watched the violence unfold on television, nor do they list calls made directly to the president, two people familiar with the probe have told the Associated Press .
The gaps in the records of Trump's calls on 6 January come as a separate House committee said Thursday that it is investigating whether former Trump violated the Presidential Records Act, after boxes of presidential records were retrieved from his Mar-a-Lago resort.
Nathan Place13 February 2022 15:44
1644763468
As documents scandal grows, Trump remembers presidency as 'romantic period'
Even as the headlines grow worse about his handling of White House documents, Donald Trump recalled his presidency as a "romantic period."
"Our country was thriving. We were just beating everybody," the former president told Fox & Friends on Saturday. "And they view it as a romantic period I think, and I think that's really why it's doing so well, because there is a lot of romance to the book."
Nathan Place13 February 2022 14:44
1644762320
Trump says 'operatives' spied on him, should be punished by 'death'
Former president Donald Trump released a bizarre statement on Saturday night, claiming he was spied on by "operatives" of Hillary Clinton's presidential campaign and that those involved should be put to death.
According to Mr Trump, special counsel Robert Durham – who the Trump administration hired to investigate the Russia investigation – has uncovered "indisputable evidence that my campaign and presidency were spied on by operatives paid by the Hillary Clinton Campaign in an effort to develop a completely fabricated connection to Russia."
"In a stronger period of time in our country," Mr Trump added, "this crime would have been punishable by death."
Nathan Place13 February 2022 14:25
1644730200
The Mar-a-Lago papers: What happens next?
Revelations that Donald Trump took government records with him to Mar-a-Lago are a political headache for the former president — and a potential legal one.
House investigators have opened an investigation and the National Archives and Records Administration has reportedly asked the Justice Department to look into the matter. The Justice Department and the FBI have not yet said what, if anything, they'll do.
Here's a look at what could lie ahead:
Nathan Place13 February 2022 05:30
1644724842
Former aide not surprised top secret documents discovered at Mar-a-Lago
Former Trump White House Press Secretary Stephanie Grisham has said that she's "not surprised" that classified documents were found at the Florida residence of former President Donald Trump.
Washington Post reported on Thursday that some of the White House documents that Mr Trump took to Mar-a-Lago were plainly marked as classified and that the improperly moved documents included some at the top-secret level.
"I wasn't surprised when I saw the report," Ms Grisham told CNN on Friday. "I think that what's important is this is another example of a White House and an administration that just – we had no rules. We followed no rules."
Nathan Place13 February 2022 04:00
1644721242
Mark Meadows under fire for backing Trump in Mar-a-Lago records row
Washington Post columnist Greg Sargent has argued that former Trump White House Chief of Staff Mark Meadows' recent backing of Donald Trump's handling of government documents was "so ludicrous that he deserved to be laughed off the set" of Newsmax, but that his "nonsense was permitted to slide by".
Mr Meadows mocked the media for suggesting that documents torn up by Mr Trump and taped together by aides "show some nefarious purpose".
"Yet they will ignore Nancy Pelosi ripping up something on national TV behind the president," Mr Meadows said, apparently referring to the speaker ripping up a copy of Mr Trump's 2020 State of the Union speech.
Nathan Place13 February 2022 03:00
1644717642
Melania Trump announces 'exclusive communication' deal with Parler
Former first lady Melania Trump will use Parler, a popular platform with the right wing in the US, exclusively for her social media communications.
In a statement on Wednesday, the company announced that it had entered into a "special arrangement" for Ms Trump's social media communications.
"I am excited and inspired by free speech platforms that give direct communication to people worldwide," Ms Trump was quoted as saying by the company's press statement.
Nathan Place13 February 2022 02:00
1644714042
Former aid who turned on Trump says her father didn't attend her wedding
Former White House communications director Alyssa Farah Griffin on Friday said members of her family skipped her wedding because she criticized her ex-boss, former president Donald Trump.
Speaking on ABC's The ViewMs Griffin told her co-hosts that two members of her family had boycotted her November wedding to Justin Griffin over "political differences after I spoke out against President Trump."
Nathan Place13 February 2022 01:00
1644710442
Trump says Putin was emboldened by chaotic Afghanistan withdrawal
Speaking on Fox and Friends Weekend on Saturday, Mr Trump asserted that no one had been tougher on Russia than him – but said he and Mr Putin had "got on very well."
"We're in a really bad position right now," said the former president.
Nathan Place13 February 2022 00:00
1644706842
Trump mocks MSNBC's low ratings amid Maddow hiatus
Donald Trump called out MSNBC in a short statement, shaming the liberal network for its recent downturn in ratings as its most popular host, Rachel Maddow, takes a break from her show.
Nathan Place12 February 2022 23:00

www.independent.co.uk