More than six years ago I arrived in Guatemala driven by the massive protests that took place in the country in 2015 to demand the resignation of the then president, Otto Pérez Molina. Since that year, he has been imprisoned for various corruption cases. What was to be a three-month adventure as a freelance journalist was extended over time, selling reports for various media outlets in Spain. During this stage there have been many occasions on which I have interviewed NGO members to learn about their work in a country where six out of ten inhabitants live in poverty or extreme poverty. What I never imagined was that I was given the opportunity at Action Against Hunger to see first-hand the effects of climate change in Guatemala, where misery, violence and inequality expel thousands of people every year in search of a better life. , especially in the United States.
While in Glasgow around 120 world leaders have talked about the climate in the framework of the Conference of the Parties on Climate Change of the UN (COP26) to try to save the planet, I was traveling through Guatemala observing its effects on crops and in the lakes. Thanks to a consultancy, I am getting to know the work of Action Against Hunger to alleviate the effects of climate change in Chiquimula, Sololá and Huehuetenango. My job was to tell how the most vulnerable families in this Central American country are being hit by the high temperatures and low rainfall they have suffered in recent years, which has a direct impact on child malnutrition and increased migration. To do this, we enter their homes and their daily lives.
My first contact was in the so-called Dry Corridor, where the heat does not cease and the temperature, which is around 40 degrees, begins to be oppressive, despite being the winter season in Guatemala. A local from the Department of Chiquimula, who takes me in a vehicle on unpaved roads, assures that "now you see the green trees from the rains of recent months, but in summer everything is yellow and arid."
This is how my journey through the epicenter of climate change in Guatemala begins: entering the most remote villages of Chiquimula, which in 2020 became completely isolated after the hurricanes And e Iota. The only access bridge to the La Ceiba community, in Jocotán, was destroyed by heavy rains that caused the death of 61 residents and the disappearance of another 99 throughout the Central American country, according to the final count released by the Guatemalan authorities. For this reason, it was necessary to build a portable Bailey bridge designed for military use.
During the journey in a 4×4 that winds through stony roads until it reaches a hidden village in the middle of the La Ceiba mountain, the NGO project manager, Johana Chacón, remembers that hurricanes And e Iota they cut off these small communities of Chiquimula "aggravating the cases of malnutrition." Given the impossibility of entering or leaving during that period in which there was no bridge, regrets that two girls of nine months and one year and three months died due to malnutrition, without the communities or institutions being able to facilitate the transfer to time to the nearest hospital.
As he talks to me, I observe a mother and her daughter, barely six years old, each carrying a sack with dozens of pieces of wood on their backs. Their bodies, completely bent forward by the weight, walk slowly up a great slope towards their village. These images will be happening along the way where very young boys and girls help their families in the family economy by carrying wood cut in the increasingly scarce forests as a result of indiscriminate logging.
After several hours of walking, I arrive at the La Ceiba community, where dozens of mothers, most of them very young and even some under 18 years of age, gather in the only place where there is a little shade. Many have their sons and daughters feeding on their breasts while they wait for their turn to measure the weight and height of all children under five in this community. The objective is to detect cases of acute malnutrition, which has already caused the death of 44 children under that age in Guatemala so far this year, while 23,028 patients have been registered, according to the Food and Nutrition Security Secretariat (SESAN ).
One of the women who has taken one of her five children to be measured and weighed is María Josefina Roque, whom I interview. She confesses that climate change has already started to wreak havoc on her crops: "It affects us because there are years like this when it rains a lot and the beans rot and even if one tries to sow, it doesn't work, and the same happens when there is a lot of summer. and it doesn't rain ". María Josefina regrets that when these types of losses occur in the harvest, either because it rains a lot or because not a drop falls, they have to "reduce the diet", which affects their children of 19 months and 5, 11, 13 and 15 years.
Thanks to the food rations provided by Action Against Hunger, he acknowledges that his family has been able to alleviate the failure of their crops as a result of climate change. Likewise, the project of young counselors who monthly visit some 150 families from various communities to give basic recommendations on how to feed babies and children up to two years to avoid cases of chronic malnutrition, while giving hygiene recommendations, is also worthy of note. and family planning to avoid unwanted pregnancies. She proudly assures that one of her sons is dedicated to giving this type of advice to other families in her community.
3.5 million people were between May and August in a crisis or emergency of food insecurity in Guatemala
According to the latest Acute Food Insecurity Analysis Report, published last June by the Central American Integration System (SICA), 3.5 million people were between May and August in a crisis or emergency of food insecurity in Guatemala, being Chiquimula one of the most affected Departments.
One of the main causes of this situation, as detailed by Chacón, is the effect of climate change on subsistence agriculture: "The soils have been impoverished by over-cultivation, the loss of forests prevents better infiltration of rainwater. , the springs dry up, sometimes, the heat waves are too extensive and what should be produced is not produced, so that, even if there is not a total loss of the harvest, the families do not have enough to survive ". In addition, he points out that they do not have the money to introduce irrigation systems, plant varieties or other species resistant to drought or start a new activity outside of agriculture.
Chacón warns that, if climate change continues to advance, these communities belonging to the Chortí indigenous people "would have to emigrate, because the food shortage is compounded by the danger of landslides due to the fact that they are settled on a very unstable mountain slope. At any moment there may be a landslide that buries them in their houses. They would have to get out of here… But they have nowhere to go ".
Alternatives to traditional crops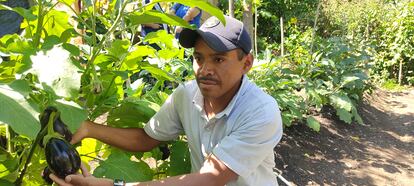 Faced with this scenario in which public institutions are unable to reach and meet basic needs in different parts of the Central American country, they need the support of organizations such as Action Against Hunger, which has promoted, together with the Ministry of Agriculture, the so-called Centers of Learning for Rural Development (CADER). They teach practices to conserve and recover soils, identify new crops that are sustainable, adapt to the place and are complementary to the traditional coffee, corn or beans that are usually more affected by drought and pests that climate change aggravates.
"Our work is focused on looking for other options and alternatives such as tomato and chili cultivation, introducing irrigation and other management practices," underlines Rudy Súchite, responsible for the nutritional activities of the NGO in Chiquimula. Remember, also, that there are years when it has rained too much and the crops of the basic grains of corn and beans are lost, while sometimes it does not rain and they are also lost because there is not enough water for the crop to develop.
This variability of the climate "does not allow families to have crops that yield them or obtain any benefit, since many times everything is lost and the families' livelihoods are affected and they do not have anything to feed themselves with. it is reflected in children who suffer from malnutrition ". In this sense, Chacón recalls that one out of every two children under the age of five suffers from chronic malnutrition in Guatemala and "this for our childhood is an additional barrier since it affects development and growth."
While the G20 has agreed to a maximum ceiling of 1.5 degrees for global warming and to allocate 100,000 million dollars annually until 2025 to developing countries to help them adapt to climate change, these promises sound distant in the middle of the Dry Corridor of Guatemala . Here life is still hanging from heaven. Víctor Vicente García is one of the promoters of a CADER in the Talquezal Centro de Jocotán village, in Chiquimula, where he teaches 17 families in his community to plant radish, onion, coriander, sweet chili, cucumber and eggplant, which are a complement to the corn and beans and that serve as food, taking into account that the harvest of traditional grains varies more and more. "The sowing of the milpa was not this year like in 2020 due to lack of rain and in the case of beans the plague affected and there was no winter harvest, so we had to buy," he tells me.
Faced with this panorama that worsens every year and given the impossibility of emigrating to the United States due to lack of economic resources, García reveals that several organizations are guiding them to start new ventures that are not so affected by climate change, among the which highlights a farm for laying hens for eggs, another for broilers and even working bamboo handicrafts.
The fluctuations of the climate, which the countries intend to alleviate with millionaire injections of money for a green transition towards alternative energies, are forcing these communities of the Dry Corridor of Guatemala to recycle and begin to leave behind the traditional agricultural activities to which they were dedicated previous generations for centuries. A few more years await me in Guatemala to tell how this country adapts to what world leaders decide thousands of kilometers away. As I write these lines, thousands of farmers have been working the land for hours since dawn in the hope that a few drops of rain will fall.
You can follow PLANETA FUTURO in Twitter, Facebook e Instagram, and subscribe here a nuestra 'newsletter'.



elpais.com