A pleasant tropical climate all year round, virgin or little exploited beaches of volcanic sand on the Pacific coast and fine white sand in the Caribbean, wooded natural spaces that are home to 6% of the planet's biodiversity and the facility to have fun with a lots of activities provided by the lodgings: hiking, yoga, surf courses, wellness courses or multi-adventure sports. These are the reasons that have led a good number of digital nomads to settle temporarily or perhaps permanently in Costa Rica. In addition, since last October, the Central American country has been one of the first to implement a law aimed at attracting these foreign travelers, with a series of advantages such as exemption from income tax and import material for your job, the possibility of opening an account in a local bank or the validity of the driving license of the country of origin. The requirement: to earn at least $ 3,000 a month for their work.
Already before the enactment of this law in the most stable country in the region and with the highest standard of living, hundreds of travelers had settled since the outbreak of the pandemic who chose to spend this time of restrictions working remotely next to a beach or a humid forest. And now, with the reopening of the borders, many extend to the maximum the three months of stay granted by the tourist visa to go to a neighboring country, if they have not accepted this rule (which grants a one-year visa extendable), and return to the new home after a few days. The beaches of Tamarindo or Nosara, on the Pacific, the Monteverde Cloud Forest nature reserve or the little town of La Fortuna, next to the Arenal Volcano National Park, are their favorite enclaves.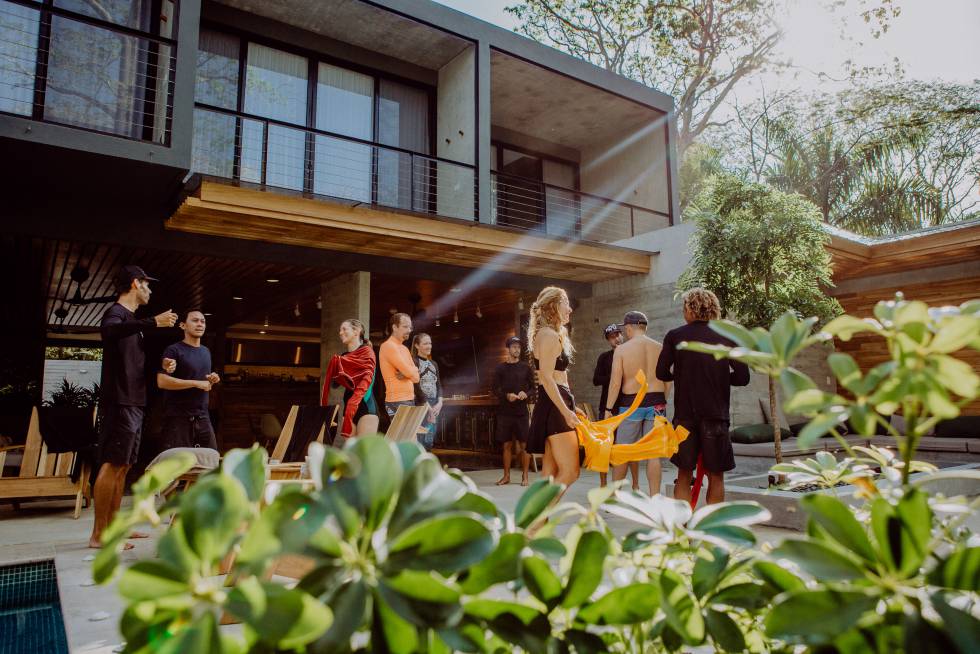 Near the beach, Gladys Cali, 33, from Barcelona, ​​graduated in Business Administration, branding (personal brand) and expert in marketing on the internet, who travels with his cat Wincat, He travels six months a year to various countries and now plans to stay in Costa Rica for three, "moving between hotels specialized in young nomads and affordable prices, such as the Selina de Tamarindo, next to the beach, where, in addition to the possibility of working and practicing many activities, there is a good dose of partying. And when I need more tranquility, I choose the accommodations next to the humid forests of Monteverde, in the interior of the country, where the pace is calmer ". Cali, which has signed up for the hotel's own surf course, will move to Brazil after Tamarindo and later to Fuerteventura. He has chosen Costa Rica at the moment "because of the climate and the impressive nature and the energy and inspiration that the exchange of ideas transmits to me with so many interesting nomads with wonderful projects. At first, nomadism was a thing for bloggers and backpackers, then the programmers and some businessmen joined in, and since the pandemic remote workers have entered with force ".
Exchanging experiences is one of the main advantages that almost all these travelers cite, such as 24-year-old Sharon Tremble from London. She is dedicated "to positioning financial firms on the internet and at the same time imbibing me in Latin American culture." Tremble, who will emigrate from here to Panama, also spends his leisure time riding waves or in yoga classes organized by the accommodation, where accommodation packages and access to the shared work space are offered for colives (another term for nomads) for $ 1,000 a month in a private room and 800 in a shared bedroom, according to Óscar Hernández, manager of Selina Tamarindo.
Tranquility and nature
In another accommodation of the same type, halfway between a hostel and a hotel, 1.5 kilometers from the Monteverde private reserve in the Costa Rican northwest and just over an hour from the Pacific beaches, the Colombians Camilo Mejía, 39 years old , and her partner, Andrea Manosalva, 35, have chosen this area dominated by the humid and cloud forest "for the tranquility and splendid nature". Mejía, who has been in this place for two months, is an investor in the Stock Market and also designs a start-up (startup). "I dedicate my free time to meditation courses and practices of wellness (well-being) ", he says, while Andrea teaches classes online for a school in New York.
But the accommodations for nomads in Monteverde also offer multi-adventure possibilities: ziplines, hanging bridges (here is the longest suspended walkway in the country), ziplane extreme (with which you fly over the forest hanging from the back of a cable, as if you were Superman), routes in search of positive experiences and live music on some nights.
The lush beaches of Nosara, south of Tamarindo, are an emerging tourist destination and a favorite enclave of higher-income digital nomads. Here, the Surf Simply hotel has 12 rooms decorated with exquisite taste and each one presided over by a replica of a board with which a mythical surfer won a World Cup or tamed the biggest wave in Nazaré (Portugal), and the price of stay is $ 1,000 per day per person. "This includes surf courses taught by more teachers than guests," says its owner, Ru Hill, a Briton who installed his van on the beach years ago and began his adventure teaching surfing there. The rooms are usually occupied by 25% by young people from Silicon Valley who spend periods in the hotel without disconnecting from their work, except during the hours of surf courses, whose practices are filmed with drones and analyzed later. Within walking distance, nomads staying at Bodhi Tree Yoga Resort devote their free time to yoga and meditation. And in case there is a lack of facilities, next January the lavish shared workspace Outpost Nosara will open in Nosara, "a new concept of oceanic office," say its promoters, where you can rent a desk for $ 2,000 per month.
"I encourage all entrepreneurs who want to be digital nomads, it is a wonderful way of life, and to those who say that it is a temporary fad I would say that the same was said, for example, of social networks", concludes the nomad Gladys Cali.
Find inspiration for your next trips on our Facebook and Twitter and Instragram or subscribe here to the El Viajero Newsletter.



elviajero.elpais.com
George Holan is chief editor at Plainsmen Post and has articles published in many notable publications in the last decade.