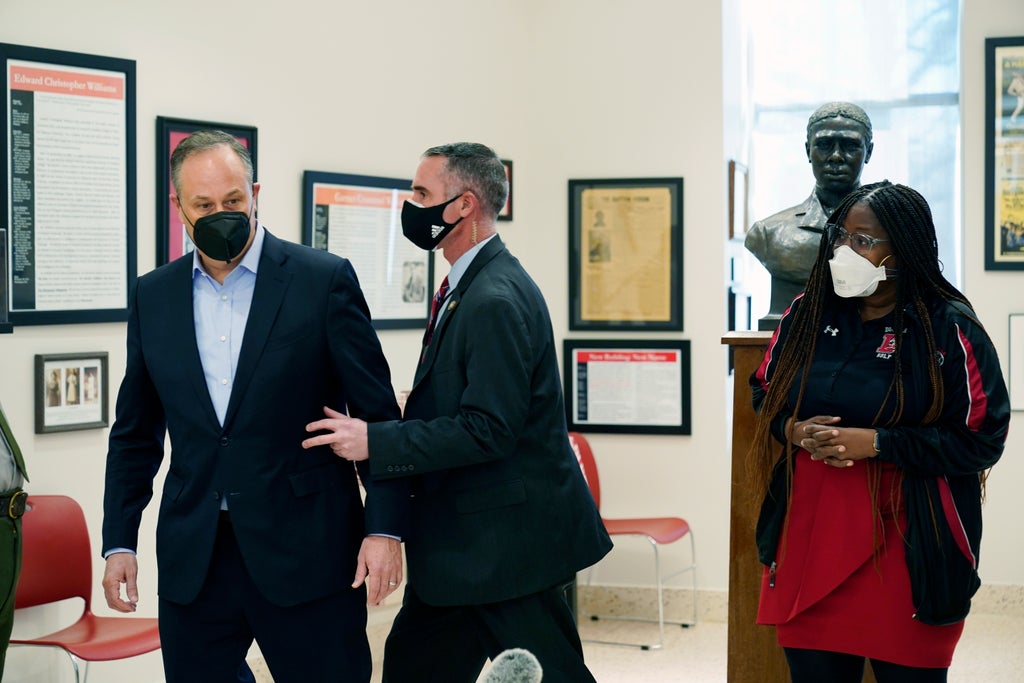 Three DC high schools have been evacuated just a day after Second Gentleman Doug Emhoff was taken away by the Secret Service because of a bomb threat against Dunbar High School where he was giving a talk.
DC Public Schools (DCPS) said in a statement that they have "been made aware of security threats at Dunbar, Roosevelt and Ron Brown high schools this afternoon".
"All students and staff were safely evacuated in accordance with DCPS protocols. DC Public Schools values ​​the safety of all our students, staff, and visitors and will continue to offer support to our school communities while the (DC Police) investigations are ongoing," DCPS added.
At 1.25pm ​​on Wednesday, DC Police tweeted that they were "responding to multiple bomb threats around the District including DCPS and DC Charter Schools. Schools are currently being evacuated. Investigations are ongoing".
The police added that they're investigating threats against Dunbar High School, Theodore Roosevelt High School, Ron Brown High School, KIPP DC College Preparatory, IDEA Public Charter School, and Seed Public Charter School.
"In the past 24 hours, DC Public Schools has received bomb threats at three of our high schools," DCPS Chancellor Lewis Ferebee tweeted. "These are troublesome incidents that we take very seriously. All students and staff were safely evacuated in accordance with DCPS protocols, and MPD responded swiftly to the schools."
Following another bomb threat, the husband of Vice President Kamala Harris, Doug Emhoff, was escorted off the premises of the Carter G Woodson Academy of Black Studies at Dunbar High School by the Secret Service on Tuesday.
Mr Emhoff was at the school to commemorate Black History Month. He had been in the school museum for a few minutes when an agent approached him, saying, "We have to go." He was taken to his motorcade and driven away.
A school announcement then told students and teachers to "evacuate the building". Following a search by bomb technicians and dogs, police surmised that the threat was unfounded.
Mr Emhoff was midway through his remarks at a meeting with students when an agent swiftly guided him out of the building at 2.18pm on Tuesday.
At 2.34pm, a public address announcement was made ordering teachers and students to evacuate the building, which is located on N street in Northwest Washington, DC.
A District of Columbia public schools spokesperson, Enrique Guttierez, said the evacuation was prompted by "a bomb threat."
"We had a threat today to the facility so we did — basically we took the precaution of evacuating everybody," Mr Guttierez said, adding that he thought that "everyone" was "safe" after the evacuation.
"The building is clear… but I don't have any specific details at this moment," he said.
Zachary Parker, a member of the District of Columbia school board, said on Twitter that he could "confirm there's an ongoing investigation of a bomb threat at the school".
Dunbar High School principal Nadine Smith said the school's protocol in the event of such a threat is to "clear the building and move the kids away".
She added that students had been sent home for the day on orders from DC Public School officials because it would take at least "another hour or two" for police to search the building for explosive devices.
Katie Peters, Mr Emhoff's communications director, said in a statement that the Secret Service had been "made aware of a security threat" at the school where Mr Emhoff had been speaking, and that he was "safe".
"We are grateful to Secret Service and DC Police for their work," she added.
In a statement to The Independenta Secret Service spokesperson said the agency "was made aware of a threat to the venue" where "a protectee" — Mr Emhoff — was speaking and "immediately evacuated" him.
"At this time there is no information to indicate the threat was directed toward our protectee," the spokesperson said, adding that the agency "does not discuss our protectees or the means and methods used to conduct our protective operations" so as to best " maintain operational security".



www.independent.co.uk
George Holan is chief editor at Plainsmen Post and has articles published in many notable publications in the last decade.