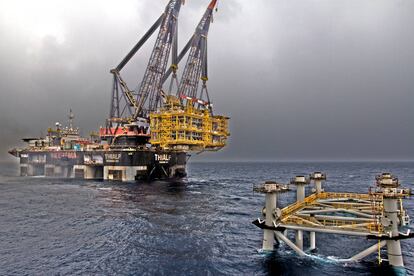 Those affected by the earthquakes on the north coast of Vinaròs and south of Tarragona after the start-up of the gas warehouse of the Castor project have issued a statement in which they criticize the sentence for which the two former managers of the company have been acquitted Escal, Recadero del Potro and José Luis Martínez Dalmau, and the company itself. "The court underestimates the suffering of the population, considering that the alarm and concern generated does not have sufficient entity to have generated a quantifiable damage," they point out.
At the moment, the lawyers of the Aplaca platform – which includes those affected – have not yet decided whether they will appeal to the Supreme Court, but they point out that, in a preliminary analysis, they detect "various inconsistencies, omissions, material errors and statements that could be arbitrary ".
Among the facts that stand out is that of "how a file that consists of eight volumes and more than 17,000 pages has been dispatched in a sentence of just 50 pages in less than 15 days from the end of the hearing of the trial", as indicated the statement, which also mentions the "manifest hostility and even lack of respect with which the court has treated the legal representation of Aplaca", referring to the court of the Provincial Court of Castellón. "We think that society in general and the affected population in particular deserves a greater effort from the judicial system," they state.
The ruling acquits the defendants considering that they complied with current regulations and that in no case was there a serious danger. In addition, it considers that they acted in response to the detection of earthquakes once the gas injections began in the underground warehouse, located off the coast of Vinaròs: "They were adopting corrective measures as they became aware of the increase in seismicity caused by their activity. business, "he says. The ruling even praises the attitude of the managers who "proceeded to analyze in detail the evolution of the induced seismicity" and then reduced the volume of gas injections "in addition to informing the authorities of said increase in seismicity."
Those affected, who number more than a hundred people and are represented by the BCV Lex law firm, qualify as "incomprehensible" the fact that the court does not consider that the technical rules for the development and exploitation of the concession "are not considered as mandatory standards ". He also criticizes the fact that the court has ruled out the existence of the crime by considering that the facts are not of sufficient gravity, "as if the seriousness were by itself a requirement for the existence of the crime, when in reality it is no more than an aggravating factor." Furthermore, they accuse the court of confusing non-material damage with bodily damage "that has not been claimed."
You can follow CLIMA AND ENVIRONMENT at Facebook and Twitter, or sign up here to receive our weekly newsletter



elpais.com