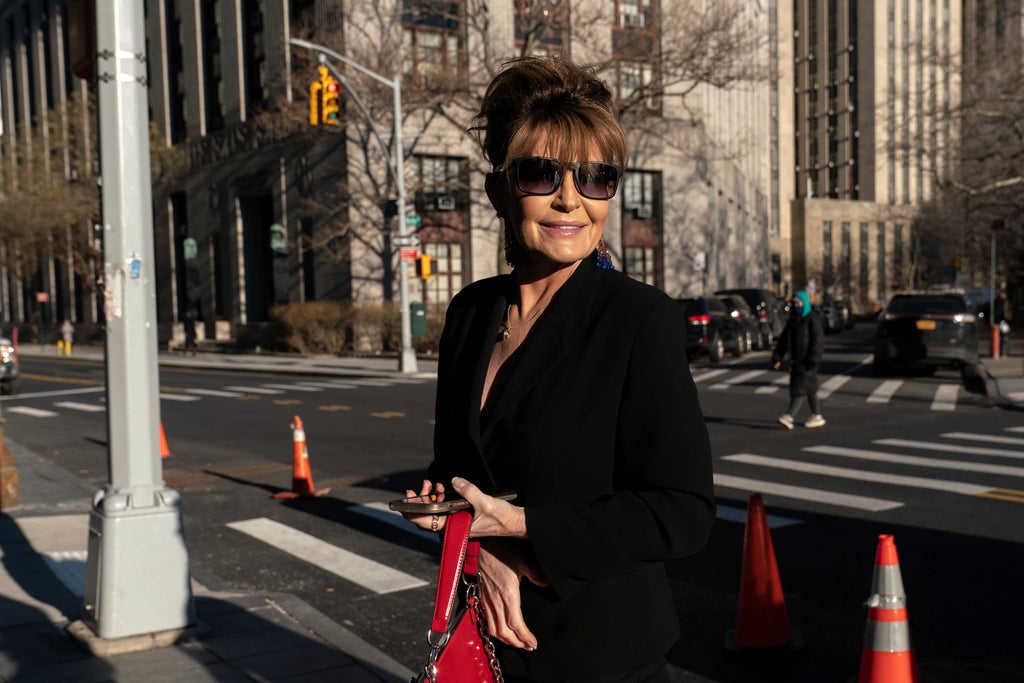 An attorney for Sarah Palin has dismissed arguments and explanations from the New York Times and its legal team in a high-profile defamation case as "indicative of an arrogance and a sense of power" within the newspaper.
In closing arguments at the trial in US District Court in Manhattan, attorney Ken Turkel argued that the case before the jury remained the former Alaska governor's "only remedy" following a 2017 editorial at the center of the trial.
The editorial, corrected within 12 hours after it was published, falsely linked Ms Palin's political action committee's map – featuring crosshairs over Democratic-leaning congressional districts – to a 2011 shooting in Arizona that killed six people and then injured US Rep Gabby Giffords.
Jurors must determine whether the newspaper knowingly published false information against her.
"This case is about Governor Palin drawing a line in her life as to when enough is enough," Mr Turkel said. She's got thick skin. This one crossed the line."
The case – which could affirm legal precedents that have provided broad legal protections to journalists and media organizations when writing about public figures – draws to a close on Friday following a week of testimony.
Throughout the trial, Ms Palin's legal team focused largely around then-editorial page editor James Bennet, who has admitted to mistakenly including false claims into the editorial written by another staffer.
On Thursday, Judge Jed Rakoff said that he will not allow punitive damages against the newspaper, saying that no reasonable juror would conclude that Mr Bennet sought to injure Ms Palin, and that "the evidence frankly that Mr Bennet harbored ill will toward Ms Palin is quite modest indeed."
Ms Palin's attorney must prove to the jury that his actions must rise above a lapse in judgment.
Mr Turkel also pointed to a larger atmosphere within the news media of indifference and arrogance, as well as animus towards Ms Palin, in the years leading up to and surrounding the editorial that contributed to the errors.
"There's a common thread through all the pieces as to how they treat people on the right they don't agree with," he said. "Look at the common thread: how in every single one of them they demonise the right wing or just treated them differently."
In his closing remarks, he added that "all they had to do… was care a little bit. All they had to do was dislike her a little less, and we're not sitting here today."
A map from her SarahPAC portrayed stylized crosshairs to mark Democratic-leaning districts as part of a campaign to win Republican seats in those areas.
A draft of New York Times editorial in question drew a comparison between a 2017 shooting at a congressional baseball game in Virginia with the 2011 shooting in Arizona, and noted that SarahPAC created a map with Ms Giffords' district in crosshairs.
In the course of editing the story, Mr Bennet added a sentence saying that "the link to political incitement was clear."
Ms Palin has alleged that the editorial's use of the word "incitement" falsely implied a causal link between herself and the shooting.
In closing arguments for the defense on Friday, New York Times attorney David Axelrod rejected characterizations that the editorial was a "political hit piece."
"If the intent was to defame, if the intent was to harm political rivals," why would Mr Bennet admit the mistake, take responsibility and seek to correct the record following publication, he asked.
"This wasn't a quiet correction," he said.
Mr Bennet's emails to staff and testimony show that he wanted to find "what the truth is," according to Mr Axelrod.
"That's not consistent with a conspiracy. That's consistent with making a mistake and wanting to get it right," he said.
In her testimony on Thursday, Ms Palin said she felt "powerless" against the newspaper as a public figure who did not have a platform to combat the claims, while attorneys for the newspaper sought to undermine her argument, pointing to her social media following and appearances on cable television and other events after her years in public office and on the Republican vice presidential ticket in 2008.
She said she endured damages to her reputation, emotional stress and lost sleep after she was "mortified" by the editorial but did not point to specific damages in her wake, as she continued to make appearances on Fox News, at Turning Point USA events, and on reality television series.
"The idea that Governor Palin has been damaged, there's no support for it," according to Mr Axelrod.

www.independent.co.uk
George Holan is chief editor at Plainsmen Post and has articles published in many notable publications in the last decade.