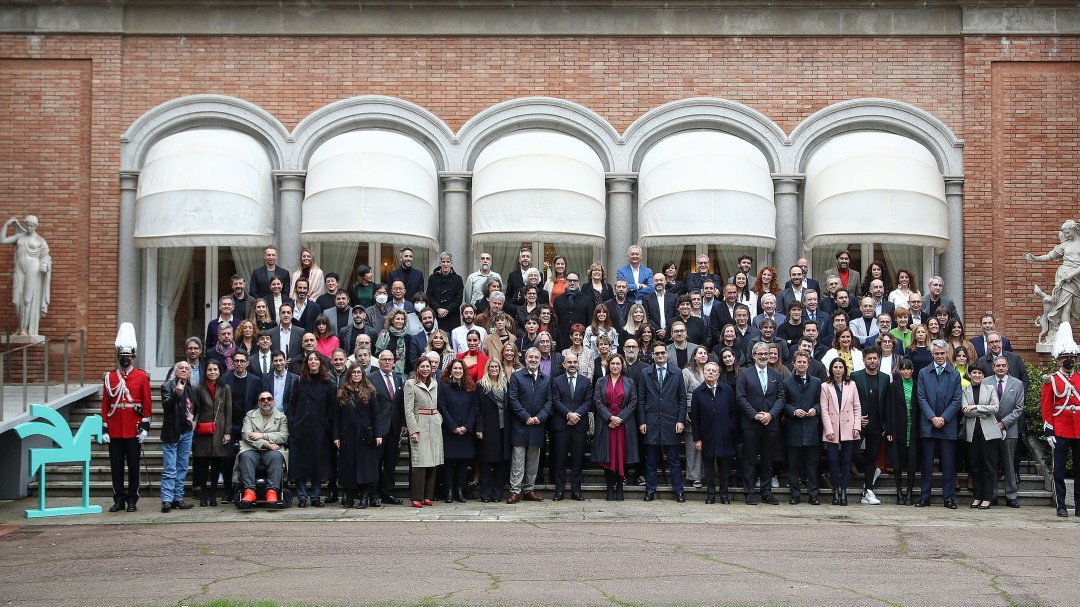 They have been the Waves of the reunion. Back to celebrate journalism and culture, but also empathy, effort and excellence. With Carles Francino as master of ceremonies and the humor of Raúl Pérez, the gala, which also presented the awards of the last edition, has been a vindication of memory and radio experience, local journalism and the great year of fiction Spanish television.
A great night for journalism that has been close to listeners, that has accompanied them in the hardest moments of the pandemic, for journalism that does so with empathy, sensitivity and rigor. Like the professionals of Cadena SER on La Palma or Canarian television.
"It is a place that no longer exists, we have been there for 60 days counting things that no longer exist, it is tremendous as journalists and palm trees. Words fall short because houses, flats, dreams … of very humble people who fought hard to have what they have fell. I beg you not to forget about them, when the volcano is turned off, that the cameras do not turn off ", asked Javier Rodríguez, a journalist from SER who has followed and recounted every day the evolution of the La Palma volcano eruption.
Journalists have called for strong local journalism, without overloaded newsrooms, with people and materials to humanize the information. "You cannot report on the reality of this country from centralism," added Eric Pestano. "We have won this Ondas with people from the house, with a budget from Lleida," continued Sique Rodríguez, director of 'Què t'hi jugues', award for proximity radio, who has invited one of his listeners to give the speech. "The listener is what gives meaning to our work, the program is complicity, let's take care of local stations and those who have this job as a dream", has settled Lluís Flaquer.
Those requests have been joined by those of three veteran journalists for the memory, experience and baggage of a life dedicated to the trade. Ángeles Afuera has collected the Ondas a whole trajectory for its work in creating and maintaining Cadena SER's sound library: "Memory is made up of links of affection, pain, talent, experience, knowledge. The radio was losing Many of these links and I discovered one of the most generous professions, that of documentary filmmaker. It is your turn to talk about our memory, "he said. The life of the SER cannot be understood without Ángeles Afuera and not without Iñaki Gabilondo. The journalist has gone up by last time on stage to collect his seventh Ondas, the one awarded in a special way by the jury of these awards. "This has a special value because it is clearly the farewell. I consider it as a posthumous Ondas but still alive. He I received the first Ondas in November of '69, I have had the opportunity to see so many things, a country, a world, a radio, an Iñaki that no longer exists ", he recalled with one last piece of advice about the future of radio. new no sep Go old-fashioned, adding podcasts, fiction shows and the freshness of live news radio. "Viva la SER, it was my dream as a child, long live the radio", has closed with the great ovation of the night at the Coliseum Theater in Barcelona.
"I am very much like Fernando Fernán Gomez, who always said: An award? Total, if next year they are going to give it to others. And here the following year they have given it to Iñaki Gabiondo. We are not doing badly, I told myself ", Fernando Ónega, a veteran journalist who was director of the SER newscasts during 23-F and a pioneer of political gatherings in our country, began his speech. With a great sense of humor, Ónega, now at Onda Cero, does not see this recognition as an advance of the withdrawal. "It seems to indicate a certain path to retirement, but I consulted the archive of Ángeles Afuera and saw that Julia Otero was given it in 2013. I have at least 20 years left. The great thing about the SER is that it gives prizes to the great programs and to the small ones, to the stations that do great things. This is a tribute to my generation. We were clumsy people with the microphone and our achievement has been to contribute to making radio a useful and creative medium. It is a medium that has transmitted life ", he recalled in tribute to his generation companions.
Comedy, feminism and culture
Los Ondas also recognize the good times of podcasts. Different formats that do not stop growing, that have a legion of followers and that have also become live shows. The award is shared in this edition by two productions that celebrate comedy, feminism and culture. "Women with feminist discourse have a difficult time in the public space and cultural journalists are in a difficult situation," claimed Isabel Calderón, creator together with Lucía Lijtmaer of 'Deforme weekly ideal total', a space on Radio Primavera Sound that is has become a benchmark. And two other women, Carolina Iglesias and Victoria Martín head 'Stretching the chicle', a podcast that also began as a self-produced project and is today one of the great successes of the Podium Podcast. "This has grown so much that now we are many women. Comedy projects are successful if they give us creative freedom, we are many comedians to generate culture, let us do it. We dedicate it to the pringadas of the class, we are here too, to all the creative women who want to tell stories together. Long live the comic women! ", Both have claimed.
Another comedian, presenter and all-rounder of communication like Inés Hernand has collected the award for best television program for all the content of Playz, the platform dedicated to the young audience of Spanish radio and television. "At Gen Playz we talk about sexuality, suicide, trans law, school bullying …", Hernand has explained, asking that youth be listened to, that they be given their space and that the future is today. "For more non-normative bodies, racialized people and diversity," he cried out to applause.
The great year of Spanish series
Between 2020 and 2021, in the months of greatest audiovisual consumption, Spanish fiction premiered several series that have led to a leap in terms of both thematic and the qualitative. "Very good stories are being told, we have scriptwriters with incredible talent," claimed Javier Cámara after collecting, together with Diego San José, the statuette for best comedy for 'Vamos Juan'. An award shared with 'Lost Fagot', a series created by Bob Pop. 'This series was born because one night in' Latemotiv 'I told how the bad guys buzzed me for fagot, fat man and glasses. Yesterday I would have liked to be with all that team to hug them. Movistar + kicked me out earlier because it was uncomfortable for them, "commented the creator about the end of the Buenafuente program, whose producer participates in the series. The also writer, who brings to the screen his dreamy memories from childhood to maturity, has dedicated the series to "all those who did not have the privilege of telling their story with their voice."
'Anti-riot' has succeeded 'Patria' as the best drama series with an award also for actress Vicky Luengo. 'Venom' has also received well-deserved recognition for its three leading actresses. Jedet and Daniela Santiago, two of the interpreters who give life to Cristina Ortiz, have sent a message of encouragement and support to Isabel Torres, a cancer patient who recently revealed that doctors have given her two months to live.
Music also has its place within the Ondas awards. Aitana, musical phenomenon of the year, has opened the gala with a performance, Pablo López has celebrated the power of live music in all these months marked by the restrictions of the pandemic, and Mikel Erentxun has collected a very emotional Ondas to all his trajectory. "I love my job, my trade, music, I hope it doesn't mean an end point, I hope to continue browsing and making more records. I want to share this award with all the musicians, technicians, producers who have accompanied me on this journey. And also with the public, those unknown friends who go to concerts and buy records in such uncertain times ", he concluded.



cadenaser.com
George Holan is chief editor at Plainsmen Post and has articles published in many notable publications in the last decade.