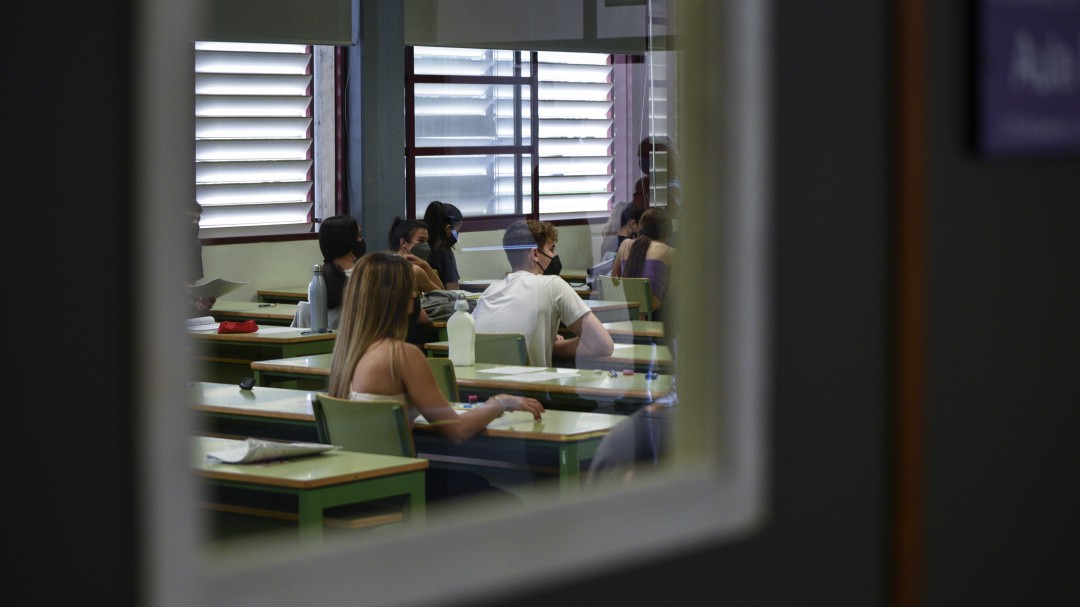 Alba Cantalapiedra, Abel González and Laura Guadalupe are three young Spaniards under 26 years of age. The three, fully immersed in the labor market, are a true reflection of the precariousness that young people live in our country. Alba is an illustration artist, Abel is a nurse and Laura works in the metal sector. In Spain, the situation is complicated: youth unemployment stands at 30%, one of the highest rates in Europe and which has remained at the same level for 13 years. Salaries are low, below 1,200 euros gross. Most of the contracts are temporary: six out of every ten people under the age of 25 have a temporary job. In this special section on the employment situation of the youngest, Marina Fernández intends to find out what her goals are, her concerns and her future plans.
Employment situation
AC: "The situation looks very crude. It is seen in people who are highly educated. It seems that all that effort of so many years studying languages, a career, a master's degree, is not later reflected in the position that they should take to address. It's a bit scary not knowing what's going to happen ".
AG: "As a nurse, since I started working, everything has been unstable, very precarious. Sometimes you have a better salary, sometimes worse, but nothing makes you want to root yourself somewhere or something ".
LG: "It is said that the FP has opportunities, but when looking for a job with this qualification it is noticeable that they look at you askance as saying 'you only have a FP'. Seeing the panorama it seems quite crude ".
What are they missing
All three want to achieve job stability and conditions that are regulated according to their schedules.
AC: "I am autonomous and there is no law that takes into account the completion times when you hire someone. Nor how and when is this paid ".
AG: "It is impossible to work in a hospital, have friends, go to the gym or continue training. If I want to do it, I have to stop working at the hospital because it cannot be reconciled. We are working all the time in conditions where you cannot have a life. They ask me what I'm going to do in three months and I don't know. Imagine in five years ".
LG: "When your position increases and your functions leave work and you are bombarded by phone, you cannot disconnect."
On the 'great resignation' in the US and the metal strike in Cádiz
Víctor Sancho, who reports from Washington for SER, talks about the phenomenon known as 'the Great Resignation'. A movement that causes four million millennial workers to leave their jobs each month in the United States.
AC: "I think something like this is very difficult in Spain. There should be a global consensus with concrete guidelines to claim what we need. Right now the system is much bigger than you ".
AG: "I am extremely disenchanted with my profession, a profession that should make me much more excited. I know that deep down he continues to do it to me, but I no longer face it the same. It got to a point where he reluctantly went to work at the hospital. I worked on the front line and it was horrible. Everything we've been through has come after us like a boom, we didn't realize it during the pandemic ".
LG: "They always have you caught somewhere and they know you're not going to go"
AG: "I have participated in different strikes, but it did not compensate us. They provided minimal services and we worked more like that. When considering a strike, it is very difficult for us. You are with people and you cannot stop serving them ".
LG: "With my age I would not risk it. I am the last link and they could do without me at any time. Even if they say there are no consequences for participating, there can always be one.
Future
Alba, Abel and Laura agree: "We hope to have stability."
AG: "I am satisfied with seeing myself more stable, working as a nurse, but without fear of having to continually change my destination or service".
LG: "I am considering changing my community and living in one in which the metal agreement is better paid and valued. Also set up a farm ".
AC: "I hope I won't be autonomous by then. I don't see myself with family because I know I wouldn't have the time to carry it out. "



cadenaser.com