Twelve years have passed since Irinea Buendía saw her daughter's still-warm corpse and decided that it was not going to stay that way. In 2010, the murders of women represented one more death in the rosary of homicides that plagued Mexico every day, involved in the failed war of the Government of Felipe Calderón against drug traffickers (from 2006 to 2010). The authorities concluded quickly and with little investigation that Mariana Lima had committed suicide. folder. But Buendía was aware of the physical and psychological abuse that Lima had suffered since she married a police commander from the State of Mexico. A powerful guy at the local level against whom she undertook a legal crusade that made her a symbol against femicides in the country. It is impossible to understand the criminal code of any Mexican state, the struggle of hundreds of mothers afterwards, not to mention the ordeal of this mother. What is not often mentioned is that, more than a decade later, there is no peace in the Buendía household. And without her, neither in the rest of the families from which her daughters were taken.
The umpteenth hearing that Buendía has attended since his daughter's case was reopened in 2016 was postponed this Thursday. In that year, his fight to present evidence and appeal any court decision that pointed to suicide, escalated to the Supreme Court of Justice where, in a historic decision, in addition to ruling in favor of reopening the investigation, and in depth, of the Lima case , a decalogue was drawn up on how a folder should be opened when dealing with the violent death of a woman. In 2016, the sentence of Mariana Lima was a national benchmark that fell like a meteorite in the thousands of unresolved or poorly resolved cases in the rest of the country. Thanks to that ruling, hundreds of mothers later appealed to the highest judicial body. And some, too few, have obtained justice.
On the other end of the phone, Buendía lists each of the atrocities to which the Mexican justice system has subjected her and her family. She speaks from a hospital, and while she waits for an appointment, she recounts as if on autopilot how it is that, being a reference in the fight against femicide, the crime of her daughter has remained stagnant for more than a decade. That her son-in-law, former commander Julio César Hernández Ballinas, in prison for almost six years, wins a battle against them every day. She also tells how she feels that no one wants to "really solve the problem." How after five years dead, the body of her daughter was unearthed in 2015 with the sole objective of uncovering the truth. And that at 70 years old she is tired, but she does not plan to stop.
"Where do you get your strength from, Buendia?"
—The day I saw my lifeless daughter, beaten, bathed, with clear evidence that she had been strangled and still the vile and cowardly murderer dared to say that she had committed suicide. From that moment that I see her and I have no doubt that her last hours were of extreme violence, that's where I get her strength from.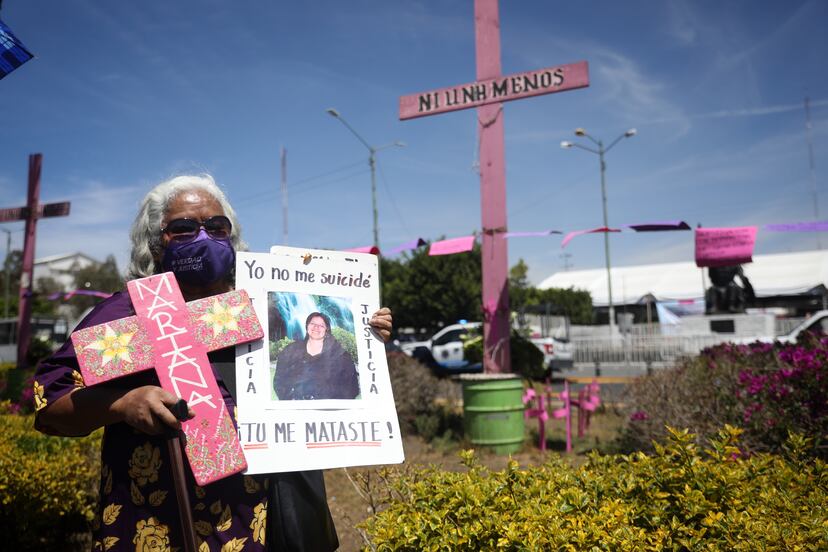 Buendía's testimony has been dramatically repeated over the years. The rosary of murdered women who in the first instance are trying to close the case with an alleged suicide have not been few: for example, Lesvy Berlin Osorio, 22, hung from a telephone booth on the UNAM campus in May from 2017; or that of Fátima Varinia Quintana, 12, kidnapped, tortured and beaten to death a few meters from her house when she was returning from school. "Mariana's sentence helped to resolve those sentences. She was 29 years old when she was murdered, they did not let her litigate, but she continues to litigate through whoever wants to take advantage of that Supreme Court ruling, "says Buendía, who also remembers her daughter's life project: being a lawyer.
That the femicide in Lima remains unpunished sends a hopeless message to the rest of the mothers who fight every day to bring justice to the crime of their daughters. In Mexico, around 10 women are murdered every day. A figure that has not stopped increasing since records exist and that, despite the fact that the Government presumes a stagnation —not an increase— in the general figures of homicides, the murders of women continue to be the great pending account of the Government of Andrés Manuel López Workshop. And all of the above.
"Justice in Mexico either does not arrive or is very late," summarizes the director of the Feminicide Observatory, María de la Luz Estrada. "When the sentence was won, it was said: "We won by losing". Because an investigation had to be done again from scratch and five years had passed. And yet we demonstrate to the State of Mexico Prosecutor's Office and to the entire country, that if a violent death of a woman is investigated with due diligence, it is possible to find the femicides, "adds Estrada. In Mexico, impunity for any crime exceeds 94%, according to a latest report by México Evalúa, which reviews official information on the work of prosecutors and judges in 2020.
Buendía lives, in addition to impunity, with the fear that another son will be killed. She managed to access the Mechanism for the Protection of Human Rights Defenders, similar to that of journalists and which has been of little use to some and others when the aggressors have wanted to end their lives. Two years ago they tried to shoot another daughter, Guadalupe Michel Lima, while she was traveling in her car to a hearing for her sister's case in the capital. And now, just a month ago, one of her children who had been attacked with a knife to the head, had the escort that protected him in that program for Defenders removed. "The risk we find ourselves in simply for demanding justice is very unfortunate," adds Buendía.
"Look, more than anything I feel cheated, cheated, angry, hurt," she insists. The case of Mariana Lima, which after she came back has been extended over time to leave her family unprotected, revictimized and hurt more, is still in a phase of expert hearings. The hearing that Buendía was waiting for this Thursday was not even to know the final sentence of the case, but to continue advancing in the already formal accusation of Ballinas for the femicide of her daughter. "In November I went to meet with the president of the Court of Justice of the State of Mexico on this matter. And he told me that he already knew where they were going, that it was a simulation to tire us out, but that he was going to take action on the matter. In the end, he did nothing or, if he did, it was not worth much. The justice system continues to rub it in our faces that they can do whatever they want and they don't care about femicides, "he adds.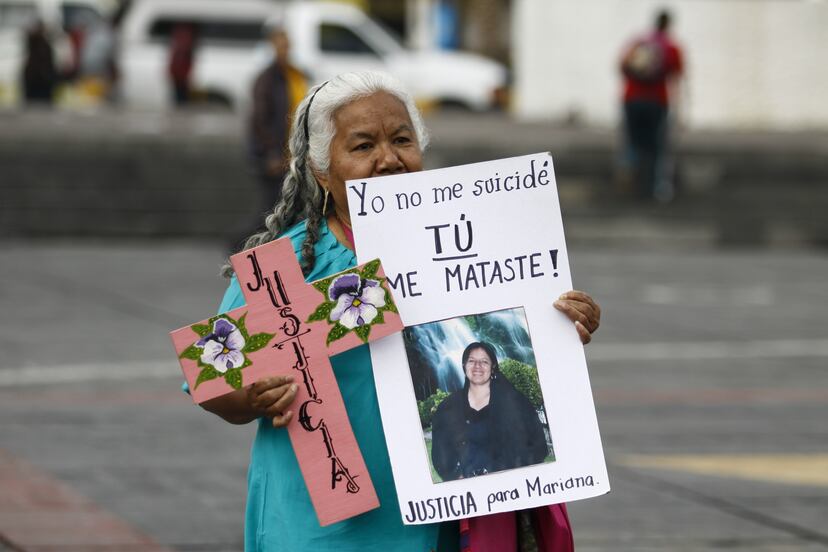 Buendía clings to the fight like the day he decided his life was going to change forever. That the death of his daughter was not going to be just another number. He still remembers the tattoo with the name of his son-in-law and alleged murderer on the back of his daughter's corpse: Ballinas. "I'm not going to shut up, even if she's tired," she says. "I'm not going to stop screaming. We mothers know that we cannot do that, because it means closing our eyes in the dark and they will not have the comfort of our silence."
subscribe here to newsletter of EL PAÍS Mexico and receive all the informative keys of the news of this country

elpais.com
George Holan is chief editor at Plainsmen Post and has articles published in many notable publications in the last decade.