Although it was his mother who gave him a notebook and told him to write, his career started in the magazine Vogue, where the then young and talented budding writer from the US West Coast landed thanks to a contest to which she was submitted with an article-essay. That one of the best prose writers in the English language and one of the journalists who revolutionized the way of seeing and telling was forged in the writing of a classic women's magazine is not a trivial fact. Joan Didion, who, she said, spent many hours copying Hemingway's novels on her typewriter to understand the rhythm of his prose, learned by writing captions for Vogue, the power of synthesis, and that lesson carried her to its ultimate consequences. Its elegance is equally legendary.
You could say that Didion is the Susan Sontag of the West Coast, but in a way that would be unfair to these two Californians. What is certain is that both were revered and admired, only that one achieved international fame very soon and the other did not succeed with Spanish readers until the 21st century, with the book she wrote after the death of her husband and which originally published the now defunct Global Rythm Press label. At that point, Didion had already written some of the key texts to understand the United States and the transformation that was taking place, and also to understand her, her fragility, her doubts and the strength of her narratives. Didion writes about his headaches and leaves you speechless, about his farewell to New York and moves you even if you don't know the city, and about the hippies from San Francisco and manages to find that little girl high on acid who realizes what was happening. In the documentary made by her nephew, actor Griffin Dunne, about her when the writer was 86 years old (The Center Will Not Hold) He opens those tiny, slanted eyes and clenches his hands with enthusiasm as he remembers that grotesque scene with the child girl. hippies: "That was gold!"
'The year of magical thinking'
One night, in her Manhattan apartment in 2003, back from the hospital where her daughter Quintana was admitted with a serious infection, her husband, also the writer John Gregory Dunne, collapsed while they were having dinner. A companion and main enthusiast of Didion's work, his mainstay for decades, together they grew up, wrote, traveled and encouraged each other. Didion began writing about the brutal loss in October 2004 and finished the book on New Years Eve. The year of magical thinking It was his first non-fiction work, in which he did not collect essays and reports, but rather insisted on dissecting his grief in such a cerebral and controlled way that it multiplied the shock that his story contained. Exquisite and always elegant, intelligence and pain were guessed behind each of the sentences in which Didion fought to avoid sentimentality and tried to understand what was happening. This book, a landmark in the literature of loss, was brought to the theater by Vanessa Redgrave and made Didion a star. It was Didion's first book translated into Spanish to be successful and made known to readers. The continuation was Blue nights, which he dedicated to his daughter, who died a few months after Dunne.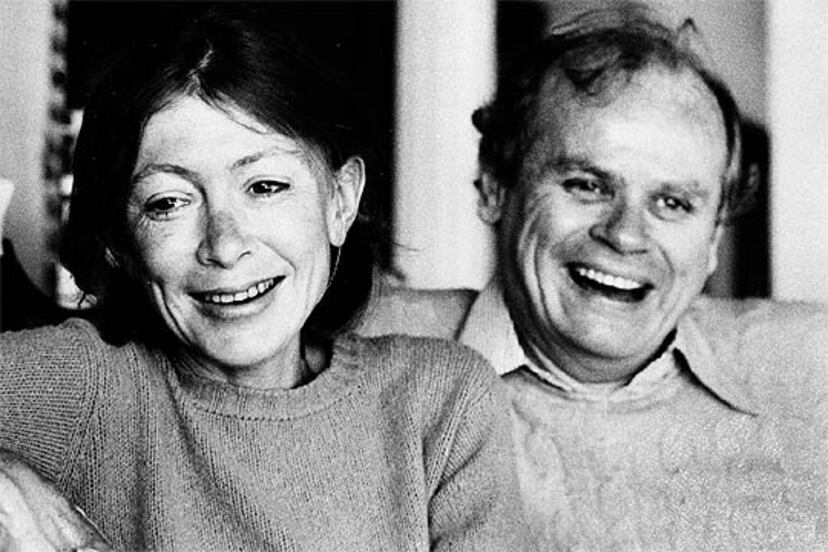 All the culture that goes with you awaits you here.
Subscribe
'As the game comes on'
Didion's first novel was published in 1970 and was set in Hollywood. Today it is a classic of American literature, read in the colleges of the universities as a great feminist work, an accurate portrait of an era, the same that on the other coast was captured, for example, in the film Ice storm, by director Ang Lee, although in this novel there is no snow, but palm trees and decadent seventies glamor. At the center is an actress whose career hasn't quite taken off, overshadowed by her husband's directorial fame. He was the one who decided to admit his daughter to a center for children with special needs and he was the one who decided about the new pregnancy. Direct and forceful, this story speaks of the emptiness of lives overturned in appearances, the falsehood that hides a supposed freedom and the difficulty of being a woman in a world that revolves around men. His next novel, A common liturgyHe left seven years later and once again has the woman at the center, although in this case they are two Americans in an invented Central American state that bears a certain resemblance to Nicaragua. As a chronicler, Didion also traveled to Central America, to El Salvador, to make a series of articles that he published in The New York Review of Books and that ended up forming a bleak, accurate and brutal book.
'Those who dream the American dream'
This anthology of Didion's best journalistic and personal essays only exists in Spanish. The editor Claudio López Lamadrid convinced the author to compile a new selection that would include texts that appeared in other books and anthologies of hers such as The White Album, Miami, Salvador The Slouching Towards Bethlehem. The result is a brilliant anthology, a Didion distillate that allows one to get closer to one of the surgeons who with the most dedication and talent has known how to dissect and portray the American reality of the last half century. What has America been? Nobody better than Didion to respond with that look that combines closeness and distance in the same sentence.

elpais.com