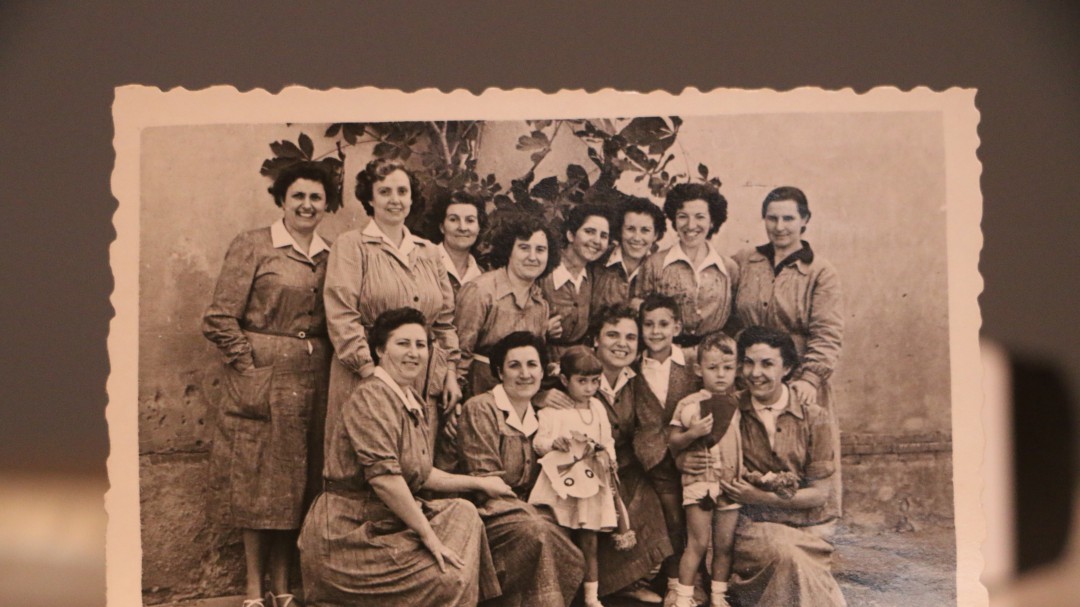 Manolita del Arco She was the woman who spent the most years in the prisons of the Franco regime. He entered it after a frenzied time in hiding, trying to rebuild opposition to the dictatorship after the end of the civil war. Now his son, the writer Miguel Martinez del Arco tells her story, forgotten like that of so many women, in a novel titled Memory of the cold, edited by Hoja de Lata. The book wants to vindicate women victims of the Franco regime, freedom fighters and feminism and also show that the hardest part of Franco's repression was also experienced at the end of the dictatorship, in the eighties, with the abuse even of the children of these dams.
Is the cold the magdalena of Proust of the antifascist resistance?
Actually, when I thought of the book, it had a more pamphleteer title, Do not give up, which had more to do with what it tells. But when I reread it I realized that the cold appeared all the time. The cold was a bulky element in the whole route I did to write. That feeling from the cold elm years. I realized that it was the possibility of losing the cold with the coat. It evokes an era, but it also evokes the future to an era.
It is the story of your mother, but at the same time it gives the feeling that it is the story of many women …
I am the last heir to a lineage. My mother entered jail at twenty and came out at forty, but she had time to have me and I am part of the lineage of some women who were my royal family who could not have children or were much older. It constituted around me a learning space with very positive elements and it gave me a way of understanding life in which life is at the center. However, when the stories of the resistance are told, they always talk about men and that heroic, more individual aspect, and here of women who asked to choose and there is something more of a group phenomenon. They are women who came from the Republic, who had advanced in rights in a brutal way and that had been savagely repressed. Women were left without rights under Franco. It seemed important to me to tell this story at a time when feminism represents an opportunity to improve the lives of women, that we see that there are ancestors of feminism.
Were these women aware of feminism?
Yes, there were feminist women within that tradition, like Margarita Nelken. Pasionaria had a simple feminism drawing. These women were often feminists in spite of themselves, but they are not a still photo of '39. Those who do not die evolve until the 21st century, because life evolves and because they made life evolve.
What has it been like to dive into the letters between your parents, separated in prisons throughout your relationship?
I had written off those letters. I knew them, but had not read them. I had been sleeping on those letters for twenty years in a box that had embroidery on it. I came across a third of the written letters. There are about six thousand. With what you say about the links, it seems very curious to me, because the links linked to those more romantic ways seem difficult to understand, because they often weigh down the freedom of women. It has been difficult for me to see that romantic love that is maintained over the years and that at the same time shows two independent people. I was especially surprised by the letters from the year and a half in which they live together at home, and write letters. It was his way of communicating.
How many children will not sleep on top of those letters! … How much is left to know the intimate memory, which at the same time is the collective memory of the country?
Not only is it that we sleep on letters that we don't know what they said, but we have to think about how many letters have been destroyed, they actually sleep on the hole left by those letters. This country is a collective grave. Nobody is surprised that the national poet is a disappeared person. I think that a country that does not have the ability to recognize what it lies down and gets up on, how it writes its cracks and fissures, can hardly take care of itself. There are many, many individual and collective stories that have been hidden and that still do not come to light.
How was your childhood?
I remember a tough childhood, my father was in jail and we were a repressed family, but quite happy. He lived in a working-class neighborhood of Madrid, Canillejas, surrounded by people. I was very fond of around, but I was a privileged person who visited museums, theaters … Although there were no economic resources, I lived in a world of culture and a very free world. When my father came out of jail, who was already ill, I was about thirteen years old and he was surprised how soon I came home.
There is talk of repression, of a coup, but contrast what you have with the joy of women, has that joy been lost to leftist politics?
The problem with politics, also left politics, is that it is very masculine, many times it is also very macho. That ability to solemnize and sacralize everything makes life difficult for us. These women had to animate life combining the personal and the collective, knowing that community life, which has to do with care, was an intrinsic part of sustaining life in general, without the need for heroism. Life has a lot of sad elements, but others of joy. They had something that despite the harshness, which they went through more than the men, is that they were aware that they had been able to choose. That choice had harsh consequences, but choosing brings joy.
Did they regret it?
I wish they were alive to ask. In my imagination and in the memories of his memories, I think not. I don't want to trivialize it, because they lived completely hard lives. The confrontation with repression, torture, jail, the care that they had to do as well. All this was surrounded by the fact that they were treated as traveling companions, not as subjects, but as companions of men. However, they invented a life and that has a genuine part of joy. I remember laughter and laughter is a transformative element.
The novel has been built in part as a two-stage thriller, why do you choose this structure?
If I had made a linear story from memories, we would have arrived at a too long text. What I wanted to tell is what those people felt and lived. I tried to make a story because I realized that the life of my mother and other women was a life of cinema. At the same time, it also seemed to me that I had to place the present because I am very afraid that historical memory is treated only with nostalgia. Nostalgia is very sticky and generates nostalgia. What happened happens. I'm here and I go to the bars where things happened. The idea was to make a thriller story of an exciting life where what happens to us now is.
Why doesn't anyone dare to do a series about this? Why don't we count the lives of these women?
On the one hand there is a false mantra, the one that says that we only talk about war. In this false mantra many things are hidden, for example, that there is a very important part of society that did not go through the transition adequately when it comes to bringing to light what has been the history of the subordinate sectors of our country. So maybe it's easier to pick up more superficial stories. There is a certain fear still. The repression generated fear in the Franco regime and generated fear of life and some of that still remains when we say that talking about the past generates wounds.
Will the generation of the grandchildren be the one to break all this?
Granddaughters, great-granddaughters … they are. I am like the last generation of children. The one before me had terrible childhoods and they tried to separate from them to survive. But later generations need to explain themselves and for this they need to see where they come from. How much we read about the Republic and we see very common elements. There is also a non-real feeling that these themes are not going to hook into the story and the problem is not the themes, but that they are told well.
Perhaps the hardest thing is when you talk about two things less discussed: the repression in the last years of the dictatorship and the abuse of the children of the inmates, has the latter been the hardest for you?
Perhaps to the extent that it involves me personally. I had established enough distance that I could count it without blushing. Abuse situations of this nature cause shame and that shame must be countered, because the one who has to be ashamed is the one who abuses. There was an exercise in overexposure on two levels, the first to say that this happens and that it can be counted, the second to say that the dictatorship did not have a soft end. The dictatorship was savage until the end and it was so until the end because it needed it. He never repressed himself from this exercise of generating terror. Women particularly tortured because women's bodies are positions of war and the children of those women were the same. They had no interest in causing me pain, it was indirect pain and also with a terrible moral burden, so that you blame your parents for what they have done to you. The exercise of distancing yourself and seeing who is to blame is enormous, because until you distinguish cause and blame it takes a while.
Can you go to bed while being a Francoist and wake up as a Democrat? How was the environment in which you lived the transition lived?
There were people who did know how to make that transition, but it is true that the transition left the previous system almost as it was. The repressive forces were not cleaned up, now we are seeing how the judiciary or the great economic elements, the great rich families, are doing … For a generation that fought against it and that saw that the transition had been made with the foundations of Francoism that still exist and from the silence. Francoism is such an ideological space that it only wins from the defeat of others. Reconciliation did not happen and was impossible.



cadenaser.com
George Holan is chief editor at Plainsmen Post and has articles published in many notable publications in the last decade.