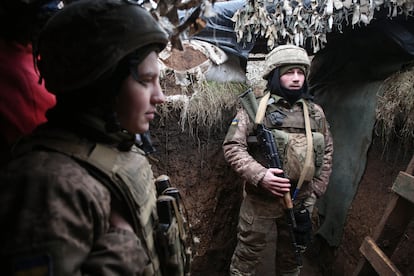 The large concentration of Russian troops near the border with Ukraine and the development of logistics structures and supply routes in that area have triggered the alert in the West about a possible invasion by Kremlin forces in the neighboring country. Faced with this scenario, the Western powers have issued resounding warnings, assuring that such an action would provoke a strong sanctioning reaction on their part with catastrophic consequences for Russia. The United States, the European Union and the United Kingdom have spoken in this regard, they dialogue about it, but they have not specified details. What could the West really do?
The question is very thorny. The options are many, but it is extremely difficult to square the circle of a package of measures that gathers the consensus of the main western actors, that hits Russia without causing serious damage in the EU, without precipitating an uncontrollable escalation of confrontation, without doing any damage. excessive and unjustified to the Russian population.
At the military level, Ukraine is not a member of NATO and therefore is not protected by the mutual defense clause. Obviously, no one is considering active involvement. Boosting the supply of weapons is possible, but very delicate, being able to become the spy is clear, as evidenced by the document published on Friday by Russia, where it intensifies its demand for NATO to leave its assets far from Russian territory.
On the economic level, there is a wide range of options, among which some that could indeed be very painful for Russia, but here also with many collateral risks that complicate the scenario. Many options for economic sanctions would cause considerable damage to the West, and also in an asymmetric way – hitting the EU especially – that makes it difficult to find an essential consensus. Other more viable options are less effective and would hardly alter Vladimir Putin's strategic calculation. Instruments that do extensive harm to the Russian citizenry run the risk of reinforcing popular support for the Kremlin. Actions of financial-commercial isolation can furthermore, especially in the thinking of the Chinese leadership, foster determination to build alternatives to the now central Western systems.
"The starting point is to verify that the Russian economy is closely integrated with that of the EU. If pressure is applied to the former, there is a reflection on the latter, "says Tom Keatinge, director of the Center for Financial Crime and Security Studies at Britain's Royal United Services Institute (RUSI). "Naturally this means that there will be very different attitudes towards strong sanctions in Frankfurt or Milan compared to London or, even more, Washington."
Here's a look at what appear to be the most likely western fields of action.
Join EL PAÍS to follow all the news and read without limits.
Subscribe
MILITARY PLAN. US President Joe Biden explicitly said that the hypothesis of sending combat troops in support of Ukraine is off the table. Washington has been providing military aid to Kiev for years, but of a low intensity – advice, training, and supply of weapons of limited relevance. In recent years, the most significant deliveries have been armed drones from Turkey and small Javelin anti-tank missiles from the US.
"This dynamic is explained by several factors, including Ukraine's limited financial resources to acquire and the reluctance of foreign countries to deliver offensive material that could provoke Russia," explains Siemon Wezeman, an expert at the International Peace Research Institute of Stockholm.
In the face of the accumulation of Russian forces on the border, there are however voices in the West that advocate a significant increase in military supplies to Ukraine, with the idea that they may have a deterrent effect in Moscow. The Ukrainian Armed Forces have improved since the conflict broke out in 2014, but their combat capabilities are light years ahead of Russia's, and they could put up little resistance in the face of a large-scale invasion. The increase in supplies would not seek to achieve an unviable approach to the capabilities of Russia, but would create the perspective that an invasion could not be carried out without suffering considerable damage, and therefore discourage it in this way.
But this option has problems. One is time. The delivery and handling capabilities of complex weapons systems are not solved as if it were to supply trucks. On the other hand, there are delicate political-military calculations.
Wezeman is skeptical of this prospect. In case of consistent but not strongly destabilizing aid, and prior to any Russian action, Moscow could respond "with more support to the Donbas rebels. Even substantial increases can easily be offset by Russia, which has a lot of deliverable stockpile without weakening its own forces. More supplies therefore run the risk of making the conflict more damaging without giving Ukraine a decisive advantage over the Donbas. "
Unbalancing aids could even be considered as a the spy is clear, since the Kremlin precisely argues that NATO wants to use Ukraine to bring heavy weapons closer to Russia. Helps after a possible invasion are also not so clear. "In case of invasion, I doubt that there will be an increase," says the expert. "Little indicates a general willingness to do so among the NATO allies or even among those who have done so thus far. It would lead the NATO allies into a more direct confrontation with Russia, and once an invasion has been launched it would probably be too late, "concludes Wezeman.
FINANCIAL SECTOR. Although there have been no explicit official indications, this is obviously an area open to action against Russia by the West. The possibility of excluding Russian entities from the SWIFT circuit, a system that facilitates the transmission of bank data used by some 11,000 entities in about 200 countries, is floating in the air.
"It is described as the nuclear option," says Maria Shagina, an expert researcher on international sanctions at the Finnish Institute for International Affairs and at the University of Zurich. "SWIFT is a very important and very efficient system. This does not mean that it cannot be substituted, and in fact, in a preventive way, the Russian authorities have put in place an alternative system, although it is currently not efficient. The bottom line is that, although the difficulties could be overcome with time, from the outset it is likely that the message would cause an overreaction of the markets ".
These turbulences would naturally also affect those who have financial relations with Russia, which is the fifth largest trading partner of the EU. There is also no doubt that China, which has also assembled its own alternative to SWIFT, would have an incentive to develop it, seeing that the West does not hesitate to proceed with such a disconnection.
"You have to understand that excluding from SWIFT does not amount to an embargo," says Keatinge of RUSI. "You can look for alternatives. But it is true that it could cause an input shock. And this shock would reverberate beyond Russia. I think that the most logical option would be to broaden the existing restrictions on access to capital markets for certain entities ".
The logic of cutting off access to capital can be implemented in different ways, for example by hitting banks or with measures aimed at debt bonds. Another instrument would be to limit the convertibility of the ruble to dollars, euros or pounds. In all of them it is essential to measure the scope of an eventual measure.
"In convertibility, for example, it is not the same to establish restrictions for the activity of specific institutions than to mark a general prohibition," says Shagina. Limited bans are liable to be circumvented; Generals would cause severe turbulence, affecting blameless citizens and tremendously complicating trade when the West, and especially the EU, has a heavy dependence on Russia in the energy sector.
"In the debt sector there would also be collateral effects, but more manageable," says Keatinge. Determined actions in this area would obviously have an impact on those who hold Russian debt. But in this case, generally those affected would be investment funds, large banks… we are not talking about a generalized repercussion, with social effects ".
ENERGY SECTOR. Another crucial area for eventual retaliation against Russia is that of hydrocarbons. This is the monoculture that fuels the Russian economy. A hard blow there would be extremely painful for Moscow. The problem is, again, the interconnection. According to Eurostat, in 2019, Russia supplied 41% of total EU gas imports and 26% of crude oil. The dependency is enormous, the alternatives extremely complex and far away. Furthermore, the market is in a time of great turbulence, with very high prices, and on the verge of winter.
In this context, on the table is the blocking of the authorization so that the Nord Stream II gas pipeline can come into operation, which reinforces the direct connection between Russia and Germany by bridging Eastern Europe. Preventing the activation of the gas pipeline, completed a few months ago, would represent a strong political signal from Berlin, so far reluctant to strike out with Moscow in the field of energy. The new government of Olaf Scholz seems more willing in that sense than that of Merkel. But everyone knows that Europe needs Russian gas. Blocking Nord Stream II would simply mean continuing the supply status quo in other ways. Russia preferred to activate it, but its paralysis does not amount to catastrophic damage for it.
Hitting crude exports, as has been done with Iran, is not configured as a viable option in the face of a fundamental producer for the market and at a time of tension in prices.
More feasible are restrictions on the sale of cutting-edge Western technology to Russian companies in the energy or mining sector. It can certainly be a significant hindrance, but it is doubtful that it is something that could alter the Kremlin's strategic calculus.
PERSONAL SANCTIONS. After turbulent years with the invasion of the Donbas, the annexation of Crimea, dark episodes of interference or aggression outside its territory, Russia has suffered several rounds of sanctions against people linked to the central power circle. These initiatives have the incentive of not having negative consequences of weight for the West. However, Keatinge warns, "in the framework of retaliatory actions against threats or attacks in Ukraine, they would be a mere smokescreen". The RUSI expert believes that these sanctions make sense in the framework "of the fight against the disembarkation of dirty capital or malicious activities", but none in a geopolitical context like that of Ukraine.
Follow all the international information at Facebook Y Twitter, o en our weekly newsletter.



elpais.com
George Holan is chief editor at Plainsmen Post and has articles published in many notable publications in the last decade.