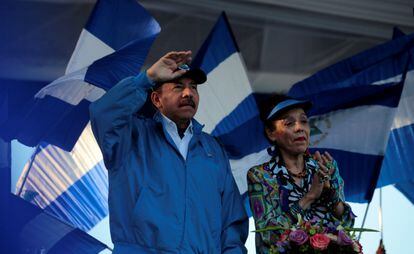 The United States continues its offensive against the Nicaraguan regime. The Treasury Department has imposed sanctions against the Public Ministry on Monday after the electoral "farce" that gave Daniel Ortega the winner for the third consecutive term in the recent presidential elections. The Treasury has also frozen the financial assets of nine senior officials, several of them members of the Ortega leadership. Washington said last week that, after the criticized elections, with seven candidates arrested, Nicaragua ceased to be a "weak democracy" and became a "dictatorship."
The Office of Foreign Assets Control (OFAC) said in a statement that the Public Ministry arrested Nicaraguan presidential candidates "unfairly", which prevented them from standing in the elections, "thus undermining democracy. In Nicaragua". As a result of the Treasury's decision, all assets and economic interests of those sanctioned, and of any entity owned by them, that are in the US or in the possession or control of US persons, are blocked and must be reported to the OFAC.
Among those sanctioned are the Minister of Energy and Mines, Salvador Mansell Castrillo; the Superintendent of Banks and Financial Institutions, Luis Angel Montenegro Espinoza; and the Vice Minister of Finance and Public Credit, Adrián Chavarría Montenegro. "Key supporters of the regime and its undemocratic policies," according to Washington. There are also several mayors implicated in the "repression against human rights and fundamental freedoms" during the demonstrations against the regime in 2018.
"This action is aimed at those who are repressing Nicaraguans for exercising their human rights and fundamental freedoms," explained the Treasury in the statement released this morning. The Joe Biden Administration last week called the presidential elections in Nicaragua "a pantomime." The Ortega government detained almost 40 opposition figures before the elections, including seven presidential candidates who wanted to appear on the ballot, including Cristiana Chamorro, whom the polls gave as a great favorite to win the elections.
In reaction to the elections, the Biden government enacted last Wednesday the law to Enforce Compliance with Conditions for Electoral Reform in Nicaragua (Renacer, for its acronym in English). The regulation gives the US president broad powers to impose sanctions on Nicaragua, including the exclusion of the Free Trade Agreement with the power, and includes it in the list of Central American countries subject to visa restrictions for corruption. It also promotes the development of a series of intelligence reports on the Kremlin's activities in Managua, including documentation on military sales.
Subscribe here to the newsletter from EL PAÍS América and receive all the informative keys of the current situation of the region
Join EL PAÍS now to follow all the news and read without limits
Subscribe here

elpais.com