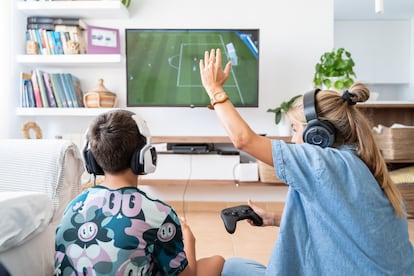 Vicente Marín has been on the waiting list at El Corte Inglés in Mijas (Málaga) for several weeks to receive his Nintendo Switch OLED, one of his most desired Christmas gifts. "All they tell me is that the company takes care of the orders. It is exhausted everywhere, "he says. The camels of the Magi arrive less loaded with video consoles this year. Many fans of playing in front of the screen will wake up disappointed this Thursday by not finding what they had asked for in their wish letter. Behind the problem is the pace of chip manufacturing, unable to keep up with demand, triggered as a result of the recovery.
Semiconductors are a building block in today's economy. These microprocessors ensure the operation of all kinds of electronic products, from consoles to automobiles. Manufacturing a chip typically takes more than three months and involves giant factories that take years and billions of euros to build. In addition, the rise in energy prices and the rise in container freight rates have added fuel to the fire.
This global traffic jam and the video game fever have caused many stores to run out of stock before the Christmas season. In El Corte Inglés on Calle Preciados in Madrid they report that they have been without PlayStation 5 (PS5) units in the warehouse since last November. "Apparently Sony does not want to sell them in stores, because it prefers the digital channel. Customers keep asking us about it, but they have already gotten used to it and opt for other consoles, "says a vendor. With the Xbox they have not had much more luck. "It is true that as it is sold less, there are more options to get it, although it is still not manufactured," he adds.
In the Madrid store Vallekas Gamer the outlook is not more rosy. Very few tabletop game console units remain. "It is a problem that we have been facing since the end of 2020, although it has worsened in recent months. We tell customers that the parts do not arrive and that normally the little that is manufactured is sold online ", says José Luís Domínguez, owner of the store.
In the presentation of results last November, the president of Nintendo, Shuntaro Furuwaka, lowered the sales forecast for Nintendo Switch to 24 million units for the second fiscal semester, which will end on March 31, 2022. The Japanese company will sell during this period 1.5 million consoles less than expected due to changes in production plans that is causing the global shortage of computer chips. "In Spain, this has affected for now only the stock levels of the Nintendo Switch OLED Model during Christmas, which is not available in many of our distributors and this is far from being a normal situation," says the press officer. from Nintendo Ibérica, Cristina Pérez.
The Japanese video game giant's profits in the first fiscal half of 2021 – from April to September – plummeted 19% compared to the previous year. Nintendo, which is behind franchises like Pokemon and Super Mario, made gold during the pandemic by offering home entertainment during lockdowns. However, the shortage of semiconductors is putting the production of these machines in check, and for more than a year it has not been able to satisfy world demand. According to Gerard Álvarez, Marketing Director of the Escuela Superior de Videojuegos y Arte Digital, companies take a close look at the difficulties of manufacturing and distribution of consoles, although most of their benefits are not obtained from hardware, but from software. "Video game sales offset lower console deliveries," he adds.
Know in depth all the sides of the coin.
Subscribe
Like Nintendo, Sony was forced to reduce its production prospects for the PS5, the company's crown jewel, due to component and logistics constraints. As reported by Bloomberg, the Tokyo-based entertainment giant cut its expected assembled units for this fiscal year from 16 million to 15 million. Company CEO Jim Ryan acknowledged PS5 distribution issues in a commemorative message marking the console's first anniversary: ​​"We continue to see historic demand for the PS5, and we understand that tight inventories continue to be a source of frustration for many of our customers. We are focused on doing everything in our power to distribute as many units as possible ". The big question is how long this shortage will last.
Stock breaks in Pokémon and board games
Game consoles aren't the only gifts that have sold out faster than usual this holiday season. Dolls, puzzles, party games and construction games have been the most demanded. The president of the Spanish Association of Toy Manufacturers, José Antonio Pastor, asserts that, although the problems that have affected transport have had a great impact throughout the year in the toy industry, the shelves have never been empty. "We have already set the alarm in summer to advance orders and, except for occasional stock breaks due to the seasonality of the market, there have been no serious shortages".
Of course, all the toy stores consulted agree that what has ended faster in recent months have been the Pokémon games. "The cards and balls have never arrived at our store. People ask for them a lot because now they are in vogue again, but I fear that when they send them to us, fashion will have passed, "says Joseline Alcantara from the Party Tú y Yo toy store. Gotta catch 'em all! (Get them all!), Read one of the slogans of the famous video game series.

elpais.com