"One day I saw a bright spot on the horizon, and it was my talent, which was moving away." The phrase is not by Robert Smith, but by the humorist Joaquín Reyes in his still remembered imitation of the leader of The Cure in the TVE program Girl Nui. The manchego nailed it, going beyond everything that phrase meant. The show aired in April 2008, six months before the great bastions of sinister rock released their latest album to date, 4:13 Dream. It took three years to record and it was a critical and sales failure followed by a creative break that seems to have become a condemnation for the British band.
But, paradoxically, that does not imply that the popularity and prestige of the Cures has declined. Quite the opposite. To begin with, the band has not stopped playing live, always with a fabulous reception and reviews. In Spain they have been seen on pavilion tours and at festivals such as FIB, Primavera Sound, Bilbao BBK Live and Mad Cool occupying stellar positions, something that had not happened before in their careers. In addition, and as in the case of Bruce Springsteen, it seems that the 60-year-old Smith tries to stand up to the passage of time by breaking records for duration in his live performances. The absolute, by the way, was established in Mexico City on the night of his 54th birthday, in 2013: four and a quarter hours. The Cure can boast of an infallible and varied repertoire that guarantees the ability to play for four hours without the intensity dropping, but beware: almost all the songbook they usually perform focuses on what is recorded between Three Imaginary Boys (1979) and Wish (1992): the nine albums they released in their first thirteen years of career. Exactly the same amount of time that has passed since your last job.
"I always believe that it is preferable to revisit a great catalog live rather than making bad records," explains Argentine writer Mariana Enríquez. "Before I thought no, that this is becoming a parody, but there are so many bands that I liked a lot that continue with shameful records that I think nostalgia is better or if not retirement. If you like to play, because I don't think you need money, go ahead. " The winner of the Herralde Novel Prize for Our part at night (Anagrama, 2019) and deputy editor of Radar, the cultural supplement of the newspaper Page 12, is a confessed fan of the group. "The Head On the Door [1985] it was the first cassette I bought, "he recalls. "Over time I continued to listen to them, but they were associated with my childhood. At the age of 13 I ran away from home to go see them and the recital ended with seats on fire, excesses and a very violent climate. I lived in La Plata, 50 kilometers from Buenos Aires, I told my parents that I was staying over at a friend's house, and I hardly remember anything about it. show". Cultivator of the tale of Gothic reminiscences – as shown in her compilation The things we lost in the fire, from 2016–, Enríquez doubts that the British band had a direct influence on their literature, "although in some of the stories about adolescents I know that these girls listen to The Cure", he asserts.
Timeless icons
If we were to do a quick survey, most people would say that The Cure is a group from the eighties, and very few would place it in the 21st century. However, it has been in the last two decades that the iconic power of Robert Smith has had the greatest impact. It may all started at the dawn of the millennium, in 1998, a time when the author of Boys Don't Cry seemed to be on the verge of being forgotten until the creators of South Park They turned it into a cartoon that led to it being vindicated by new generations. Robert was the superhero who saved the world from an evil Barbra Streisand. The peterpanismo Post punk defeated the pastelosa ballad of adults. Claims to the myth were also seen in films by Tim Burton and Paolo Sorrentino (although Smith later stated that the character played by Sean Penn in This Must Be The Place he looked more like the singer of the group The Mission than him). For Mariana Enríquez, in fact, the greatest legacy of the leader The Cure to popular culture is in the look. "The image of artists is considered minor by many rock critics, who are usually male. For me it is almost half the question ", argues the writer. Regarding Robert Smith, he highlights "the white shirts, the hair that so many tried to imitate, like my teenage friends, and, of course, the lips. There is something androgynous about it, but not ethereal or Bowie-pretty, rather asexual I would say. And the complaining and sweet voice. Like a clown that is not scary. And there is some sad romanticism in him too. "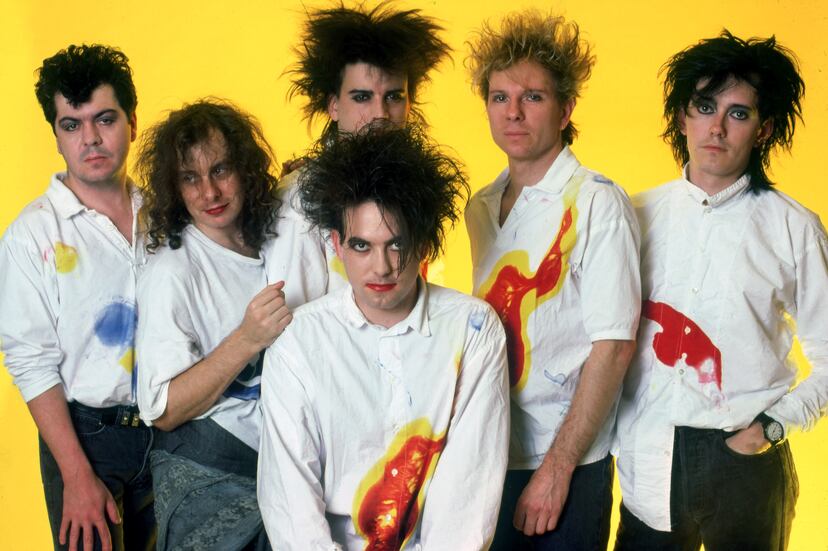 In the fully musical aspect, its impact has extended to bands of all generations and not only from the dark universe. "His work is such a beast that for decades it has impregnated people of very different fur," certifies Borja Prieto, an all-rounder in our music industry who was his product manager in Spain when he worked at Universal. According to him, it all started when, in the eighties, the Sire label distributed Depeche Mode, The Smiths and The Cure in the US and turned them into groups with stadium potential. "They have crossed generations and left an indelible mark on nu-metalheads, rockers and pop stars. The Deftones, AFI, Jimmy Eat World, Miley Cyrus…. I cheer that they are a group mainstream and that they have crossed popular culture with such a personal proposal, in their own way and without being slaves to fashions ", argues the one who was also a keyboardist and ideologist for the indie group Meteosat and currently directs the creative agency Está Pasando.
Come on Robert, go dancing
Although The Cure has barely recorded in this century, its leader could publish an excellent album compiling the vocal collaborations that he has recorded. The most memorable, Not In Love, along with Crystal Castles in 2010, but also songs with Billy Corgan, Blink-182, Faithless, Junkie XL, Junior Jack, Paul Hartnoll (Orbital), Korn, Gorillaz or, the last one, this same year, with Chvrches. Although none of this in our country has had as much popular repercussion as the aforementioned Celebrities from Girl Nui. In fact, it is already a classic that, in his Spanish concerts, the fans sing the sound of "Come on Robert, go out to dance, you're doing great" when it comes to asking for the encores.
During the pandemic, they had another moment of unexpected reappearance of popularity, with a meme that read "I am not an expert on covid-19, but this is the cure" along with a photo of the group. As in the case of South ParkInstead of putting a stamp on a virgin or a saint, many of the pop fans continue to entrust Robert Smith to us as the superhero who will save the world from ugliness. "My first concert of his was at the age of 12, and since then I have not recovered, my addiction is still intact," says Prieto. "It's a perfect group to get hooked on, it has it all: looks varied, dark stages, imperial songs … His mark is everywhere: series, movies, your favorite groups or art in all its extensions. Its importance is capital in the history of music and, in addition, many of us were taught that being weird was also cool ".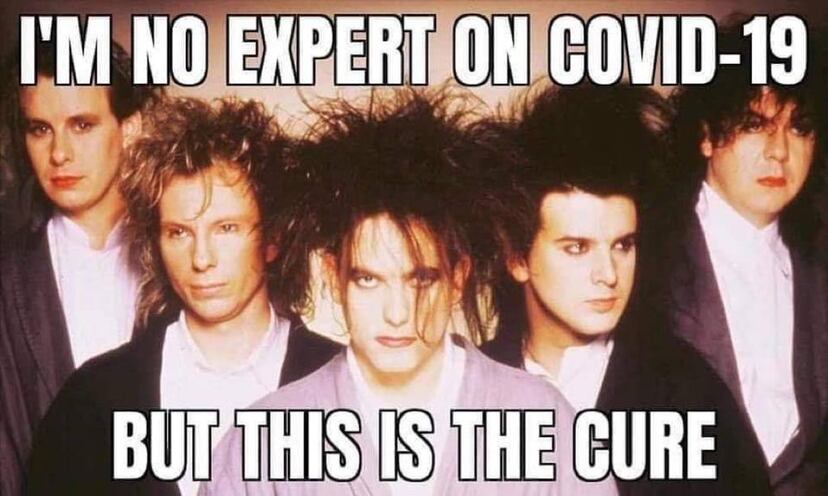 The most recent statements of Smith – a man who does not lavish much in front of the media, and when he does, you never know if he is telling the truth -, they said that they already had a new album recorded. As he suggested, it would be a gloomy work, tormented and with texts of brutal honesty in the vein of his masterpiece. Pornography (1982). Then he said that they had finished another album in a completely different style, more pop. And, furthermore, that there was a third party that was "just noise" and that he had considered publishing it alone, but surely it was going to stay in a drawer. Apparently, the two new albums by The Cure are just waiting to be mixed and should not take long to see the light. "I feel a bit curious, although it has been a long time since it has been a band that I have expected too much from. Personally, they already gave me everything I needed at the time ", explains Mariana Enríquez. Borja Prieto shows much more enthusiasm. "I am trembling, completely in favor and in blind faith. For me The Cure transcends the musical. In addition, there will be a tour and this time I am going with my older children ". The appointments, on November 10 in Barcelona (Palau Sant Jordi) and on November 11 in Madrid (WiZink Center).
You can follow ICON on Facebook, Twitter, Instagram, or subscribe here to the Newsletter.



elpais.com
George Holan is chief editor at Plainsmen Post and has articles published in many notable publications in the last decade.