In the alembic, triumphant and, more times than desired, bitter history of Barón Rojo, a matter as random as the game of bingo is relevant. Because this entertainment has been used as a throwing weapon to weaken the rock DNA of the soul of the group, the De Castro brothers, Armando and Carlos. "While we were going out on a spree, the brothers went to bingo" or "they weren't funny at all, if they even liked bingo", ex-members of the band or opinion leaders of Spanish pop have said maliciously, respectively, to cross them off as have unexciting personalities. Armando (Madrid, 66 years old) and Carlos (Madrid, 67) smile when they hear it. "We haven't been to bingo in a long time. It was entertainment. And it was okay, because they never recognized us. There was a time, in the early eighties, when it was difficult to go out and not be stopped. But there no one recognized us, "says Carlos (voice and guitar) while his brother Armando (guitar and voice), to his right, nods. And one cannot help but smile when imagining those two long-haired men with spiked wristbands sitting at a green table cloth and crossing out numbers on a cardboard.
There is no bigger group of hard rock sung in Spanish. There is also no such wasted band with such unpleasant episodes. This Tuesday, December 28, they will offer one of the most special concerts of their career at the WiZink Center in Madrid: the celebration of their 40 years, with foreign and national guests. It was billed as the last recital of his career, but it won't be, in a new script twist to a stud-studded journey.
The two brothers wear leather jackets. It is 8:00 pm, closed night, and the Madrid winter cold turns the narrow space in which we are, his rehearsal room, in an inhospitable industrial area on the outskirts of Madrid into a refrigerator. A stove slightly warms the environment. The loudspeakers display a stamp that reads: "Red Baron." "We have been here rehearsing since we were alone," says Carlos. That was in 1989, when José Luis Campuzano, Sherpa (bass), and Hermes Calabria (drums) left the quartet. The group had been formed in 1980 and from very early on (in the recording of its magnum opus, Volume brutal, 1982) frictions arose: on one side, the two brothers and on the other, Sherpa and Calabria. The causes? Radically different characters and struggles to impose the repertoire of each one. When they took the stage, magic arose, their disagreements put aside and four guys emerged united with a single mission: to show the world that they were a unique band.
The De Castros were always considered weirdos within the sector. Austere, Spartans and not very friendly to be intimate with colleagues by profession and media. Today they recognize it. "We are a bit disappointing for a lot of people. In Spain, the more drug addict and stray bullet you are, the more likely you are to be in the press. But we are rock musicians who try to do things well and practice as much as possible with the instrument ", explains Armando. And he adds: "We have had to endure very strong pressure because we did not enter the circuit of people who used drugs and went partying. They have repeated the phrase to us a lot: 'The De Castro brothers, 10 in conduct.' Everything they earned was invested in guitars, amplifiers, pedals … And in exercising. Armando is considered one of the best guitarists in Spanish rock.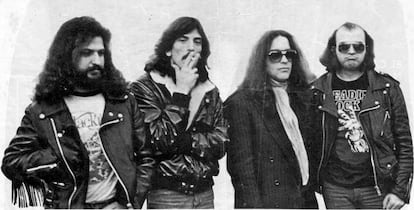 All the culture that goes with you awaits you here.
Subscribe
The original quartet held out while success remained stable. When his signing by a multinational that wanted to bet hard was frustrated and when hard rock was ignored, in the mid-eighties, first by public contractors and then by the public, everything exploded. The De Castros continue to maintain that Sherpa and Calabria left "due to an economic issue, when money began to run low." The nineties were beginning and everyone thought that Barón Rojo would disappear. In fact, it seemed like it. "Armando and I had to take it up from scratch, as if none of the above had existed," says Carlos. "We recruited musicians to replace the absent ones and we faced a very difficult time. We took off that big group aura and played from below. " In rooms before 100 people, for example. And receiving fire from several flanks: from his two former colleagues, who did not agree that they should continue with the Barón Rojo brand; from the specialized press, who saw at that stage "the legend of Spanish rock crawling before tiny audiences"; or the public, who preferred more pop proposals.
"Our two former colleagues, especially one [se refiere a Sherpa]They did everything possible to prevent us from continuing as Red Baron. He has found it easier than us to appear in the media. We have always been ignored. It must be that we are less communicative, "says Carlos. Hard times passed. Carlos worked as a salesman for a sound equipment company for almost 20 years. "I needed it to live. You have a family and obligations, and when what the Baron gave was finished, you had to find your life ". Armando was in the taxi business. "I had one that was driven by people who hired. Then I was selling professional sound, like Carlos, "he says. But they never stopped performing as Red Baron, even if it was a few concerts a year. Armando: "From 90 to 95 it was a journey through the desert, where we played in venues for very few people. If we were to throw in the towel at that moment, Barón Rojo would have fallen into complete oblivion. But we continued and we regained the legend ".
For two decades the two founding sides of the group crossed reproaches, until surprisingly they decided to reunite in 2010 for the 30th anniversary tour. "We did not get together for the money and without money we would not have got together," they declared to this newspaper before those concerts. A few days after starting the tour, the old conflicts were resurrected. They gave good concerts, but it was not as ambitious as planned. They ended badly again. Sherpa and Calabria left and the De Castros again had to rearm with other musicians.
In recent times, Sherpa's sympathies for Vox (he recently acted at the far-right party congress) have created a disaffection of some rock fans for the bassist and a vindication of the De Castro family. Although controversy has also splashed them. Armando recalls: "We have had to send a lot of communications saying that he [Sherpa] He is not the singer of Barón Rojo. Because they make headlines about his controversial political statements saying that he is 'the singer of Barón Rojo'. And that is totally false. The singer of Barón Rojo is Carlos de Castro ". He adds: "Vox is a legal party in Spain. On that side you can do whatever you want. I'm not going to criticize him for that. I criticize him for everything else, for everything he has gotten into with us on a personal level ".
What seems clear is that Sherpa and Calabria are not going to take the WiZink Center stage at the 40th anniversary concert. Or is there any possibility? "We don't want to, because after the bad atmosphere on that 2010 tour there is an enmity," says Carlos, who walks with some care after a hip and ankle operation, to which he has undergone taking advantage of the break due to the pandemic. Armando radiates vitality, probably due to the euphoria of his recent fatherhood. At 66, she has had her fifth child, a girl named Libertad, who has just turned three months old. She met her partner after participating in the TV dating show First Dates. "Not with the partner that touched me. Someone else saw me and wrote to me. Now we are together and we have a wonderful girl ", he points out. His other children, with other partners, are 35, 33, 31 and 18 years old. Carlos is the father of two, ages 36 and 34. "One of them is getting married the day after tomorrow," he announces. Neither is a grandfather.
The De Castros are not interested in current music. They continue to enjoy the classics with which they were formed: Cream, Jimi Hendrix, Led Zeppelin, Deep Purple, Rainbow, Whitesnake, AC / DC, Dio… "I like to search for concerts on YouTube from the seventies and eighties. More current rock bands like Foo Fighters? No, I prefer the ones from before ", explains Armando. Regarding the rumors that the two brothers do not get along very well, Armando points out: "It is already known that when there are brothers working together in a group, different situations happen. You know yourself so well that sometimes you treat yourself a little roughly and they rub against each other. But positive things can also come out of those frictions, such as everything that has to do with the group be watched a little more. We endure, but the thing has its frictions ". Carlos is more laconic: "Well, we coexist."
We witness one of those discrepancies while interviewing them. Carlos quotes some of the guests who will attend the WiZinz Center concert: the Englishman Graham Bonnet, the German Doro Pesch, the Spaniards Aurora Beltrán, Miguel Oñate, José Luis Jiménez … He quotes another, but his brother Armando immediately jumps out: "That He doesn't have my permission to come, because he started saying stupid things in his book ". There is a silence that is broken with the last question: "So, isn't it going to be the last concert?" "Now we are rethinking the final farewell. For now, in the short term it will not be. We already have concerts for 2022. Let's see how much we can hold out, how much we want to hold out and how much people want to hold out for us ". And they leave the two, separately, swallowed up by the night and one more cold heavy even than them.

elpais.com