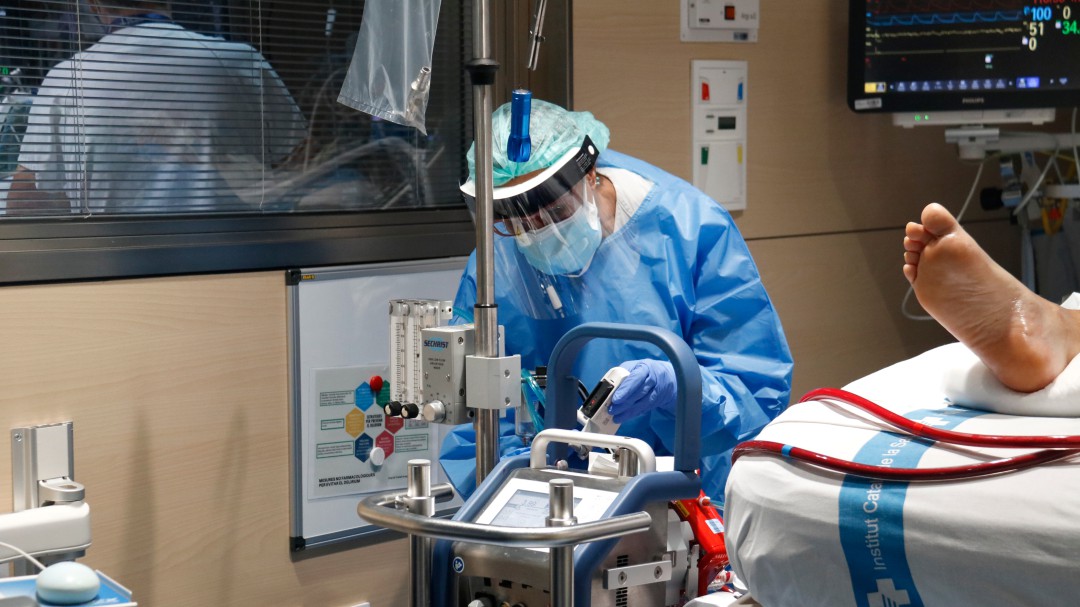 The sixth wave of coronavirus continues to grow in Catalonia, where there are already more than 500 people hospitalized with Covid, with a risk of relapse (EPG) that already exceeds 200 points, such as on August 24, an increase in mortality and a generalized worsening of all epidemic indicators.
According to the incidence data updated this Monday by the Health Department, today there are 515 people hospitalized for Covid, 229 more than a week ago and 45 more than yesterday, of which 107, five more than the day before, are in the ICU, of them 60 intubated and 5 connected to ECMO (extracorporeal respiration).
The primary care services attended 1,303 Covid patients yesterday, 300 more than on Sunday of last week, which represents an increase of 30% of visits in a week, while vaccination remains stagnant at 74.8% of the inhabitants of Catalonia, with the complete guideline, 83.9% if only those over 12 years of age are counted.
The official number of deaths from covid since the beginning of the epidemic has risen to 24,079, with no reports in the last 24 hours, although in the last seven days mortality has risen to 23 deaths from the disease, an average of more than three deaths per day, something that had not happened since the beginning of September.
The risk of re-emergence (EPG), an index that measures the growth potential of the epidemic, has shot up to 207 points, eight more than yesterday, with which the epidemic curve is heading vertically again, it is situated at the same risk that existed on August 24 and the start of the sixth wave is confirmed, with a risk that is almost triple that of two weeks ago.
The speed of spread of the virus (Rt) in Catalonia today is 1.46, three hundredths less than yesterday, that is to say, that every 100 infected infect an average of 146 people, consolidating the community transmission of the virus.
Since the beginning of the epidemic, a total of 1,025,117 people have been diagnosed with covid-19 by all kinds of tests in Catalonia, 894 of them counted in the last 24 hours, while in the last week 6,947 have been diagnosed by PCR or antigen test (TA), with an average of 992 per day, which is almost triple than two weeks ago.
The cumulative incidence of cases confirmed by PCR or 7-day antigen test per 100,000 inhabitants (IA7) is 89 cases, five more than yesterday, while the cumulative incidence at 14 days (IA14) stands at 145 cases, nine more.
The positivity – the percentage of CRP and TA with a positive result – is 4.68%, twenty-four hundredths more than yesterday, a sustained growth for weeks, which is already close to 5%, which is the percentage established by the World Organization of Health (WHO) to consider an epidemic under control.
The average age of those newly infected with covid continues to decline and has stood at 37.7 years, with 49.6% women.
By regions, those with the highest risk of regrowth today are Ripollès (1,544), Alt Urgell (1,005), Pallars Jussà (625), Urgell (531), Garrotxa (496) and Pla d ' + Char (39) + 'Urgell (488), while only Moianès (18) and Pallars Sobirà (23), are at low risk – below 30-.
The Barcelonès region, the most populated, today has an EPG of 166 points, two less than yesterday, an accumulated incidence of 68 cases per 100,000 inhabitants, one more, and a Rt of 1.42, seven hundredths less than the day before.
By municipalities, those with the worst EPG are Cerdanyola del Vallès (880), Mollerussa (810), Vilafant (625), Manresa (506), Sant Joan Despí (489) and Olot (461), while there are no more no city with more than 20,000 inhabitants that is in low irrigation, below 30 points.
In the city of Barcelona, ​​the EPG index is 178 points today, two more than yesterday, with an IA7 of 72 cases, three more, and a Rt of 1.47, five hundredths less than the day before.



cadenaser.com