When he still could not read or write, instead of going out to play football with his friends, little Malick Ndiaye preferred to spend hours looking at an old book that was in his house called All the universe, fascinated by those mysterious images of stars and planets. Then, at night, I would go out to the patio to look at those bright spots in the distance. And he asked himself questions. With only eight years he learned to identify Sirius, Betelgeuse or Aldebaran, each in its place. To get a closer look, last summer, at the age of 13, he collected some old myopic glasses from his father, a camera lens, wire, paper, cans and reed and built his own telescope. "Now I can see Jupiter well and even the rings of Saturn," he says with a smile.
This story begins in the middle of long conversations inside an official car. Malick Ndiaye's father was a gendarme and personal driver of Abdou Diouf, former president of Senegal, but he was also a curious man interested in things in heaven and on earth, who loved to read and watch documentaries. In his retirement, Diouf gave him several books, one of them All the universe, which the grateful chauffeur took home as a treasure. Thirty years later, those faded pages were the inspiration of a boy who inherited the desire to know from his aging father and who learned from him his passion for DIY, the miracle of creating with whatever is at hand.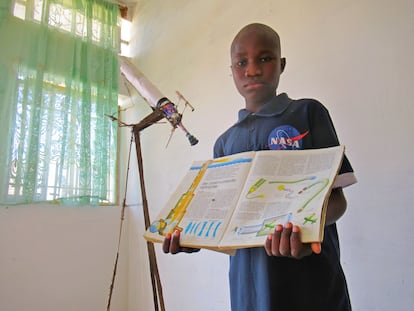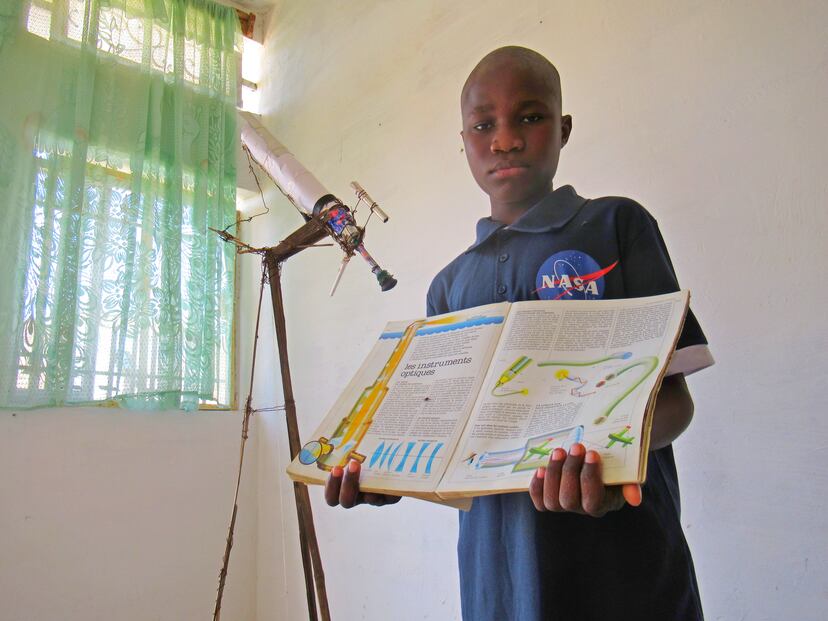 It is recounted by Astou Sow, mother of Malick Ndiaye, in the living room of her humble home in Mbacké, a small town near Touba in the interior of Senegal. Outside the heat is pressing. Classes have not started yet and the little boy sits calmly in one of the armchairs. Suddenly, propelled by a spring, he runs out of the room and brings the famous book to show the visitors. Beside him a handful of sheets scrawled with dots and stripes. They are his own maps of the sky, the ones he drew as he learned to decipher the identity of those bright spots. Constellations and nebulae, stars and planets. Everything fits in the head of a child.
"It took me two weeks to build the telescope," explains the little guy in a NASA polo shirt, "when I looked at the night sky and saw the details of the Moon's surface, it seemed to me that I could touch it with my hand. One day I was at the door of the house and a man who worked on the road work passed by. He asked me if it was something about surveying and I said no, it was a telescope that I had made myself. So he took photos and a video of me and uploaded them to Facebook. " Malick Ndiaye's story began to circulate on social media and local media echoed it. Suddenly that shy and homely boy had become a celebrity.
It took me two weeks to build the telescope. When I focused on the night sky and saw the details of the surface of the Moon it seemed to me that I could touch it with my hand

Malick Ndiaye
"I was stressed," says her mother, "they started calling us and journalists came. I did not want Malick to get confused with this matter, he has to continue with his studies and all this commotion worried me. But the story reached the best possible recipient, Professor Maram Kaire, president of the Senegalese Association for the Promotion of Astronomy (ASPA). "Messages came to me from everywhere. When I saw the video it reminded me of myself when I was a kid and I thought of all the efforts we make to spread this science. I did not hesitate to react because I know how difficult it is to contemplate the stars without a suitable instrument, to have a passion and not to be able to develop it ", says the scientist.
At the age of 12, Maram Kaire was already scanning the sky with binoculars. After studying Computer Science and Systems Engineering in France, he is currently collaborating with NASA and developing numerous activities for young Senegalese to become interested in astronomy. For his enormous work, an asteroid located between Mars and Jupiter has just been baptized with his name, a recognition for which he has received congratulations from all corners of the world. "I spoke with Malick's mother and offered him a telescope with the challenge that he had to build the tripod. It took him a week to make it with wood and he already has it at home, "says the scientist.
Now Malick Ndiaye has two instruments for stargazing, the one he built with his own hands and a brand new one given to him by Maram Kaire. Both are cared for and cleaned of dust and dirt every morning. But that fact of cans and his father's old glasses will always have a special place in his modest room because it was the one that opened the doors of heaven and allowed him to see the rings of Saturn clearly. "Astronaut? No, I just want to look at the stars. Do you know how far the center of the galaxy is? "Malick asks, waiting for an answer that he will soon find out for himself.
You can follow PLANETA FUTURO in Twitter, Facebook e Instagram, and subscribe here a nuestra 'newsletter'.



elpais.com