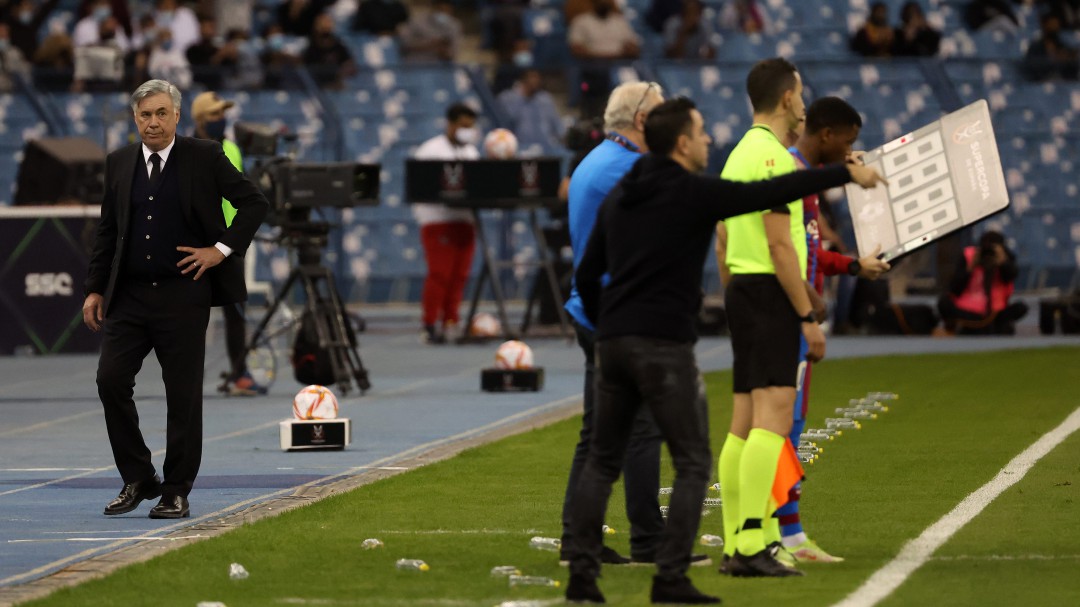 This day has been a day full of emotion but above all of goals in extremis, goals in the last minutes that have helped the big teams like Atlético de Madrid, FC Barcelona and Real Madrid. The colchoneros came back against Valencia in a victory of faith, balsamic for Cholo Simeone; Barcelona in Mendizorroza with a vindictive De Jong and Ancelotti's men tied a match that in 1980 they lost by two goals.
the rogue questions
Madrid's last four punctures at the Bernabéu have been against Sheriff, Osasuna, Cádiz and Elche… Is Madrid good enough against small teams?
Antonio Romero: "Yes, and Ancelotti must be kicked out"
That the quarterfinals of the Cup are played without several international players… Does it adulterate the competition?
Jesús Gallego: "No, it is a date imposed since last year. It was already known perfectly from the beginning of the season".
Real Madrid and Sevilla take it for granted… If Betis keeps up the pace… Who will occupy fourth place in the Champions League? Atlético, Barça or another?
Julio Pulido: "It's going to be Atlético de Madrid".
Is the poor organization of the calendar the fault of the Federation, FIFA or the clubs for not rebelling?
Antón Meana: "The only thing missing was for it to be from the Federation… I would remove League days, a 16-team League, I would remove teams in the Champions League, only two for the big leagues and I would remove national team games, outside windows and only big tournaments and preparatory ones previous".
Does Florentino also have Hazard for next season or is his departure necessary to make money?
Mario Torrejón: "No, the normal thing is that he sells it".
Antonio Romero: "Ancelotti told Xavi: 'Look, grab a notebook and a pen and write down how to get rid of a footballer who earns a lot of dough and has a valid contract: you have to value him because if he isn't It's impossible to sell it and it's already complicated, but if you go and say publicly that you don't have it, as is the case with Xavi, then they don't even come to buy your cod".
Madrid have been called this afternoon for two penalties against Elche… Did they seem few to you?
Jordi Martí: "I am very satisfied because the VAR corrected a penalty against Real Madrid".
Is Dembelé behaving worse with Barça or Barça with Dembelé?
Marcos López: "Dembélé has behaved badly with Barça for these four years in which he has not performed".
Do you trust the same, less, or more in Xavi and his project than on November 8, the day of his presentation?
Lluís Flaquer: "I'm still confident, he's slower than expected, but he's the ideal coach for Barça."
Is Mario Hermoso's one of the 5 most important goals for Simeone since he arrived at Atlético?
Talavera: "No, far from it. It's important because of the context from which it came, nothing more."
Julio Pulido: "I thought it was an excessive celebration, exaggerated, out of place and out of any context by Simeone. I understand that he celebrates it but it has been too much"
Cerezo said this in the preview of Atlético-Valencia… Do you agree? Who do you think the athletic president points to?
Pablo Pinto: "I think Cerezo doesn't say what he wants to say, it's the line of Giménez's speech after the match".
You have been telling us for weeks that there have been changes in the adjudication of matches, with less experienced referees in important matches… Are they making a mistake from the CTA?
Iturralde González: "Fair. Díaz de Mera outplayed by the game and Figueroa Vázquez has had three bad games."
BONUS TRACK
Who will Ancelotti give more ball to in the rest of the season: Hazard, Isco or Ceballos?
Antonio Romero: "A Hazard".
Thinking about the leisure time this coming week… Are you more looking forward to seeing the new documentary about Simeone on Amazon or the Benidorm Festival that will choose our representative in Eurovision?
Jesús Gallego: "I will see Georgina's documentary".
We have seen how the ACB Clasico at the Wizink Center stopped to pay tribute to Felipe Reyes… Would you stop the Real Madrid – PSG Champions League match in minute 4 to pay tribute to Sergio Ramos?
Julio Pulido: "Today he scored a goal with PSG and instead of rejoicing, what we do is make fun of and meme Ramos with PSG. Those who started the smear campaign against Ramos are happy. Everything turns into mockery and joke. I think Ramos himself would not like a tribute like that".
Four players end their contract at Madrid next June: Marcelo, Modric, Isco and Bale… Who/who is going to stay and who is going to pack their bags?
Antón Meana: "Only Modric will remain".
If the Spanish National Team also played in this international break… How many Real Madrid players do you think Luis Enrique would call up?
Mario Torrejón: "None. Carvajal is with COVID."
In the preview of the Alavés – Barça in Carrusel he gave you a word… Would you change the Barcelona gene for the Madrid gene from the 80th minute of the matches?
Jordi Martí: "Not at all. Is this gene an exclusive condition of Real Madrid? It is not something scientifically accredited".
Are Xavi's phrases like "starting from scratch", "new cycle"… are they compatible with continuing to put Piqué, Alba and Busquets as starters?
Marcos López: "For now, yes, but the time will come when I have to make decisions."
If you could become Mateu Alemany between now and January 31… Tell me a player you would sign and another you would sell…
Lluís Flaquer: "I would sign Mbappé and get Démbéle out of the way".
Is there more desire to kick Simeone out at the Bernabéu, at the Camp Nou or at this gathering?
Talavera: "Without a doubt, in this Sanhedrin."
Of all the things that have been said, which is the one that has affected Atlético de Madrid the most?
Pablo Pinto: "The thing about the locker room being broken and it's a lie. There are differences with some players, but after qualifying against Porto there was a meal at someone's house".
With the casualties that Real Madrid will have for the quarter-final match and with many eliminated candidate teams… Is Athletic Club the maximum favorite to win the Cup?
Iturralde González: "Athletic Bilbao will play Cádiz and they will suffer a lot but in this competition against the greats they are capable of being better".



cadenaser.com
George Holan is chief editor at Plainsmen Post and has articles published in many notable publications in the last decade.