The kitchen is not only one more room in our house, it can also be a place where the whole family share moments and even a laboratory where young and old can discover the origin of food and know why products are transformed when they are we apply heat, cold, or movement. This is the premise that the Roca Brothers -Joan, Josep and Jordi- have wanted to capture in their new illustrated album for children, entitled The delicious adventures of the Roca brothers, awaken scientific curiosity through cooking and whose illustrations are by Laufer. An entertaining and entertaining book in which a journey is made that unites the childhood memories of the three brothers with recipes, questions, experiments and games that invite the little ones to learn all the ins and outs of cooking.
Cooking has been one of the central axes of the Roca family since childhood, and in the pages of the book they convey that love for culinary art. "I think it is important that children learn the concepts and that they participate in the kitchen from an early age, the sooner the better," says Joan Roca, chef at El Celler de Can Roca (Girona), and older brother of this trio. recognized worldwide.
"In fact, I remember that my mother had a kitchen jacket made when I was 10 years old because I told her that I wanted to be a cook at that age, and at that time there were no children's cook clothes," he explains. "Children did not want to be cooks then, now they do, but not before. I still have my jacket in storage and, somehow, I do remember that when I was very little I used to play and cook at the same time, "continues the chef. "When I left school I would help in the kitchen of my parents' restaurant, there was always a lot of activity there, he did not stop, now there are schedules, things have changed and it is very good. For me, it was a very comfortable space, very comfortable, there I felt good, there I learned and there I fell in love with this job, "says Roca.
An illustrated story that unites memories, science and recipes
"It is a very beautiful book and based on true stories," says the chef. And he tells several anecdotes that the three siblings lived together with their family when they were young. "If I had to stay with one of them, although it is difficult, perhaps I would cannelloni monster"Continues Roca," with all those volatile aromas, with that car that smelled of cannelloni. Our oven was not enough and we were going to another unavailable. It was bigger, circular, it went round and round, one of these made of wood and, of course, the cannelloni were wonderful. And then, with the car up and down, whenever we got in we got hungry. And Pitu (Josep) was a professional cannelloni eater ", says the chef tenderly.
Something essential for the three brothers is that the little ones enjoy cooking and learn. And try to do it in a didactic way: "I think it is essential that children are curious about cooking. It's very important. Because if they go to the kitchen and start transforming fresh products; To understand a little about cooking and, above all, about food will be very good for them, for the future and for the planet ", continues Roca," because if they know how to cook, they know how to eat; they are judgmental about how to use food; they know how to take advantage of it well and make the most of the product that enters the house. And this is fundamental ". For the chef, the kitchen is a very powerful tool that can help us a lot: "To fight, for example, against climate change." "As the children approach the kitchen," Roca insists, "many things change, such as family communication, simply cooking together."
Recover the kitchen as the center of the home
Has the concept of the kitchen as the center of the home been lost? The chef responds resoundingly: "Yes. Although I believe that we had recovered it during the pandemic, of the few positive things in my opinion that we had recovered, our memory is fragile. It seems that people have forgotten. But if four days ago we were saying what good to eat and cook all together, and suddenly, we have all entered the aboriginal again. And I think we have to get this back again. " Roca expresses that, although the daily routine is hectic, "you can take advantage of, for example, the days off to cook all together." For the chef, it is essential that we recover eating together, cooking together.
"If the children learn and know the products, it is also a way for the little ones to eat vegetables, eat vegetables, eat other products and not always eat the same thing." The chef emphasizes that the way "to encourage minors to eat a variety is by getting them involved in the process." "For example, if they go to the market to buy and do the process from the beginning and transform the product in the kitchen and then see the result and eat it, they will find it much richer. I observe it with my children, if they have participated it is richer ". "If they have cut," he continues, "they have boiled the products or macerated them, everything is better. And if, in addition, they get the rest of the family to enjoy it too, then even richer ".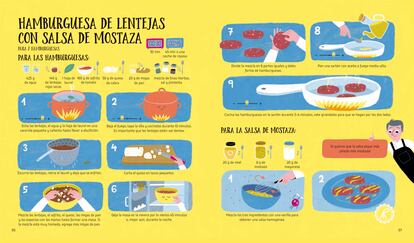 "In the book, different ideas are proposed with vegetables and greens. And of course we don't have to stop eating meat, we have nothing against the winners, we want them to keep doing their job and keep raising their cattle. You have to eat meat, however, you have to eat less. The idea of ​​the presented recipes is to open a little the range of possibilities to eat well, to eat deliciously and to get children closer to the kitchen, either because they are interested, because they have seen Masterchef, or because you talk about science and make them curious and they understand that cooking is not boring. That the kitchen is a window full of possibilities ", explains Roca.
Among its pages, a lot of attempts are made to answer the questions: "Why does the mayonnaise emulsify? Or why do we cry when we cut onions? Why do things happen in the kitchen? In short, it is knowledge, it is curiosity ", underlines the chef. "And it launches a message of science for schools, that they understand that the science laboratory can also be the kitchen. It would be wonderful if this were achieved ", adds Roca. Finally, it also teaches values. That teamwork, that sharing. They are little things that are also in the book, that are subliminal, but that are also there for the children, that reinforce that they want to cooperate and learn. It is a cookbook with recipes, but it is also a science book, entertaining, to have fun ", concludes Roca.
You can follow De mamas & de papas in Facebook, Twitter or sign up here to receive our biweekly newsletter.



elpais.com