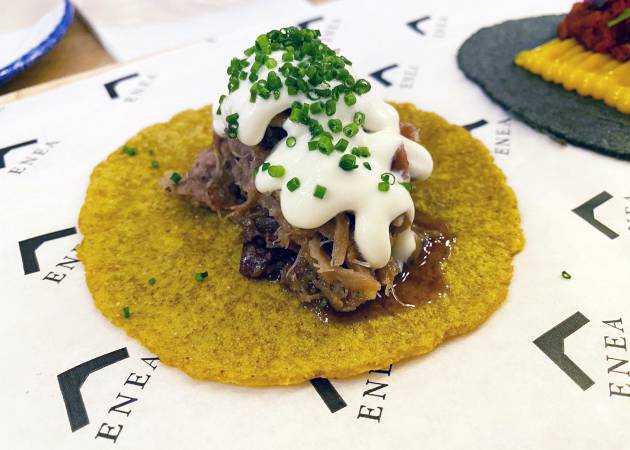 If they had not known that Santo Tomás is celebrated -when possible, because this year either, Covid means-, whoever arrives in the lively squares of the Basque Country could imagine that the hat and the checkered handkerchief, the stalls full of pods, pumpkins and cheeses, or the type that axes in the air breaks wooden logs as if they were butter happens every day (the stamp of the typical day Basque that lives in the imaginary of so many) Nor is it missing, of course, that pancake filled with sausage for which everyone queues and to which they painstakingly stick a bite. That kind of taco that secretes heavenly juices from hell itself.
The reality is that neither that postcard will remain the next day nor that what vasquitos and nesquitas have in their hands is a taco. Talo, it's a talo. An ele for a ce and you move from Mexico to Euskadi in a consonant. The cadence of the txalaparta certifies the coordinates. Cider helps, but it turns out that Mexicans also know cider. His is a simple recipe: toasted and stone-ground corn flour -not nixtamalized (boiled in lime) like taco or precooked like arepas-, water and salt that are kneaded, flattened on wood (house piece) and toast on a hot griddle (called taloburdin).
Any old photograph of a Basque farmhouse will have a table dotted with ears of corn, beans, eggs and milk. A piece of meat, hopefully. And those that give to wrap, push, wet and all that infinitive that serves to satisfy the hunger of the whole family. An old bread that had gone from being that of every day to one that is only seen at local festivals and that, in a new gastronomic caper, has landed on the restaurant menus without even disheveled.
"That's food from war!"
"Globalization has made us wake up," says chef Javier Rivero, from Ama Taberna. They offer it with chorizo ​​and egg yolk or with mushrooms and foie in their Tolosa bar, one of the most promising in Guipúzcoa. "We want to show that you can make crazier street food with something as local as talos. I am envious of how the taco has spread due to the powerful weight it has in its gastronomy, while here we have only limited ourselves to the festive recipe for thallus with sausage and a little more".
The talos that are part of the tasting menus of Azurmendi and Asador Etxebarri, in Bizkaia, have little on the street. Eneko Atxa has stratospherized it with his cured yolk, marinated fish and flowers. Bittor Arginzoniz has taken it to its finest with a sausage Homemade on a very light toast made from dehydrated corn powder. If the matriarchs raised their heads … "Well, they would put their hands to her!", Continues Aitor Aurrekoetxea, a baserritarra by vocation who is a reference in giving a circular shape to this nostalgia for corn in the province. "They have been scandalized even when they have seen men do thallus, because it was the task of women in the villages. So imagine ".
If you find a stall of talos at any fair in the area, it will be Aitor from Talotoki who you see in him patting the doughs and teaching the secrets of this ancient bread to anyone with a minimum of curiosity. In its txosna It offers its own derivatives of pork and recognizes that when the elders are given a choice between sandwich or chorizo ​​talo, they don't hesitate for a second: "Bocadillo! Forever! They get angry because thallus was the food of war and for them wheat flour has always been richer than corn flour ".
Rivero sees this requisite of the thallus as something positive: "When the great cooks work the thallus they do it as the historical and cultural product that it is and to try to protect it." These versions, despite appearances, respect the bases of the thallus, something that is sometimes not done even in the txosnas village festivals (never in Aitor's), when they use wheat flour or cornstarch to reduce costs and find the point of the dough more easily, because the one made with toasted corn flour is less elastic.
Do we only value traditional recipes when we begin to see them on the menus of prestigious restaurants? "It is clear that they are seen with different eyes and that they are valued more", says Josean Alija, chef from Nerua (Bilbao) and a standard for more than two decades of essentiality in the kitchen. "It is a way of telling those who come from abroad who we are and where we come from. Even ours, who take for granted that they know a thallus, a tear pea or a pepper of 'stabbing' and it turns out that they do not. It is our way of communicating cultural heritage ". The table is telltale. However, it is not always a crime that counts.
The trip back (and back)
The thallus is a story that begins, as often happens, with a journey. "The sailors were carriers of culture," Alija tells us, "but also of food." It refers to the corn that came from America to the Basque Country around the 16th century and that immediately felt comfortable among its mountains. A foreign cereal that arrives at night but ends up taking over the place. A survivor like the people who handled it.
There would be no thallus without that flour (which he uses in the bread he offers in his restaurant). Perhaps not without one of its varieties, that of the txakinarto, which was grown mainly in the Mungía-Gamiz-Fika area and the Asúa Valley of Biscay. Eight-row elongated cob of soft grains that were roasted in brick ovens for 48 hours and then ground in hydraulic stone mills to make flour. Even today you can visit several -there were hundreds- that are still active, such as the Errotabarri by Luiz Azillona, ​​an eminence in grinding native cereal, or the Amaiur, in the heart of the Baztán valley (Navarra).
The boys of Gure Ogia have recovered part of their cultivation in Munguía. The Elegezabal brothers have been working with this cereal since 2015, which they take to a mill in Olabarri where it is ground as it was done in the past. They tell us that their father, a lifelong baker, decided to produce it to control the entire process. The talos they make with it stay at home, but in their bakery the loaf of txakinarto is the star, the dream of any panarra.
The talos may remind you of the Asturian tortos, and they are related. If talos and tacos are first cousins, tortos are also entangled in the family tree of breads made with cornmeal. In fact, that corn that crossed the Atlantic also made a stop in Asturias. "It is very common to fry them nowadays," says Yarza, "and dine them with egg and mincemeat, but they have traditionally been made on sheet metal, like talos." In fact, it reveals that the veneer used to make corn cakes is called thallus, farm in a mountain voice. Everything stays at home.
To the rich thallus
Times are not bad for this old bread. In addition to finding it at agricultural fairs, at ball games, and in the hamlets that give mountaineers a break on Sunday morning, other kitchens have taken them out of the drawer and from the books of uses and customs to pay tribute to the hands. of the hundreds of women who knead and crushed flour balls when it was not exactly child's play.
Molino de Amaiur (Amaiur, Navarra)
In the Valle de Baztán movie theater, the centenary Amaiur mill is located, today converted into a rural house but still keeping its stone entrails active. The Oyarzabal family produces their own organic flour and in addition to wearing it, they make talos with it as ordered by the amamas (the Basque grandmothers). His thing is to do a talos workshop and try the marrakuku -The marakuki, kukumarro, kukumaru, kokomarro, marakukui The marraku, among others-, a classic of the area: a thallus of greater circumference that is left a bit raw so that it can be cut in half and then filled with local cow's milk cheese. It ends up on the grill again and reminds us of Mexican quesadillas.
Amaiur Mill. C / Mayor 5, Amaiur, Baztán Valley (Navarra). 619 95 57 09. Map.
Ama Taberna (Tolosa, Guipúzcoa)
Javier Rivero and Gorka Rico have been awarded the medal of young promises in the kitchen on several occasions, but the promise has already been fully fulfilled in their Gipuzkoan bar. In their menu, they celebrate Basque cuisine with traditional recipes, including thallus. His txoixo ta gorringo (chorizo ​​and yolk) and its xixa ta foie They are wrapped in the ecological thalli of Julen Altzelai, from Ekotalo, with whom they share friendship, territory and philosophy. "They are a fool," says Rivero, "they regain the flavor of the corn that we had already lost."
Loves Tavern. Aroztegieta Street, 13, Tolosa. 943382059. Map.
Ardibeltz (Bilbao)
A badass place in the heart of Casco Viejo del Botxo where they make their talos precisely with Luis Azillona's corn flour. Adam Del Bado and Lander Bizkaia -black hospitality sheep as the local name dictates in Basque- stuff it with pork in Biscay sauce with pickled onion, although they have also been seen brandishing chorizo ​​with quail eggs or a good black pudding without fuss .
Ardibeltz. Barrenkale Barrena, 18, Bilbao, 699418008. Map.
Kea (Vitoria)
Nagore Irazuegi and Rodrigo Fonseca initially offered it in their Arima de Madrid stuffed with confit duck and leeks with red mojo sauce. It comes and goes from their letter and today they make it themselves in Kea, their new address in Vitoria -which is also commanded by María Lasquibar-, with txakinarto flour from the Alava town of Heredia that they grind in Munguía. They fill it with a morcillita of leek and onion from Orio accompanied by peppers from the glass – if you don't know what they are, Mikel explains it here – and a little ginger.
Kea. San Prudencio Kalea, 21, Vitoria. 945 212 838. Map.
Odoloste (Bilbao)
Igor Aguirre, former champion of Spain for young chefs in 2002, prepares thallus from corn from txakinarto (sometimes he surprises with a purple one) in this local Bilbao that is an ode to the pig. He fills it with Iberian cheek, pickled onion and chipotle mayonnaise, a detail that brings him closer to Latin America directly from the center of the world.
Odoloste. Alameda de Recalde, 11, Bilbao. 690192628. Map.
Topa Cuisine (San Sebastián)
Those of Andoni Luis Aduriz prepare a version of the talo that they have called taco talo and in which the euskaldun is curiously the millet, which was already in these parts before the txakinarto. The corn is nixtamalized as they do in Mexico and they fill it with viands such as roast beef with macha sauce, with meat al pastor (Basque) or fried shrimp.
Topa Cuisine. Agirre Miramon Kalea, 7, Donostia. 943569143 Map.
How a talo is made?
Iban Yarza gives us the recipe in his book 100 Village Bread Recipes
Ingredients
400 g of stone-ground cornmeal
350-400 grams of hot water
5 grams of salt
Preparation
Dissolve the salt in the water and gradually pour the water over the flour, mixing first with a wooden spoon and then with your hands until you get a slightly moist dough; it's okay if it sticks to your hands a bit.
Correct with water until obtaining the consistency.
Let the dough rest for 5 minutes.
Make balls of dough of about 100 or 150 grams.
Sprinkle flour on a wooden board and put a ball on top.
Go tapping with your hand, fine-tuning the thallus little by little, taking care to turn it and add more flour if necessary.
Stretch the stem until there is a piece of about 2 mm of a homogeneous thickness and with a smooth and fine edge, without saw teeth.
Cook on a plate (best economical cooking) over high heat.
To make the thallus swell, first cook it on one side for 1 minute to seal it, and then turn it over being careful not to make holes in it where the steam could escape.
The trick? As always trust your senses. If you overdo it, it will stick. If you lack, the dough will be brittle. Finding balance in the kitchen is something that is trained. No one is born a tightrope walker.



elcomidista.elpais.com
George Holan is chief editor at Plainsmen Post and has articles published in many notable publications in the last decade.