"I want to be a good police officer. I want to be normal", says Chris (Martin Freeman) while the viewer sees a close-up of an ordinary man, somewhat tired, with eyes that question the psychologist at the beginning of the first chapter of The Respondera series that Movistar Plus+ premiered last Monday at the rate of one episode per week.
In a television offer saturated with everything that has to do with crimes, police and detectives, real or fictional, it is difficult to find something that is out of the ordinary. Sometimes you don't need: line of duty It exploits each and every one of the characteristics of the genre and that doesn't stop it from being one of the best series of recent times. But we are not in that case. This police drama, more drama than anything else, tells in five chapters (of which we have been able to see two for the preparation of this review) five night shifts of Chris, a disgraced policeman, a man about to explode, broken already inside irremediably.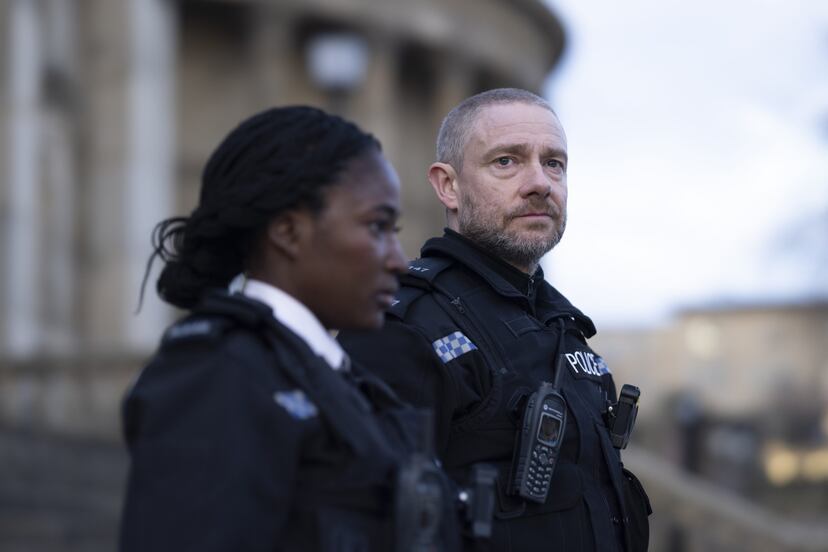 The series, directed by Tim Mielants (Terror, Peaky Blinders) is based on the life and experiences of Tony Schumacher, writer and former police officer, creator and screenwriter of this BBC production. Tortured cop, British series, renowned actor… whoever thinks he's on well-trodden ground is wrong. Freeman —police as in To Confession, but changing register again—takes the viewer through a nocturnal jungle of crime and desperation, a landscape that he sees pass by with his sad eyes and his smile, sometimes psychopathic, other times defeated. We soon see him in situations that are not typical of an honest policeman, because he is not, but despite what he tells himself and what he thinks is in his head and in his darkened soul, whenever he can does good. Or he tries.
When the bet on Freeman risks being excessive, the creators seek the support of a fellow rookie in the second chapter. Played by a powerful Adelayo Adedayo (London: crime city), Rachel serves as a counterpoint, again nothing topical, to a Chris trapped by the consequences of his mistakes, putting limits on his nocturnal escapades, complicating his life by witnessing his goings-on. The viewer knows that Chris often doesn't do what he should, but he can't leave him, he wants him not to sink, that his little daughter never tell him again that she sees him sad, that his wife doesn't abandon him, that Mr. inmates who want something that he has do not follow his particular hunt. It's what antiheroes have when they're molded from real materials. We'll follow Freeman through the other three chapters, praying that Chris doesn't hit the wall he's thrown himself into. The BBC has done it again.
You can follow EL PAÍS TELEVISION on Twitter or sign up here to receive our weekly newsletter.
Exclusive content for subscribers
read without limits



elpais.com
George Holan is chief editor at Plainsmen Post and has articles published in many notable publications in the last decade.