Absolute awesomeness or supreme tease? The soap opera of the immaterial statue has no end. Each new chapter raises the bar of delirium a hand higher. It all started last May, when a well-known visual artist, the Italian Salvatore Garau (Santa Giusta, Sardinia, 1953), sold for 15,000 euros a work that cannot be seen or felt, because it does not even exist. Not of this world. Nor of any other. Garau baptized her as I am (I am) and included in the sale lot a certificate of authenticity and very precise instructions on how the piece should be installed, displayed and even illuminated. He put it up for auction for a starting price of 6,000 euros and ended up getting more than double that.
What Garau did was, ultimately, put a price on nothing. A nothing on which he had previously projected, at least in theory (the Sardinian sculptor justifies the work with confusing references to Heisenberg's uncertainty principle), his own creative identity. Hence the title. The statue could also be described as a disembodied, absent, unperceivable, subliminal, or latent work of conceptual art. It is not there, but it exists at least as a product, since it has been the subject of a free and legitimate commercial transaction between two human beings: the genius or the swindler who considered selling it and the credulous or visionary (a private collector residing in Milan ) who chose to buy it. Contemporary art accustomed us decades ago that the concept has more value than the material execution. But what is revolutionary in this case is that the concept becomes everything and the execution is reduced to absolutely nothing.
Weeks later, in a simply delightful script twist, another artist with a talent for unprejudiced wit and Byzantine disquisition, American Tom Miller, sued Garau for plagiarism. According to Miller, he was the author of the first non-existent sculpture on record. It was titled Nothing (Nothing) and it was "exhibited" in a Florida plaza in 2016, so Garau would be claiming the paternity of an idea that is not his at all. Miller doesn't want money. It is satisfied that the patent of immaterial art is recognized. He wants it to be recorded that nothing belongs to him and that Garau's only original contribution is to have shown that nothing can be sold.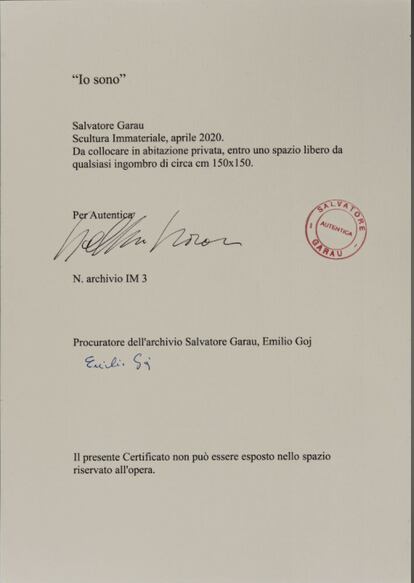 The Welsh Journalist Chris King has intervened in recent days in such an unprecedented controversy. His was one of the first articles on the sale of I am which was published in the United States and he was approached by Tom Miller to tell him about Nothing and of the true genesis of the sculptures that do not exist. King specifies that Garau has already presented another pair of non-existent works, one in New York, Aphrodite cries (The cry of Aphrodite), and another in Milan, a Buddha in a contemplative attitude of, in theory, large dimensions, for whom an empty space was left in the door of a gallery in Plaça de la Scala. "In spite of everything," says King, "the work made of nothing that Miller talks about is much older. It was inaugurated with all honors in Bo Diddley Square in Gainsville, Florida, in 2016, and the local city council issued a certificate to prove it. " Of course, the event had assistants, but no witnesses. Nobody is in a position to certify the presence in it of a sculpture that, ultimately, is the never seen before. Despite everything, Miller is confident that Garau will agree to an amicable settlement, but has already sought the services of an Italian lawyer in case this discrepancy over intellectual property rights ends up festering. "Finally a lawsuit on a matter of real importance," Miller has written, with the boastful humor that characterizes him, on his social media profiles.
For the American journalist and writer Eli Federman, the controversy between what he describes as "a couple of opportunists without real talent" is completely absurd and does not have any route. Neither artist nor legal. In Federman's opinion, "selling invisible art is a simple fraud." It would be "a dishonest transaction and frankly worrying. Auction houses should not tolerate nonsense so if they are meant to be taken seriously, you can't put a real money price on something that doesn't even exist. " Federman compares Garau's "comic hoax" with nonsense such as the attempts of some people to sell his soul on eBay: "The platform put a stop to those attempts with an argument so common sense that no one should lose sight of it: if the seller does not can provide the buyer with the product for which he is paying, the transaction is not legal. That is, if you sell me your soul, make sure that I receive it at my address on the agreed date.
Rains, it pours
Something more forgiving is shown art criticism Eileen Kinsella. For her, "conceptual art has always moved at that difficult crossroads between the genuine avant-garde, provocation (well or misunderstood) and treacherous fraud". After all, Garau's sculpture tries to dialogue with a very strong tradition of minimalist transgressions that goes back to the French school of the so-called "incoherent" of the late 19th century, to the monochrome canvases of the suprematist Kazimir Malevich (his black canvas of 1915 and his white-on-white canvas of 1918) or the famous urinal of the Dadaist Marcel Duchamp. These pioneers were also accused in their day, according to Kinsella, of being vulgar impostors, of committing monumental jokes, if not treacherous pyramid schemes, but today their work is part of the canon of contemporary plastic arts. Although perhaps one of the main differences between Garau and them is that those disruptive works of art had a material existence, however reduced to the minimum expression that this might be, "they could be contemplated, analyzed and enjoyed from an intellectual or aesthetic perspective" . Although what was offered in view was nothing more than an empty surface.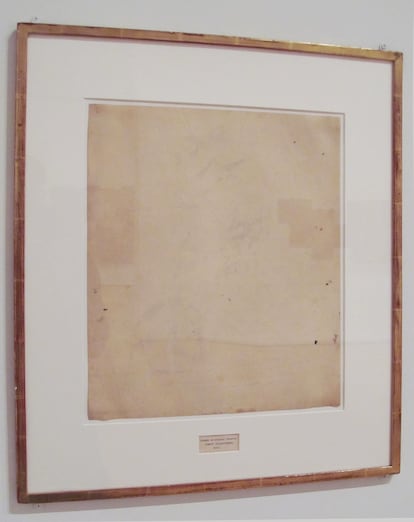 Strictly speaking, neither Garau nor Miler can claim the paternity of latent (or absent) art. It is a concept in which the artistic avant-gardes have been working for decades. As early as 1957, the French avant-garde Yves Klein held an exhibition of what he called "immaterial pictorial sensibility" that essentially consisted of four bare walls on which the public was invited to project their own mental images. Klein would theorize in later years about "the architecture of the air" (and he did not speak of skyscrapers, but of complex structures designed by the mind) and one of his most famous disciples, Yoko Ono, inherited from him her interest in immaterial projections on canvas empty. Also going in the same direction was one of the most famous antics of the pop expressionist Robert Rauschenberg, which consisted of erasing a drawing previously made by Willem de Kooning and exhibiting the resulting void, that is, "the imperceptible trace of art after art". Artists like Robert Barry, Claes Oldenburg or John Cage also incurred in similar exercises of extreme minimalism, gratuitous in the opinion of some and suggestive and of indisputable theoretical value for others.
Compared to such illustrious precedents, Garau's immaterial sculpture almost seems like a practical joke. If he remembers something, it is one of the fakes most famous of this new era of accelerated digitization of contemporary art. It is about the invisible painting of Lana Newstrom, a presumed Canadian artist who, in 2014, was said to have made about 10 million dollars selling intangible work to private collectors through some of the most prestigious New York galleries. The CBC published the news, reinforcing it with statements in which the artist allegedly claimed that "the value of the hundreds of hours of creative work dedicated to each specific piece is not annulled because viewers cannot see any results." The story was shared on social networks by thousands of users who at no time doubted its veracity. It gave rise to a heated debate that focused largely on the snobbery, frivolity and stupidity of the handful of rich people who had paid real fortunes for these "works".
In the end, it all turned out to be an elaborate joke by two comedians from the CBS radio network. Newstrom did not exist and his invisible art had never been for sale. But, as David Mikkelson explained, in the magazine Snopes, "The story was to some extent credible, because it satirized in a very accurate way the excesses and pretensions of contemporary conceptual art." Journalist Jonathan Jones made another argument in an article by The Guardian: "Many people elected believe that because it gave them a good pretext to express their hatred of the arrogance of the rich. The image of a billionaire collector glancing over the bare walls of a completely empty art gallery was "too luscious not to be true." An image, by the way, that today has come true: in a luxurious penthouse in the wealthiest Milan, a follower of contemporary conceptual art enjoys the absent presence of a sculpture that he will never be able to see or touch and for which he paid 15,000 euros. Art has reasons that reason does not understand.



elpais.com