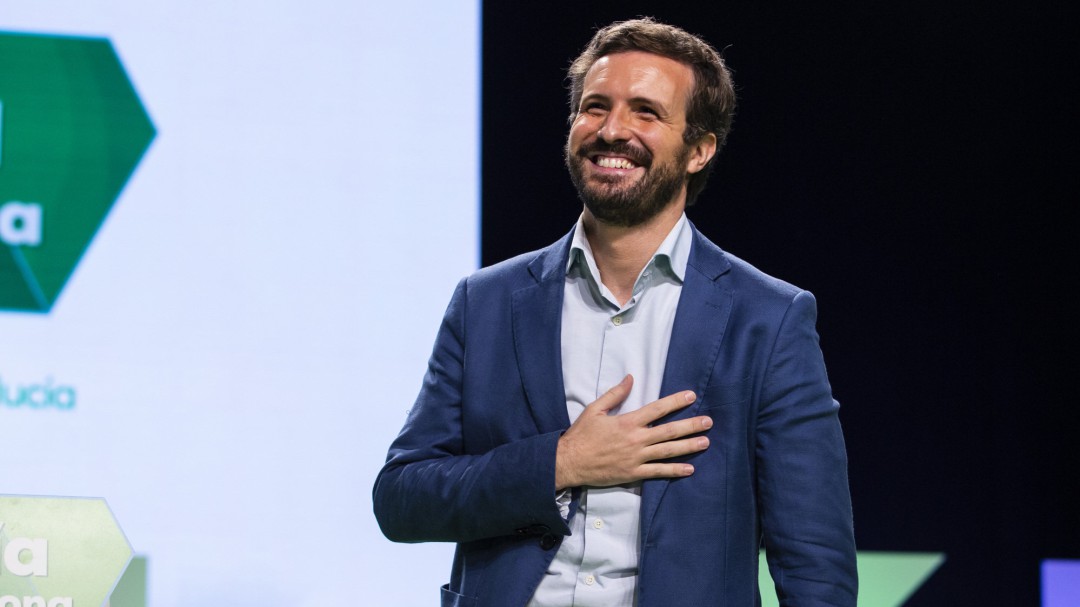 The latest controversy in which the leader of the PP, Pablo Casado, has been involved, has to do with a mass in Granada by Francisco Franco. On Saturday Casado was in Granada and entered the cathedral; PP sources assure the SER that Casado did not know who the mass was for: "He went to mass with his family when the service had already started. They were in church for a while and then they left. All without knowing of any other circumstance."
The explanations of the PP are not enough tos spokespersons for United We Can and More Country in Congress.
There were only 10 masses for Franco:
there was a 0.005% chance that Casado would get into a
At a press conference before the House Speaker Board, Echenique He highlighted that popular sources would have affirmed that Casado "did not know who the mass was for", for which he deduced that "once he knew who the mass was for he stayed" .. He judged this "extremely serious" and, although he admitted that Casado's attendance at that mass in Granada "we can assign at random", he stressed that there were only "10 masses per Franco" out of a total of 23,000 in all of Spain, for what there was a 0.005% chance that the popular leader would get into one and "this deserves an explanation."
The deputy of Compromís, Joan Baldoví, in the same vein, has shown his surprise at this coincidence: "I don't know if coincidences exist, but Casado has little credibility" and has doubted that the leaders of conservative parties from other countries attend masses by Hitler or Mussolini. For Baldoví, "these things are not good for democracy or for Casado."
If Merkel had mistakenly entered a tribute to Hitler, she would be saying that she was wrong
For his part, Errejón, who appeared just afterwards, acknowledged that Casado's entrance at that mass could have been "an anecdote" and "a coincidence", but he ventured that, if the German Chancellor, Angela Merkel, had accidentally gotten into a tribute to Adolf Hitler, the next morning he would be saying that he had been wrong, reaffirming his commitment to democracy and apologizing if he had offended someone. Therefore, for Errejón, if it was a coincidence, Casado "has to go out and explain it."
From the commons, Aina Vidal, apart from asking Casado for explanations, considers this episode "tremendously alarming" and has indicated that the popular leader should return to the democratic framework and abandon "this fight to see who is more ultra."
Statement from the Francisco Franco Foundation
The mass in the Granada cathedral was among the services in memory of the dictator that were published by the Francisco Franco Foundation on its website. This foundation has made public a statement in which he confirms that "he did not expressly invite" Casado to the mass offered "for the soul of Francisco Franco" for which "he cannot be held responsible or attributed his presence in it." Once that has been clarified, they thank "both Mr. Casado and his family and the rest of those attending the Mass for the prayer for the soul of an exemplary Christian like Francisco Franco Bahamonde."



cadenaser.com
George Holan is chief editor at Plainsmen Post and has articles published in many notable publications in the last decade.