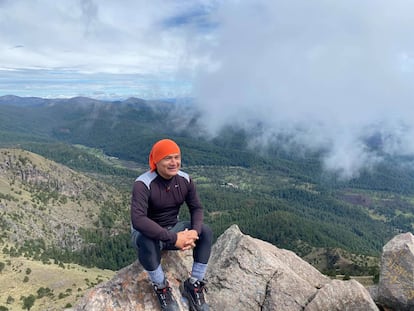 The horror of the crisis of missing persons does not stop shaking Mexico. In a country with almost 100,000 people missing since 1964 – according to official data – only some of the cases have transcended the closest circles of the victims and made it to the front page of the newspapers. This Christmas, two more names have been added to the black list: the poet, activist and dentist Alberto Pérez Gálvez and his first cousin, Luis Mario García Castro. Both were seen for the last time on Christmas Eve in the municipality of Huehuetán, in the state of Chiapas, their homeland. Since then, their whereabouts are unknown.
Pérez Gálvez (49 years old) and García Castro were driving a black Kia Sportage truck that night of December 23 on the highway that connects Huehuetán with Comitán, according to a statement released by relatives and friends of the two disappeared. But, after eleven o'clock at night, their trail vanishes: no one remembers seeing them. His last sign of life is a failed video call at four thirty in the morning, originating near the municipality of Motozintla, according to a later trace.
Resident in Mexico City, Pérez Gálvez had traveled to Chiapas to spend Christmas with his family. In addition to his work as a poet – he has a published book, Skin of fire (2008, Entangle you) -, was known in the region as an activist committed to the fight for the rights of indigenous peoples. His disappearance has aroused great popular support: in the statement released by his relatives there are more than a hundred signatures from relatives and friends, but also from Mexican activists such as the poet Irma Pineda; international personalities from the world of culture such as the French actress Juliette Binoche, the documentary maker Marie-Monique Robin, the Spanish artist Lola Zavala, as well as support from Canada, Colombia, Ireland and Ecuador.
In the statement, which urges the Chiapas authorities, the National Search Commission and the National Human Rights Commission (CNDH) to take measures, it is assured that Pérez Gálvez and his cousin were traveling through an area that "in recent months it has gained relevance due to the presence of armed groups (paramilitaries), so we have a well-founded suspicion that they could have been kidnapped and later disappeared ". In the last year, Chiapas has become a powder keg through which drug traffickers, paramilitary groups and self-defense groups, armed and outside the law, travel, which has made the region a unique breeding ground for violence.
In response, the CNDH has published a report this Tuesday in which it assures that "they will carry out a search while they are still missing." "A series of proceedings were initiated in order to provide timely attention to the case," adds the document, which also maintains that the Chiapas State Attorney General's Office has opened two ministerial files to find Pérez Gálvez and García Castro.
Carolina Espinosa met Pérez Gálvez in a presentation she made of a magazine published by the Zapatista National Liberation Front. "Since then we became friends, easy 20 years ago. Alberto is a man very committed to the social causes of indigenous communities and native peoples. He has always been a social fighter. Besides that, he is a lover of nature and the mountains. He is a man with many friends, very sociable, a born leader, "says Espinosa by phone.
He learned of his friend's disappearance from a social media post. "I received the news with a lot of surprise and a lot of sadness for his daughter, a little girl of about eight years old, and for his wife, I can't imagine the anguish they must be going through. I tried to communicate with his wife, but I couldn't, she closed the messages ". He says he was surprised that the disappearance had been in Chiapas, because Pérez Gálvez knew the region well: he had grown up there, it was his place. "Those territories are not unknown to him, he felt like a fish in water there."
Activism and poetry united Pérez Gálvez and Irma Pineda Santiago, signatory of the statement of denunciation. The two met as students in 1996 in Mexico City, and their friendship has continued until now, despite the fact that Pineda Santiago moved to her native Oaxaca years ago. "We are concerned that it is a forced disappearance, that he has been kidnapped or kidnapped, because in this area of ​​the south of the country in recent years the presence of various groups of organized crime, paramilitaries has been noticed … At the same time Personally, I want to hope that it is not like that, that it was a small accident, a disconnection in communication … I want to imagine the best, but we are aware that there may be a serious situation ".
Members of the Macario Matus Cultural Center in Mexico City, a space frequented by the poet, held a press conference yesterday, broadcast on Facebook: "During the pandemic he came to support almost daily, like the great human being that he is. How can we not miss his word and his presence? In the act, they also took the opportunity to claim their search from the authorities: "No one knows if they have detained him, if he suffered an accident. Of course there are people responsible for this insecurity and it must be reported. It is a nightmare that people disappear, it is a horrible word ":
In an emotional moment of the press conference, one of the members of the cultural center recited a poem by Pérez Gálvez as a tribute between contained tears. Some verses that sound like a declaration of principles, and, in the light of the new facts, a macabre prophecy: "I resist living sitting in an armchair counting the dead every day / I resist living with hunger on the sidewalks, to deny bread at traffic lights, to tourists in the corridors of hunger and death / I resist living counting bitter days / I resist my daughters seeing the dead parade ".
Subscribe here to newsletter from EL PAÍS México and receive all the informative keys of the current situation of this country

elpais.com