[ad_1]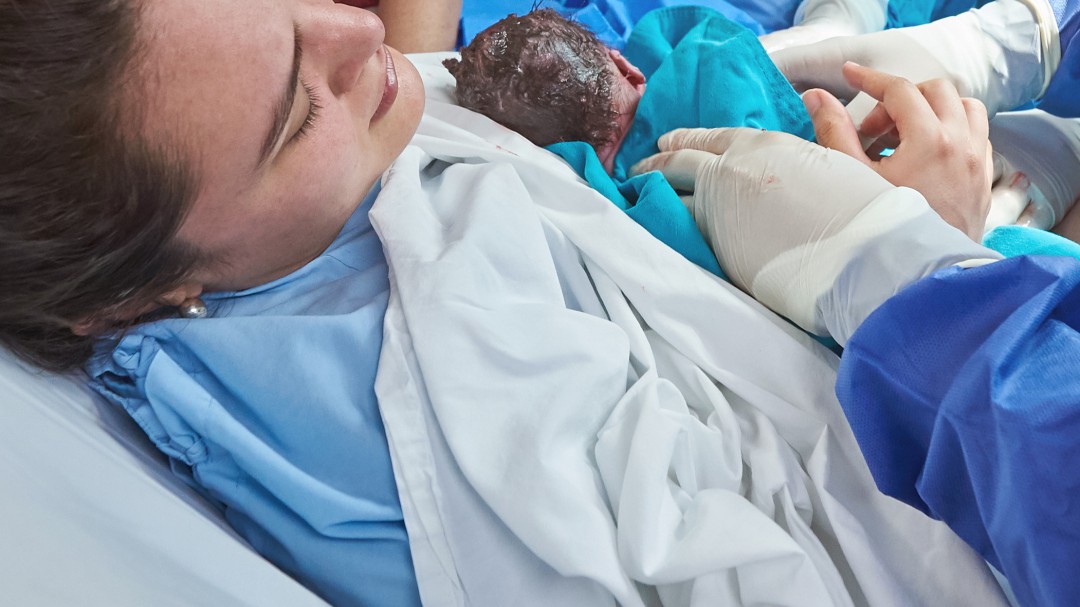 Helplessness, verbal abuse, humiliation, non-consensual practices or coercive medical procedures are some of the most common complaints from many women when giving birth. Obstetric violence suffered by two out of every three women in Spain during pregnancy, childbirth and the puerperium, according to a report reported by the association Delivery is ours, and about 40% worldwide, according to WHO data.
"The most frequent situations that we find ourselves range from not allowing accompaniment during pregnancy or delivery reviews, to practices that are discouraged directly by official bodies such as inductions that are not justified, Kristeller maneuvers or episiotomies ", highlights the psychologist Eva Rel, member Delivery is ours, which is in charge of supporting and giving support to women who suffer this type of violence.
"They sat on my belly to apply pressure"
Sonia is 37 years old and got pregnant five ago. From the first visits to the gynecologist, I already sensed that something was not going to go well during the process. "I was frustrated every time I went to appointments because they did not inform me of anything, they told me that everything was fine, but they did not even let me see the ultrasounds. So that my partner could enter with me, it was a constant struggle," he recalls. But the worst came when she had to give birth:
"I went into labor on January 15 and went to the hospital. They took me to a room because I still had to dilate five centimeters, but they were just hurrying me. I told them first to isolate me so that I could be calmer because in that situation the last thing you want is to see how everyone passes through the corridors, they look at you, they shout … ", he says. However, the doctors who treated her told her that it was not possible and that she had two hours to delay what she had left because "they were short of space in the delivery room."
Seeing that Sonia could not delay enough, they first performed the Kristeller maneuver, totally discouraged by the health authorities. "Two nurses sat almost on top of my belly to exert pressure on the uterus and thus hopefully the baby began to push. It is one of the most horrible situations that I experienced," he says. "It's not just the physical pain anymore, it's that you feel judged and helpless. Having to listen: 'Look pretty, I'm doing my job and if you've come to give birth, stop' it's devastating," reveals Sonia.
"They were just rushing me"
In those cases, the normal thing is to dilate one centimeter per hour and according to Sonia, he had five left and after two hours they were taking him to the operating room for a totally unnecessary cesarean section. "How could I delay if they were overwhelming me, they were just rushing me and no one had a minimum of respect or empathy," he recalls. "They did not even give me informed consent to sign and they performed a forced cesarean section," he adds.
"And after that, with all the sedation that they would not let me see my baby when what you need at that moment is to be put in your arms, they would not let my partner pass and that creates terrible anguish," he says. Sonia denounces having suffered obstetric violence throughout her pregnancy, but what impressed her most after each violation of her rights was when she was discharged. "Two days later they sent me home with seven stitches for cesarean section and mastitis because I could not breastfeed my son. Come on, when the minimum is to be hospitalized for a week. I felt humiliated and mistreated," she confesses.
"I wanted to vomit and they ignored me"
Belén had two twin boys and during the pregnancy everything was normal. However, the ordeal began in childbirth. "On the day of my delivery, a series of events occurred that, speaking with the people around me and, above all, with my doctors, were unauthorized procedures. A full-blown obstetric violence," he says. "While we were pushing in the delivery room and finally accompanied (by my midwife and my husband), my midwife told me that I had to prepare quickly, because the gynecologist was going to hurry when she arrived, and that the work I would do with her would be to move forward and not suffer so much later, "he continues.
Shortly after, the gynecologist arrived and Belén was shocked to hear her say: "Urgent. To the operating room in case there are complications and we end up with a cesarean section." The midwife at that time said that the first baby should be born first and if there were any complications later they would go to the operating room. However, they put her to bed and she began to feel ill with excruciating pain and the urge to vomit. "I expressed my discomfort when I was lying down and they ignored me, as if I had not spoken. And above all, you say, how am I going to say something to him when the lives of your children are in his hands," she says.
Hand and foot tied in the operating room
When they took Bethlehem to the operating room, they did not ask for authorization and began to record the delivery. "Wouldn't it be better to ask for authorization? I felt like a fairground monkey, and some of them talking about their weekend plans, others with their mobile …", she says indignantly. Belén denounces that they tied her hands and feet with bandages and that they ignored her when she complained of pain. "I told them that they hurt me and according to them, it was for my safety. I still do not understand these ancient procedures," he declares.
Still lying down and tied hand and foot, Belén reported that she wanted to vomit again, and was told to calm down that it could be due to the epidural. "Fortunately my midwife saw that no one was doing anything, she let go of one hand and helped me turn around a bit," she recalls. "At the moment of a contraction, Martín had climbed up because I had laid down, so, to use some shovels to open me, they did an episiotomy without consent. I started to push while I screamed and then they told me to shut up, and with an arrogant voice the gynecologist who supervised my delivery told me: 'Calm down, eh,' "he reveals.
The feeling of helplessness felt by Belén is the same suffered by many women who are abused obstetrically. Luckily, Belén was able to hold Martín and Ale in her arms right away, unlike Sonia. "At that moment your mind completely eliminates everything. You focus on if they breathe, if they cry, if they are fine, you just want to hold them in your arms and tell your partner how beautiful they are, but you normalize any abusive practices that have happened during the I give birth, because you only care about them and take them home soon, "explains Belén, who assures that her delivery normalized until later.
Anxiety, post-traumatic stress, or postpartum depression
Belén had no serious sequelae after receiving this medical care during childbirth, but there are many women who suffer from anxiety, post-traumatic stress or postpartum depression. "We talk especially about caesarean sections, which is where the lack of attachment to the baby is most evident because they are processes in which the natural bond is being altered. There are women who carry a lot of guilt, resentment and even fear or phobia of the medical institution and some even abandon the idea of ​​a second motherhood due to their lived experience ", explains psychologist Eva Rel.
Sonia unfortunately did have post-traumatic stress disorder that made her reject her baby for three months. "I felt terrible, but it was to pick him up and start crying. I felt totally depersonalized from my daughter," she says. She went to therapy and although little by little she regained her attachment, she is clear that she will not have any more children. "I do not think about it, something that should have been the most wonderful experience of my life became an ordeal of more than a year. It makes me sad, but I would not go through that again," he says.
Why is obstetric violence practiced?
The Spanish Society of Gynecology and Obstetrics have been demanding national legislation for years to update the practice during medical care of this type. There are still reports and recommendations from the Ministry of Health, but they are advice, not a regulation to comply with. "We have practices from 2008 and some official organizations that have studies in which it is valued which practices are used for what and how they are carried out, but they have to be updated and that is not being the case. The guides that have left the ministry are not being carried out. carried out neither by professionals nor in hospitals ", denounces the member of Delivery is ours.
Likewise, it considers that obstetric violence is intrinsic and is perpetuated in our society because the health system is hierarchical and "that hierarchy is also exercised against women." "If we enter into the health system, we are beings that we have to consent and allow ourselves to be done, that is the idea of ​​the patient, that you are not the protagonist", argues Rel. On the other hand, the psychologist indicates that the teaching of the profession "is oriented towards pathology and then pregnancy, childbirth, and the puerperium are conceived as pathological processes or susceptible to pathology when it is a physiological process that does not necessarily have to be this way ".
"E
The obstetrician has to assess the risk-benefit of the interventions "
However, from gynecology and obstetrics, resident gynecologist Guillermo Fernández-Couto argues that there is much debate about the term obstetric violence and that from his experience, they try to pay attention to the preferences of pregnant women and that they feel comfortable whenever possible, "but there are times when it is not possible to reach demanding or complex terms because it makes our work very difficult."
Fernández-Couto points out that not intervening too much during childbirth is being promoted, "but that can limit a lot because there are times when extreme situations are reached and both the mother and the child are put at risk, so the obstetrician has to assess the risk-benefit of the interventions that have to be made, necessary to guarantee health ". In addition, he is in favor of giving all the necessary information to the patient, from the birth plan to the different options they have when giving birth, although he explains that it cannot always be fulfilled.
"When there are complications and it is necessary to do more interventions, we have to make them understand that the situation is complicated and that we need to do something, if a cesarean section has to be indicated, an instrumental delivery because the baby is getting sick or whatever," he explains . And he does not consider obstetric violence to be a systematic practice in Spain: "Many times they are personal experiences of patients who have had bad luck and have encountered a difficult obstetric experience, with someone who has not had the touch they should have" .
Gynecologists, obstetricians, associations, victims and institutions have the great task of raising awareness, regulating and protecting so that obstetric violence ends. From Delivery is ours, in addition to awareness campaigns, they provide psychological, therapeutic and legal assistance to women who have suffered this type of abuse. And as the victims claim: "Report, do not be afraid and report so that your daughters do not have to suffer this violence."


[ad_2]
cadenaser.com
George Holan is chief editor at Plainsmen Post and has articles published in many notable publications in the last decade.